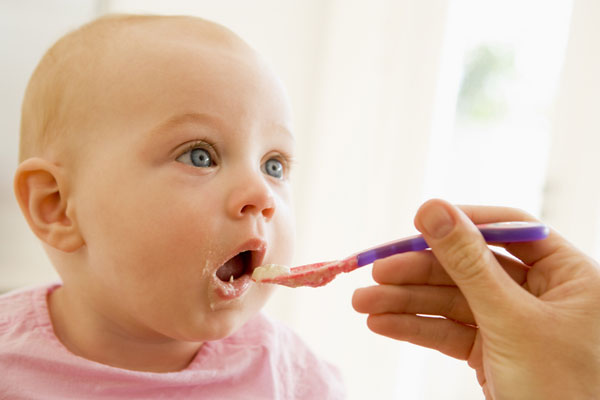 It is necessary to offer your child any food novelties one by one and to a great deal, watching his reaction. On day 1, start with 0.5–1 tsp (no more than 10 g); first give a new product, familiar afterwards. On each subsequent day, double the serving until you reach the volume set for the child by age.
Adaptation to unfamiliar food takes 5−7 days; At this time, do not give the child any other new products and watch how his body reacts: whether rashes or redness appear on the skin (these are the phenomena – doctors call them dermatitis – allergies often occur in babies), itching, abdominal pain, regurgitation diarrhea or constipation.
Problems nevertheless arose? Do not rush to immediately abandon the possible "enemy": continue to give the baby this product, but do not increase the portion of 2-4 days.
During this time, the child's body can get used to the new food, and everything will be fine. A few days have passed, but the situation has only worsened? Cancel the product, but only for a while: after 2–3 weeks, the experiment can be repeated.
If the allergic reaction is very strong, check with your doctor and give your child anti-allergic (antihistamine) drugs: for example, Fenistil (Novartis), Zyrtec (UCB).
With new products you need to wait when the baby has an allergic reaction in full swing, but you don't have to give up dishes already familiar to the child. But when allergies are constantly present to one degree or another (for example, a rash subsides, it appears again regardless of the diet), it is not worth refusing from the age-related products.
Remember how your baby's skin looked when you first started introducing a new product to it, and take this state as a point of reference: watch for rashes or itching.
What is worth remembering when choosing products for the child?
For small allergy sufferers, it is better to move the terms of acquaintance with products that often cause a reaction: eggs, fish, vegetables and fruits of red and orange color, citrus fruits, sweets for several months. For example, if the fish is usually given to babies from 8–9 months, then with allergies – after 1 year.
Do allergic children need special hypoallergenic products: special mixtures, non-dairy cereals, vegetable, fruit and meat purees? They should be given only if the usual does not "go" the baby.
The body of the child should receive training, so try to start with the usual, suitable for the age of baby food products.