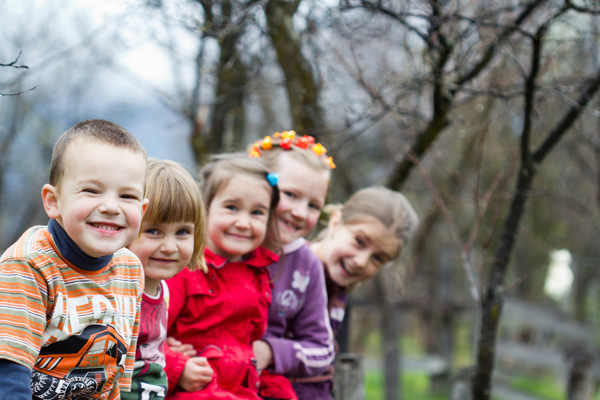 Children, of course, are not wizards, but they always have at least one amazing trick in stock, which they masterly perform from time to time. So, for example, in the blink of an eye, a quiet and calm child suddenly turns into an uncontrollable and rude monster, which causes not only those around you, but you yourself to ask yourself: did this kid even learn elementary rules of behavior?
What is there to answer? As psychologists say, it really doesn't matter how well your baby has learned the rules, what to push, fight, bite, shout loudly and so on. not good.
The rules lose their significance as soon as the child is in the circle of his less polite and well-educated peers. "Children have a natural desire to be good and good, and the harder they have to do when they see other children who grossly violate the rules of decent behavior," says Anastasia Chembarisova, a clinical psychologist. "Therefore, apart from educating such necessary qualities as honesty, kindness, openness and respect in the precious child, you should also teach him to listen to his inner voice, which warns:" Do not do it even if everyone else does it "and do not be afraid to be known as the "black sheep".
Peer pressure. Whenever the uncontrollable children of your friends come to visit you, your child also starts to behave badly: pushing, hitting, biting, taking toys.
Why is this happening? Children are very impulsive and easily influenced by others.
What to do? Quietly take the baby away and remind him how to play fair.
Speak with a smile so that it does not look as if you are scolding him: "You are a smart kid and you know that you can play calmly and affably. It is not good to push Petya and especially to take the typewriter away from him. "
Then bring the child back to your friends and switch the group's attention to some more relaxed activity, such as drawing or picking up a puzzle.
How to prevent it next time? Before your guests come, speak the rules of behavior with your child again.
Tell him: "You know that it is forbidden to fight and hustle with friends during games. If I see it again, I will not allow you to continue playing. "
And if the baby hears you and behaves well, do not forget to praise him for it.
Peer pressure. Your baby happily shows you a new toy that he brought with him from kindergarten.
When you tell him that you cannot take other people's toys, he replies: "No, you can, because Sveta did the same. And the teacher did not even notice it. "
Why is this happening? Your 3-year-old baby may not fully understand why it is impossible to take other people's things, especially if his friends do the same, and the caregiver does not notice the loss and does not scold anyone.
So, the crumb thinks, everything is in order.
What to do? Keep calm and just say: "I'm glad you told me everything." (You can get angry only if in the future the child is not so frank with you and does not tell the truth.) Explain once again to the child: "Those toys that we have at home belong to you, and you can do with them what you want . But the toy that you brought from kindergarten belongs to the kindergarten, which means that all the children who go there with you can play it.
Therefore, please return it to the place and apologize to the teacher. " Once again, tell the baby that you should always ask before you take what you do not own.
Help the child understand that he can borrow a toy for a while, but only with permission, and take toys without demand and not give them back – this is called stealing and it is always bad.
How to prevent it next time? It may take several similar incidents for the child to learn the lesson.
But if this happens too often, tell the crumbs that the next time you just have to give half of his toys to kindergarten instead of those that he took from there.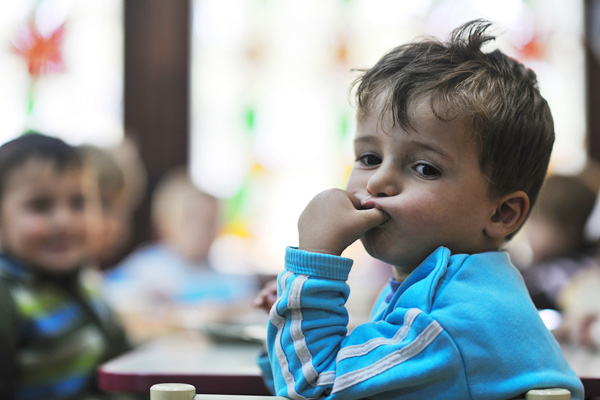 Peer pressure. Your 4-year-old kid recently started calling his younger sister "stupid" or "stupid" – with the words he had heard enough in the kindergarten from his peers.
Why is this happening? Children in the kindergarten often use bad words in order to check the reaction of others, to draw attention to themselves, to see what will happen after and if they can get away with it at all.
What to do? Do not react too violently to what is happening.
If you do this, the kid will learn that such words will shock you a lot and will use them again and again to draw attention to themselves. Therefore, it is better to calmly explain to him that even if all his friends say such words, it is not good.
To enhance the effect, you can also remind the crumbs, as he himself most recently, his older brother or the neighbor's boy called him silly and stupid, and how unpleasant he was. The kid must understand how other people feel when he does the same.
And then be sure to ask him to apologize to his sister.
How to prevent it next time? Find such words so that without swearing the child can understand all your disappointment in his similar behavior. Say that you should never tolerate yourself when someone offends you, but you should not offend others either.
For a more convincing and illustrative example, each time you watch TV together or read a book, draw the child's attention to the moments when someone from the heroes is insulted or teased. Ask the kid: "How do you think he feels now? What would you feel in the place of the hero?
How to do the right thing in this situation? And what can his friends do to help him? "
Peer pressure. Your daughter knows perfectly well that it is impossible to play with antique dishes stored in a sideboard.
However, when you come home one evening, you find the following picture: the little girl, together with her friend, drinks tea from cups from this particular service. When you ask why she disobeyed you, you receive in response: "Alice said she would not be friends with me if we did not play with this beautiful tableware".
Why is this happening? Although your 5-year-old daughter knows perfectly well that you need to obey your parents, the opinion of friends for her at this age is even more important.
Conflicting thoughts go to the heads of children at this time: "I know that I shouldn't play with this dish because it's dear" – and at the same time: "I want my friend to play with me", "I want to like my friend / girlfriend.
What to do? Find a replacement.
Tell your daughter: "You shouldn't play with these cups, but I can give you other equally beautiful ones that you can use. Later it is also worth talking to her about peer pressure.
The child should understand that friends should not control his actions and thoughts and that no one can force him to do what he does not like.
How to prevent it in the future? This is a great opportunity to teach a child to say "no" to other people when some actions of others are contrary to the generally accepted laws of morality and ethics.
Teach your child that if you doubt the correctness of actions, you first need to ask yourself: "How safe is it?", "What can happen?", "Can I get into trouble after that?" If they remain doubt means you shouldn't do it.
It is still difficult for younger children to defend their opinions among their peers, and even more so for older children, so it is often difficult for them to avoid temptations, even if they know that later they will fall for it. They are afraid of being considered a coward or being "worse than anyone else."
Nevertheless, once and again, repeat to your beloved child that he must learn to do this and that it is not at all disgraceful to do exactly what you think is right, instead of following the crowd each time.