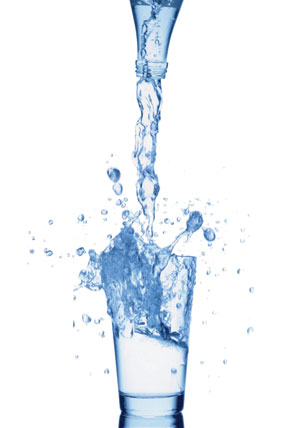 In contact with the external environment, water is enriched with mineral salts, which enter our body and affect its performance. And since babies are very sensitive to the action of any external forces, you should pay attention to its quality. I must say that approximately 93% of drinking water falls into the apartments of residents of large cities from open reservoirs, the purity of which is rather difficult to talk about.
Therefore, before sending such water to homes, experts subject it to a reliable and proven method of cleaning with chemicals, filters, and so on. The purpose of these actions is to bring the composition of water in compliance with certain standards, including the content of various trace elements in it.
Then it is chlorinated, but after that it is not worth drinking raw water and cooking it, because the water has to go through many kilometers of waterways, and its composition will depend not only on its original quality, but also on the quality of the pipeline.
Spring water
The quality of water from registered springs is usually monitored by health authorities, which guarantees some safety. Just keep in mind that its composition depends on the characteristics of the soil of the area in which the spring flows, and some elements in it may be more, and some less. In addition, spring water may be affected by leaks of industrial waste and accidental discharges of pollutants, including to the atmosphere.
Therefore, it is unsafe to give babies water, and adults should boil such water. Filtered water Unfortunately, it also does not suit kids.
On the one hand, we purify water from impurities and, above all, chlorine, on the other hand, we violate its natural mineral composition.
Bottled water is the most successful solution to the question of how to give water to babies. It is natural when it comes to water that is extracted from the source and poured directly on the spot, or drinking – it is obtained by ordinary filtration. But there is a special children's water, the requirements for its quality are stricter, and the composition meets the needs of the body of children.
Choosing water, pay attention to the volume of packaging, because the opened bottle can be stored in the refrigerator for no more than 48 hours.
The need for water in children is increased if it is hot outside (thus the body is protected from overheating) or during illness (to replenish moisture reserves and bring out harmful toxins that are released by microbes). Outside of these situations, a baby who eats only breast milk or adapted milk formula may refuse water.