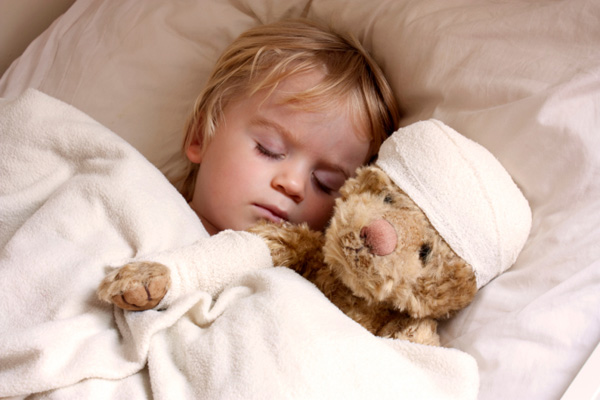 It is very important to remember that when dealing with a sick child you should not show him how difficult it is for you. When a baby falls ill and he has to undergo long-term treatment, the first rule of mother and father is not to blame yourself.
Guilt does not bring relief, take away your strength, which is needed now more than ever, and even more so will not help your little one. The disease must be taken as a fact and just start to engage the baby.
It is important to create a favorable emotional background. It is from this that the recovery of the child will primarily depend.
It is important to find an attentive and communication-friendly doctor who would be willing to take the time for the baby and you and discuss in detail all your concerns. Look for a specialist with extensive experience in this field, who has clear positive results.
Ask the doctor in detail about everything that interests you, until the picture becomes clear to you. In this case, note that excitement you can easily forget what you would like to ask. You should have a separate notebook in advance and first write down the questions you want to find out in it.
May this notebook always be at your fingertips until the day before your baby fully recovers. In it, you will make comments of doctors, information that you will learn about the child's illness. And, of course, the most important thing is all the prescriptions of the doctors: the necessary procedures, the schedule for taking medicines and visiting the specialists.
Put in the diary all the nuances of the health and behavior of your baby and his reaction to the drugs taken. All this information will be very useful to you and is especially valuable for the attending physician and allied specialists, if their consultation is required.
Questions to ask the doctor:
How can the disease proceed, what complications are possible?
What symptoms are characteristic and how to act when they appear?
What are the treatments?
What side effects can different treatment methods cause, what are the dangers and what are the benefits of each of these methods?
What should be done to alleviate the situation, and what should be avoided?
From them you can get valuable information for you about the availability of necessary medicines in pharmacies, the latest treatment methods, useful tips for childcare, as well as moral support. Collect as much information as possible to get rid of the unknown.
This will help you to be more competent and active in the fight against the disease, and the doctor will have a confident and sensible ally, which will necessarily facilitate the speedy recovery of the crumbs.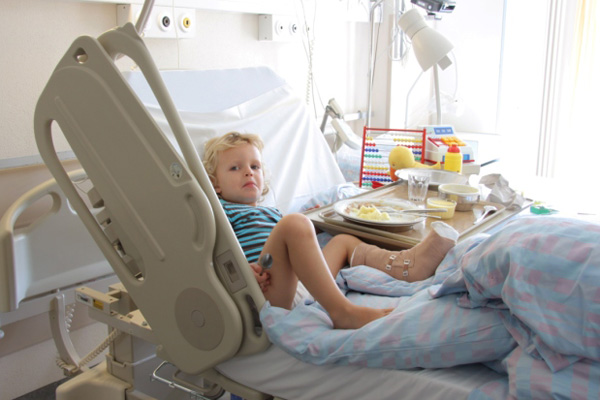 Kid in the hospital:
If your child is going to have surgery and he needs to go to the hospital, prepare him for it.
Easy explain to the baby that he needs some time to stay in another place, but soon he will return home again, that you will be there.
Try to stay with your child for exactly as long as the hospital rules allow, change each other so as not to lose strength.
Do everything possible so that he does not remain without you for a long time, so that he feels your support.
Bring to the child everything that is not forbidden by doctors: fruits, favorite home-made food, sweets – everything that can please him.
Give him your positive attitude, behave naturally and do not show your child anxiety.
If the baby is going to have an operation, prepare it psychologically, without going into complex medical terms. Just tell the baby: "You will be given an injection, and you will fall asleep soundly, and when you wake up, you will see me, because I will be there all the time."
Remember that your baby needs only a native face, caring care and positive emotions. Try to support your baby, instill in him cheerfulness and optimism!
To adapt is to acquire the ability to exist in any special or changed conditions. Having understood and accepted the new conditions, first of all think how to organize your working day.
Treatment, which is assigned to the baby, may require changes in the daily routine.
If you have the opportunity to leave work for a while or work remotely while at home, then you should do it.
Make a plan for the life of the baby on the family council and, in accordance with it, the life schedule of all family members. Discuss all consultations, visits to the doctor and procedures necessary for the child. Consider how to allocate and organize free time so that the child does not feel excluded from normal life, so that he can communicate with loved ones in a familiar environment.
Distribute the chores and responsibilities among themselves so that each family member can restore their strength.
Maintain peace of mind, relax at any opportunity. Save your strength.
Do not overload yourself with unnecessary worries, simplify your life for a while, do not take the trouble out of yourself.
And, of course, do not refuse the help of relatives and friends. Such necessary trifles as the purchase of medicines, food, payment of utility bills and receipt of certificates can be taken over by friends and grandparents, which will greatly save your strength and leave you time to rest, which is also necessary for you.
If there is a sick baby in the house, try not to forget about other family members, especially about his brothers and sisters. A healthy child, even more than adults, may be subject to unaccountable anxiety, especially if he is not given a reasonable explanation for what is happening.
It is important that parents help him understand what needs have arisen and how he can help.
The child must be assured that nothing threatens his own health and the illness of his brother or sister will not develop. Frankly talk to your baby. Say: "We have a difficult situation in our family, but together we can cope with it."
Reassure the baby that the extra attention and care with which the sick brother or sister is now surrounded does not mean that they love him less.
Try to help the children get closer to each other and show sincere affection for each other. Young children usually respond more readily to parents' appeals to their feelings than to long and complex explanations of medical concepts.
Therefore, try to give a healthy child some simple explanations and ideas about what his brother or sister is experiencing, and encourage him to provide all possible help.
Praise any of his efforts, assure your child that his fraternal care is extremely valuable for the recovery of the little patient.
After completing the course of treatment, resist the temptation to relax. Although the worst is over, the recovery period is very important for the child's complete and final recovery.
Now it will be much easier: there is a significant improvement.
Continue to keep a diary of the baby's illness and carry out all the prescribed procedures. You have been so tense and worried about your baby for so long that you are still afraid to let him run and jump, but as the child recovers, gradually remove his bans. Do not scold him and do not frighten complications.
Tell him: "I see you are already completely healthy! But you still can not run. Be patient, very soon all bans will be lifted, and you will again be able to have plenty of fun with your friends. "
Remember that everything unpleasant is already behind, rejoice in any achievement of your little restless.