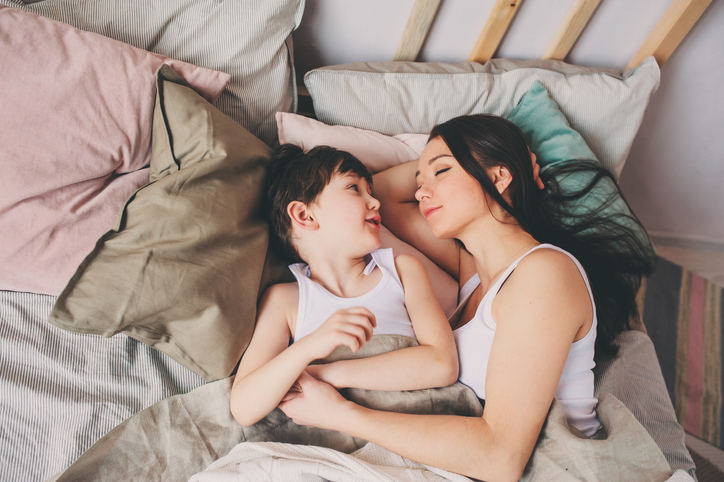 In your question you did not say how you yourself are experiencing this situation. How much does she suit you? Is it convenient for you to wake up at night, is it pleasant to share a bed with a child, is it comfortable to be unfree in the evenings, laying your grown-up son?
What does your husband think about this if your family is full? To begin with, it would be useful for you to find out what feelings you have about the current state of affairs.
Because if you feel good, then you are unlikely to change anything.
There is not enough information about how your son develops, whether there are any features in his behavior that are already bothering you. What is he like?
Alarming or not? How does he part with you in kindergarten, if he goes there? How to communicate with peers?
All these details would help to draw a clearer picture of what is bothering your son today, and how this might be related to a prolonged joint sleep with you.
From the point of view of theory, a joint dream of a mother with a child after a year postpones his psychological separation, and hence the likelihood of emotional maturity. The child does not feel the boundaries between himself and the mother, not experiencing the frustration necessary for emotional maturation due to her mother's inaccessibility.
All this hinders not only the entry into an independent psychic life, but also prevents the child from using his creative beginnings, having made the transition from the concrete to the abstract way of thinking at the psychic level.
Undoubtedly, every child from birth is vital to have close contact with the mother. But if in the first months of his life he needs, for the most part, the physical presence of the mother (hugs, wiggling, stroking, breastfeeding), then gradually another kind of communication becomes available to the baby – mental.
When it becomes enough to calm my mother's voice, and then her formed supporting image in the head. A child who has not learned to resort to internal objects for consolation may have difficulty in experiencing the temporary care of the mother, since in his perception she leaves him forever.
It is often difficult for such children to relax, to be distracted by something, to occupy themselves, to perform various kinds of tasks. And the matter is not in their abilities or the level of complexity of the tasks set, but in the colossal tension they are in until the moment of their mother's return.
In order to weaken the value of physical connection in the relationship between mother and child, one should work on the emotional contact between them. As soon as he becomes reliable enough, the baby will be able to rely on him to withstand his mother's absence.
Of course, there is no instant transition from concrete to abstract. This is a long process that can cause a whole palette of uneasy feelings in both the child and the mother (including fear, doubt, anger, despair, etc.).
Therefore, it is very important to tune in to it, having understood why you are doing this. So, once you agree with yourself, you will be able to negotiate with your son much faster.