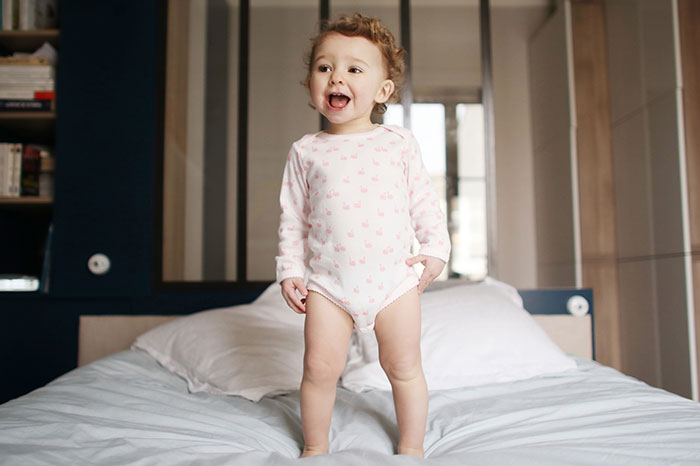 Here it is definitely not a capricious character. The child should not cause negative emotions, none of the physiological positions – on his stomach, on his side and on his back should be equally comfortable.
If something went wrong, the primary task of the mother is to go to the doctor and find out with him what prevents the baby from taking a certain position.
In young children, this behavior may be an indirect sign of complications after childbirth. It is possible that there was a hypoxic damage, in a simple way, a violation of the cerebral circulation.
Another reason is the pronounced tone of the shoulder girdle, which, by the way, is also a consequence of hypoxia. This occurs in traumatized childbirth children, which, for example, were removed using a vacuum extractor. Perhaps anxiety of the baby was the result of a difficult, long birth, entanglement of the umbilical cord around the neck.
Even when the mother thinks that the birth was easy – for example, they passed quickly, and in the medical language – rapidly, for a baby this may also have consequences. After all, all periods of labor are necessary for normal adaptation of the newborn under conditions of high pressure, air, bacterial aggression, and so on.
The exact reason for the behavior of the baby can only install a specialist. In order not to torture myself with groundless suspicions, and most importantly, take measures regarding health in time, I would recommend contacting an experienced pediatrician, a neurologist, to do an ultrasound of the brain with a Doppler study of blood flow in the brain. And, already making a start from this data, act, following the recommendations of a specialist.
While preparing for a visit to the doctor, watch the baby – if he is not anxious, reacts to changes in the weather, perhaps there is an unevenness of muscle tone. All this is also sure to notice an experienced pediatrician or a neurologist.