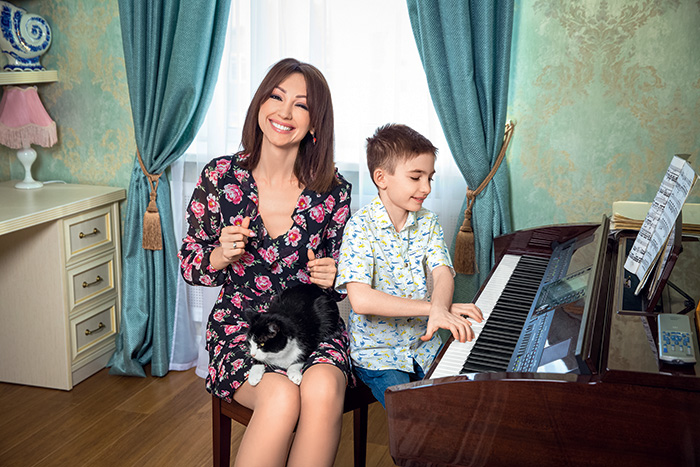 How to cope with two, albeit small, but representatives of the stronger sex?
– And I'm not the only one doing. Mom helps me, she lives with us.
In addition, the sons have their dads, with whom they communicate regularly, go on trips. The eldest son Arjun quite often lives with his father. Popes are fully present in their lives.
And it is right. I believe that a man in the immediate environment of the boy should be required.
Even if it's not dad, but grandfather, uncle, elder brother, after all. Without a male example is not easy to do. As for me, I communicate with sons as with men.
I ask for help: bring the bags, open the door. I can complain that I'm tired.
In my opinion, this is a natural relationship, when you realize that next to you are not just your children, but future men. Now, when Arjun is already 11 years old, and Michael 8, I want them to get used to this main role in life, to realize responsibility.
I don't even remember when I last wore bags – they just don't give me any! And they love to help me in the kitchen. Pasta, pizza – all this is often cooked together.
Junior likes to chop more, senior – serving master. And I always support them, because I like it when men cook. In fact, it is so courageous!
I am sure that the real head of the family should be able to do everything in order to take care of his relatives at any time.
Are there any immutable rules of your family?
– The main thing is respect for other people. I have always tried to convince the boys that their personal opinion is very important, but there is also another, and it may differ.
You can argue, reasonably defend your point of view, but nothing can be imposed on anyone. Respecting someone else's opinion means respecting another person.
Are the boys jealous of each other for you?
– They are jealous. I overcome this, first of all, by the distribution of attention equally.
Kisses to one and the other are the same, hugs are the same. I even put them to bed in turns: one evening, Arjun the first, the other – Mikaila.
So that no one was hurt. But, despite the rivalry for the mother, the brothers can be called friends. Yes, everything happens between them.
But with friends too, isn't it?
How do you put them to bed? Tales tell?
– Required. But not a fairy tale, but we read books. The elder likes to do it himself.
And the youngest needs me to read. Both are now passionate about Harry Potter, just different parts of the book.
Tell us about your sons. What are they?
– Both, in my opinion, with leadership qualities. The older one (and that's his daddy) has a mathematical mindset, likes to read, learn languages. And with the sport is not very friendly.
He wanted to be a heart surgeon, now he is more inclined towards business. Junior loves sports, music, creativity.
And this seems to have gone to me. In general, I think the early choice of the future life path for children is very important.
I have been directing them since childhood, so that they grow up with an understanding of who they will be, what they will carry to this world. I remember that Mikayil was still small, about five or six years old, somehow told me with alarm: "I'm already so big, but I haven't yet decided who I will be. What a nightmare, it must be determined! "I reassured him, assured me that there was still time.
And they really think about it.
Are you with sons, grandma – is that enough for your family?
– I will say this – we are not alone! I like to talk about my success in work, about my children, about my happiness.
But when a person is really happy, he does not want to talk about it, he is comfortable and good in his inner feeling of happiness.
How do you celebrate family holidays?
– Birthdays in the family circle, mom prepares some delicious cake. Recently, we increasingly like to go even in short, but travel. Last year, we left for Abu Dhabi for a children's birthday.
The idea everyone liked, decided to develop it. On my birthday, we plan to go to Europe, at least for the weekend, but to change the situation.
I'd like to see Vienna, at the same time we will visit our friends there.
Well, it will be a birthday present for everyone. And what usually boys give you from yourself?
– Poems read to me out loud. And Michael arranges whole concerts. He does not need a reason.
And so, if there is a reason, concerts are much longer than usual!