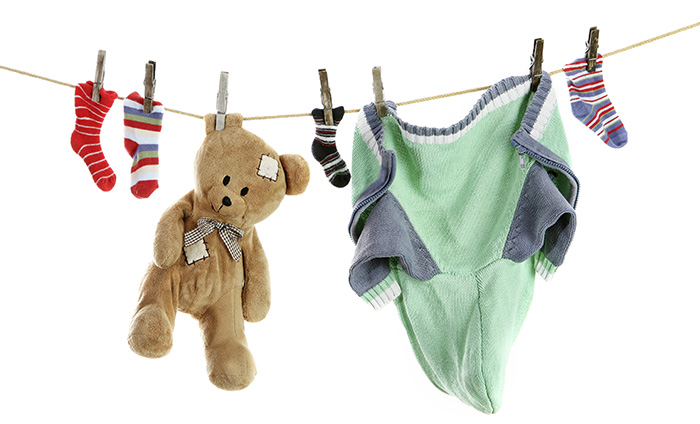 Contrary to the popular belief that the baby needs a daily change of linen, it is enough to change it as it gets dirty. The baby, who lies in a disposable diaper, does not get dirty and does not sweat, which means that he can wear his jumpsuit for several days.
Today in the stores their choice is huge: powders, soaps, gels, capsules, pastes, special children's laundry detergents and even soap nuts. What to buy is up to the parents.
But remember the main thing: the package should be marked "Safe from birth" or "Use from the first day of life." The peculiarity of this kind of means is that they use the least aggressive chemicals that are completely rinsed out with water.
It should be ensured that the composition was not chlorine or optical bleach.
The same principle is followed when choosing fabric softeners: the softness of the fabric, when used, is achieved by adding substances that can cause an allergic reaction. Rinse children's clothes and underwear should be 2-3 times, until the water is completely clean of foam.
You can dry them both in the bathroom and on the balcony, but only under one condition: if there is no dust from the street.
When choosing a detergent for washing children's clothes, it is necessary to take into account the degree of its allergenicity. The fact that the child does not fit washing powder, notify the rash on the skin in places that are in contact with clothing. The rash may be in the form of small reddish spots, weeping bubbles, sometimes scaly spots.
Sometimes the skin swells, the baby begins to itch, becomes restless. With itching, antihistamine ointments, lotions with herbs (nettle, bear's ear, bearberry, hops) will help.
In rare cases, the doctor may prescribe hormone-containing drugs or local antibacterial agents. At their discretion, they can not be applied! To cope with the bubbles or weeping rashes can be using fucorcin or brilliant green.
If the rash does not give the child anxiety, ointment is not required: it is enough, as usual, to apply a moisturizer – it is better with a calendula, a string or chamomile.
Young parents are often interested in whether to iron children's clothing. This question is primarily aesthetic, although the answer to it depends on the sensitivity of the skin, and on the type of fabric. For example, it is not necessary to iron high-quality knitwear made of soft cotton – it is enough to straighten it before drying.
It happens that ironing is necessary because of the increased sensitivity of the skin in order to reduce friction. Ironing with a steamer or from two sides follows if the child has a skin infection (weeping atopic dermatitis, strepto-or staphyloderma).
Healthy children, including newborns, do not need disinfection.