Raising feelings in a small person is one of the most important tasks of parents. How to cope with it?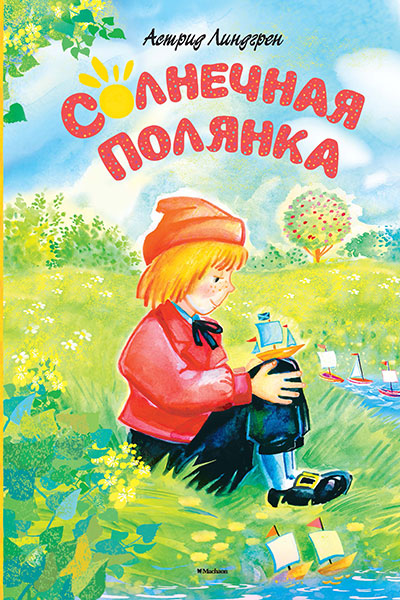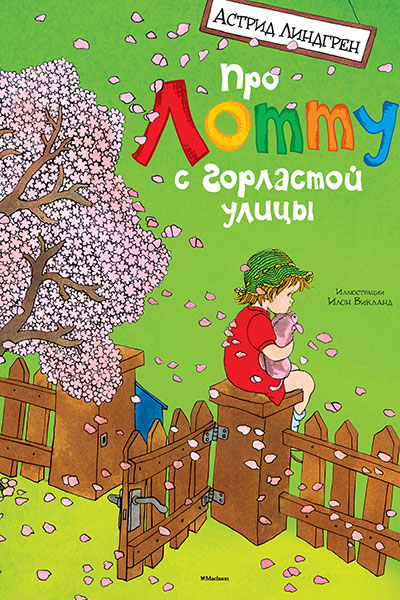 With the heroes of the world famous writer Astrid Lindgren every child should get acquainted. But besides the stories about the Kid and Carlson and Peppi Longstocking, it is worthwhile to read other works to the child.
The book "Solar Glade" (publishing house "Machaon") includes, perhaps, the most beautiful fairy tales written by Astrid Lindgren. They are imbued with amazing warmth, boundless sadness and sincere desire of the soul for joy, goodness and light.
The baby can also be introduced to the life of a cheerful Lotta from the book "About Lotta from Gorlastaya Street" ("Machaon" Publishing House). This extremely busy five-year-old girl can do almost everything: she whistles well and rides her old tricycle, which jerks every now and then!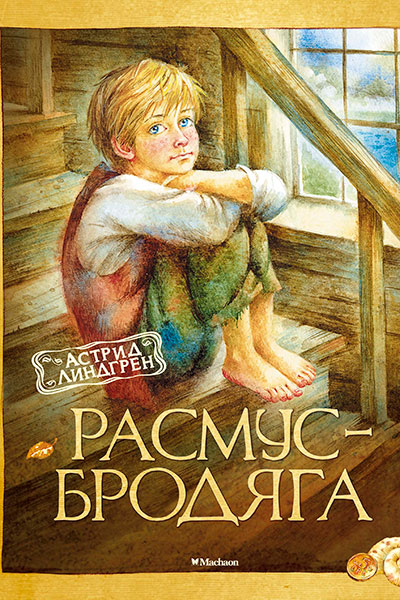 The hero of the story "Rasmus the tramp" (publishing "Machaon"), for which Lindgren received the honorary medal H.K. Andersen is a nine-year-old orphan boy. He runs from the shelter to wherever they look and meets Oscar the vagabond.
Ahead of them are waiting for dangerous adventures, which, fortunately, will end safely.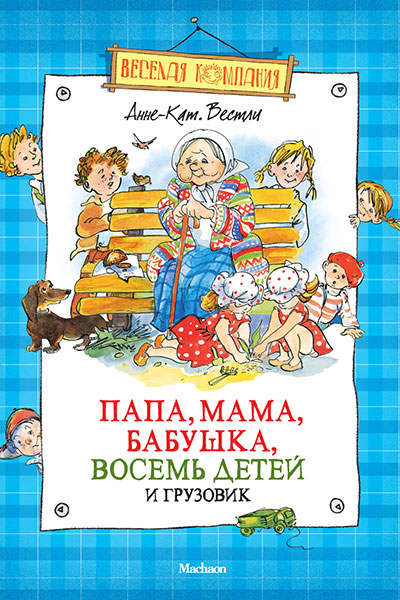 Norwegian writer Anne-Katrina Westley is called modern Astrid Lindgren. Her stories are about family relationships.
In the family from the book "Dad, Mom, Grandmother, Eight Children and a Truck" ("Machaon" Publishing House) eight boys and girls grow at once! The heroes of her books are simple, kind, honest and hardworking, they are humorous about life and each other, no matter what difficulties they encounter on their way.
Adults understand their children very well and retain this understanding, whatever they have done. And children, as they should be, sincerely dream and await the realization of their plans, as in the book "Schepkin and the Red Bicycle" ("Machaon" publishing house).
The author does not hide that he loves his heroes, and her love is conveyed to the readers.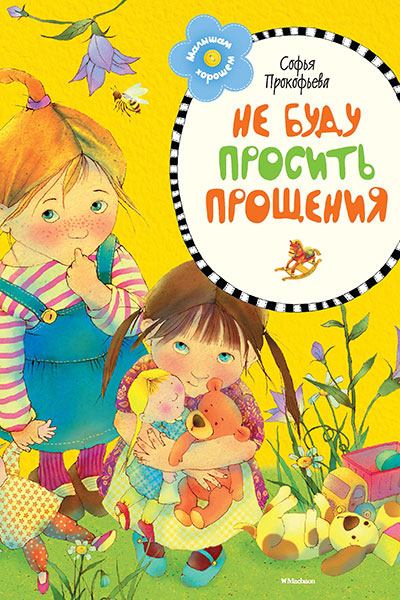 The sensible, kind, eternal teaches children and writer Sophia Prokofieva in her works. The fairy tale "I will not ask for forgiveness" ("Machaon" publishing house) will awaken in the child the warmest feelings for relatives and friends, and the "Fairy Tale Machines" will give the kids real lessons of courtesy, kindness and patience.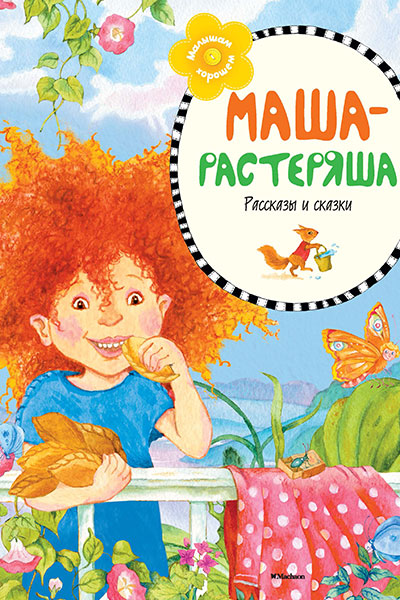 The book "Masha-confused" ("Makhaon" publishing house), which contains stories of wonderful children's writers: Boris Zhitkov, Dmitry Mamin-Sibiryak, Lyubov Voronkova, Valentina Berestov, Gennady Tsyferov, can be a favorite collection of children's fairy tales at the kid. The heroes of these tales – both people and animals – teach young readers to be kind, brave, to help each other, to protect the weak.
Kids enjoy listening and remembering these stories.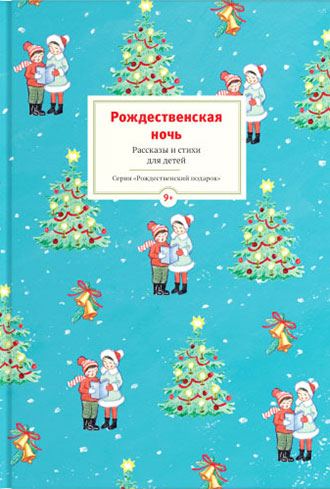 While waiting for Christmas, parents often think about how to set up the whole family in a festive mood, how to feel the atmosphere of the upcoming celebration. Stories and poems for children "Christmas Eve" (published by Nikaia) is the best family reading these days.
This book contains stories and poems about Christmas, about mercy, about miracles that still occur in holy Christmas days.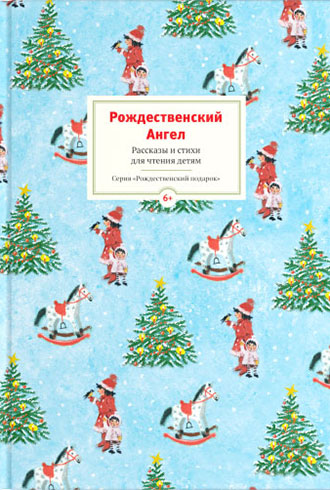 Rival of this book in the creation of a festive mood can serve only another edition of the publishing house "Nikaia" – stories and poems for reading to children "Christmas Angel". For many centuries, writers and poets dedicate their works to Christmas of the Savior – different names and eras, but a common joy for everyone. This book also contains stories and poems about the Nativity of Christ.
These stories from the past and the present about good works will become both useful and joyful reading.
Many books for children contain elements of the game. Such publications can not just read, you can play with them and at the same time receive new knowledge and skills.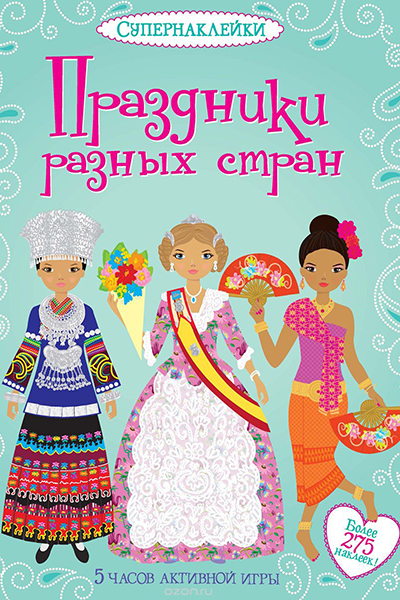 Among the bright albums for creativity, every child will be able to find the one that he especially likes. For example, in the "Super Stickers" series ("Machaon" publishing house) for girls there is a line of fashion books where you can create your own collection of clothes, and albums about cars and inventions are made up for boys.
Also in the series there are universal books about different professions and historical personalities – kings, travelers, astronauts.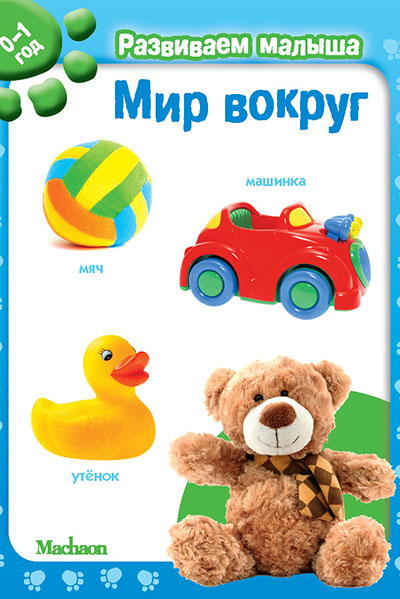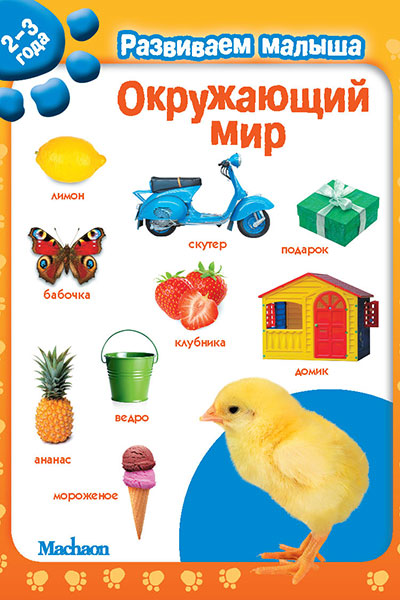 The series "Developing a Baby" ("Machaon" Publishing House) will help broaden the horizons and vocabulary of a baby from 0 to 5 years. Each book in this series will be a real discovery for the baby.
And if the parents find time to tell the baby something new about the objects shown in the pictures, the child will be able to learn even more words.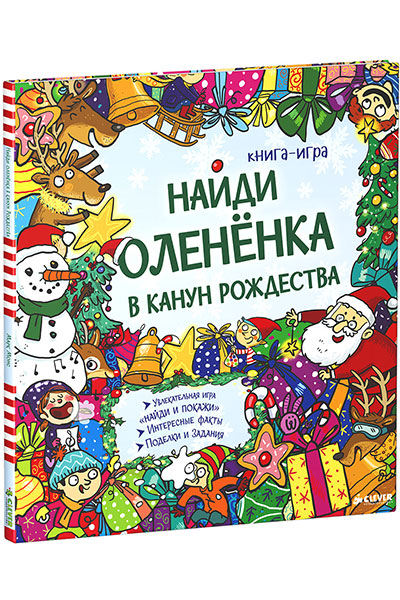 The game-book "Find a Fawn on Christmas Eve" from the "Find and Show" series (CLEVER Publishing House) will be very relevant in the upcoming Christmas and New Year holidays. It has a lot of pictures with elves, deers and fir-trees that are so interesting to look at, as well as a lot of interesting tasks and questions. At each turn of the book, the child will be able to find interesting facts, and you will offer him to find certain items on the page for speed.
Practice your attention, imagination, get acquainted with the New Year traditions of different countries together.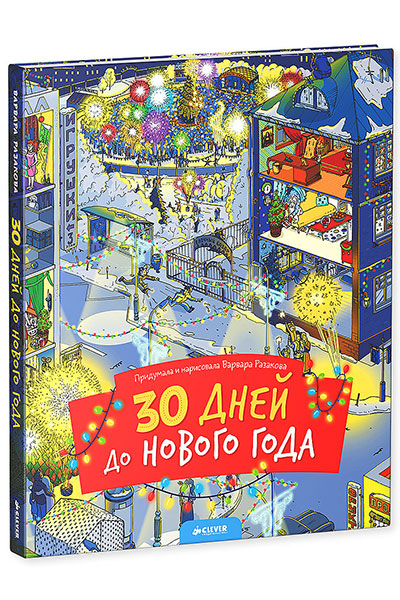 The magic book "30 days before the New Year" (publishing "CLEVER") will help to reveal all the holiday secrets. First, you will find out where you can meet Santa Claus in early December, how and when you decorate the streets, kindergartens, shops, restaurants and ordinary apartments.
And secondly, the book offers interesting tasks. Looking at the pictures, children will be able to find answers to the questions: where is Santa Claus hiding?
Who helps workers freeze ice at the rink? So the time before the New Year will pass unnoticed.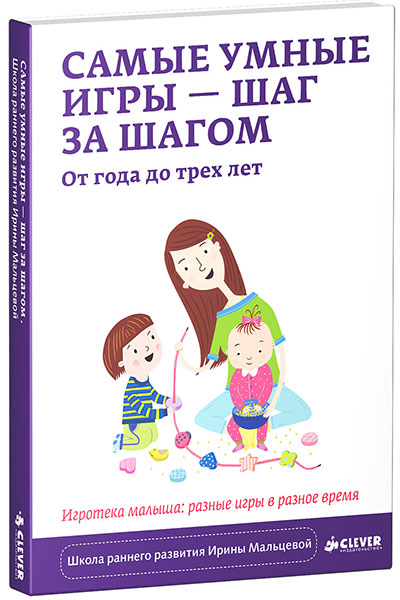 The baby is growing – his games are changing. The book "The smartest games – step by step. From one to three years.
Kid's games store: different games at different times "(" CLEVER "publishing house) was specially prepared for the development of a child in the most important period: from one to three years. Indeed, at this age, a properly organized game helps to form the most important children's skills, which are very important for harmonious development.
The book contains ways to use different types of toys, depending on the age of the baby.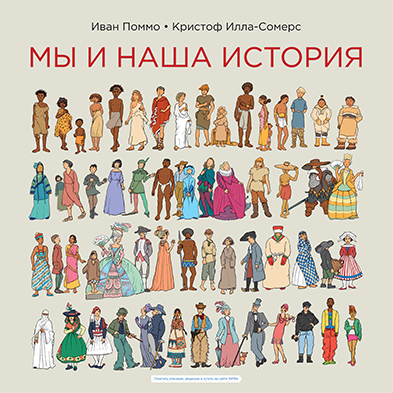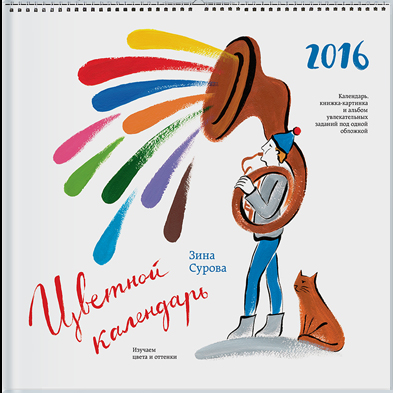 The unusual book "We and Our Story" (Mann, Ivanov, Ferber Publishing House) will be happy for any child on the New Year. You will find in it stories about the lives of kings, descriptions of military battles and political victories of the emperors. The main characters of this book are simple people, just like you and me, who lived at the most different times and in different parts of our planet.
They talk about how they worked, fought, had fun, created and changed our world.
Well, how not to enter the New Year without a calendar of events? And on the pages of the "Color Calendar 2016" ("Mann, Ivanov, Ferber" publishing house) the history of the musician Philip is waiting for children. All year he travels in his van and every month he paints his "motor home" in new colors!
This calendar will introduce the kid with the most different shades of the rainbow (there are more than seven of them!) And will suggest ideas for creative tasks and games for each month.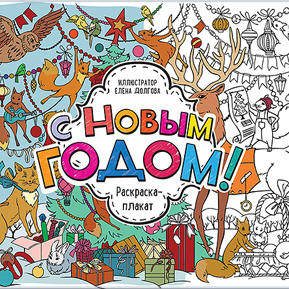 One of such creative ideas can be to paint a big coloring-poster "Happy New Year!" (Publishing house "Mann, Ivanov, Ferber"). She will certainly fill your home with a sense of magic and celebration on the eve of the coming year. Hang this poster on a wall or lay it on the floor, you can paint it with wax crayons, colored pencils, felt-tip pens.
And the more children will draw, the more fun!
We learn how to raise a happy baby, despite its features. We cultivate paternal feelings.
We grow up with the baby.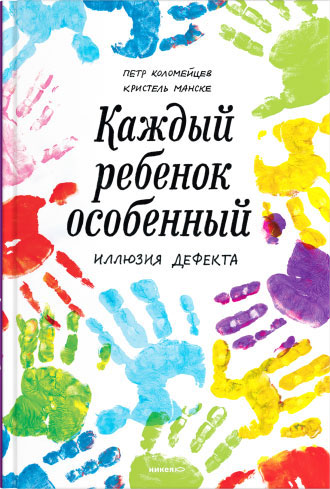 Raising children with disabilities in the Russian realities is not an easy task. Qualitative practical information about such children is offered by the book "Every child is special" by Peter Kolomeitseva and Christel Manske (Nikaia Publishing House).
How to understand the originality of special people, how to build relationships with each other, how to develop together? The book presents us with the experience of such communication accumulated by the German teacher Christel Manske and the Russian psychologist and priest Peter Kolomeitsev.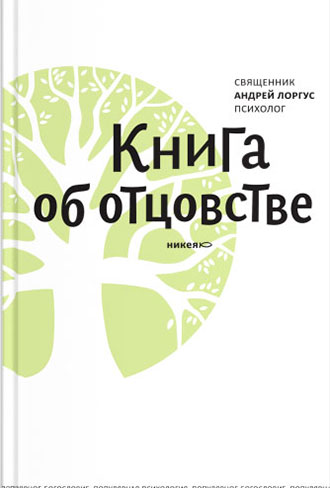 Almost every Russian family feels a shortage of male presence – in one generation, or in several. And it affects the attitude towards men.
Meanwhile, to be a man is to go through a lot of difficulties, including paternity. This is a test that provides great opportunities for spiritual growth.
About this is the "Book on Fatherhood" by Andrei Lorgus (Nikaia Publishing House).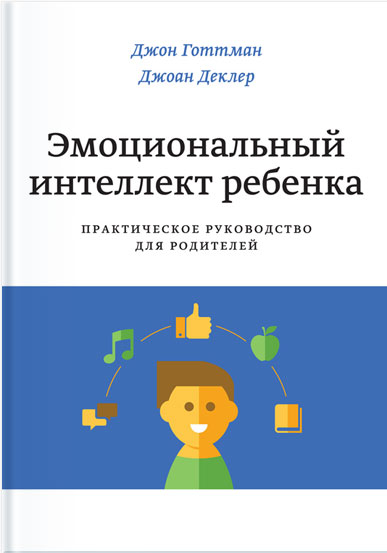 How to help children learn to regulate their emotions? About this in the book "Emotional intelligence of the child" (publishing "Myth").
We diagnose our type of behavior, we look for advantageous strategies of behavior, we help to show more attention to the child's emotions, to better understand his child's mood. Read a fragment from the book: http://www.mann-ivanov-ferber.ru/books/emocionalnyj_intellekt_dlya_detej/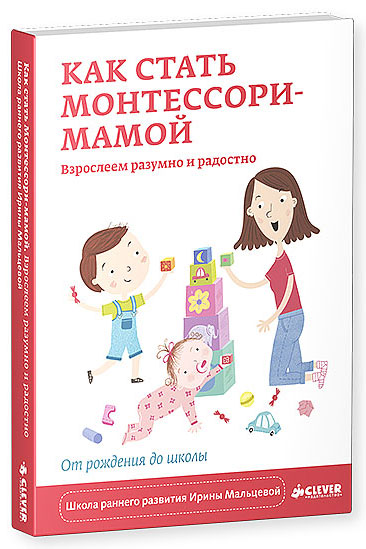 The technique of early development of children of Maria Montessori is very popular in Russia. The publication "How to become a Montessori mom.
Growing up intelligently and joyfully "(CLEVER publishing house) will tell you about simple technologies and how to organize your own family center for early development at home.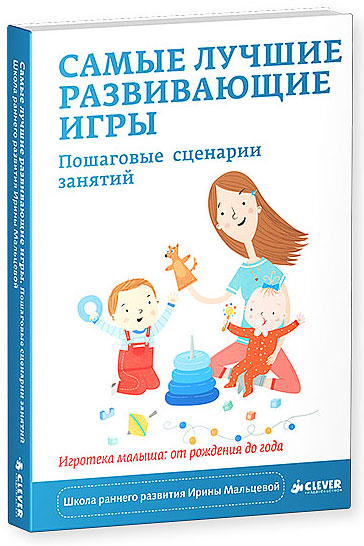 The title of the book is "The best educational games. Step-by-step training scenarios "(" CLEVER "publishing house) speaks for itself.
Much attention is given to games with developing potential that will help develop auditory, visual and speech perception, coordination, thinking and fine motor skills.
Clever Publishing and Happy Parents magazine have released a series of books for moms and dads. They provide answers to all questions relating to the health, growth and development of the baby.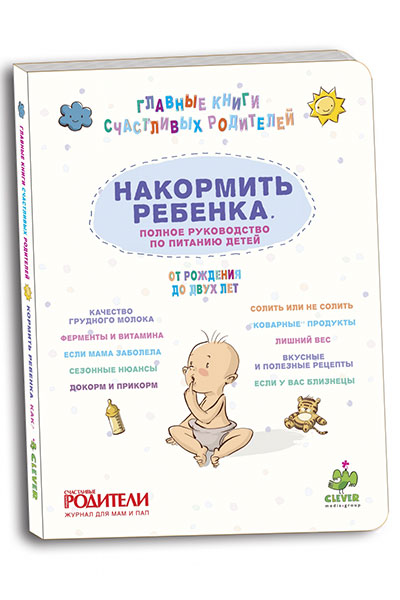 Every mother wants her child to be happy and healthy. Baby health is due to proper nutrition from birth.
Therefore, starting a joint project, the magazine "Happy Parents" and the publishing house Clever devoted the first book of the joint series "The main books of happy parents" to how and what to feed a child at the most responsible age. So, "Feed the child. Comprehensive nutrition guide for children from birth to 2 years old "(CLEVER publishing house)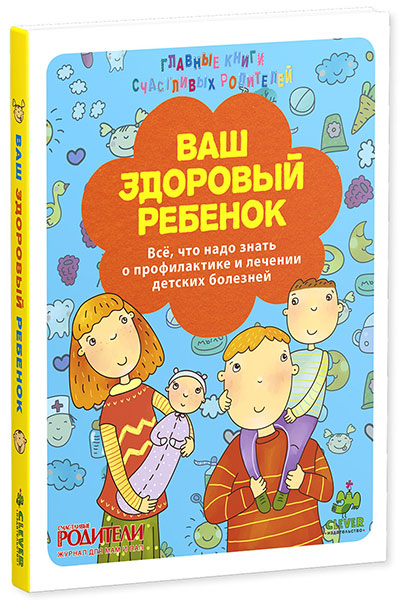 The book "Your healthy child" (publishing "CLEVER") is indispensable for parents who have recently had a baby. It contains the best materials of the magazine "Happy Parents", supplemented by materials of new experts – leading pediatricians of Russia. Here is the necessary information about common childhood diseases, the latest methods of their prevention and diagnosis.
The book will teach not to get lost in a difficult situation, but quickly provide first aid to a child.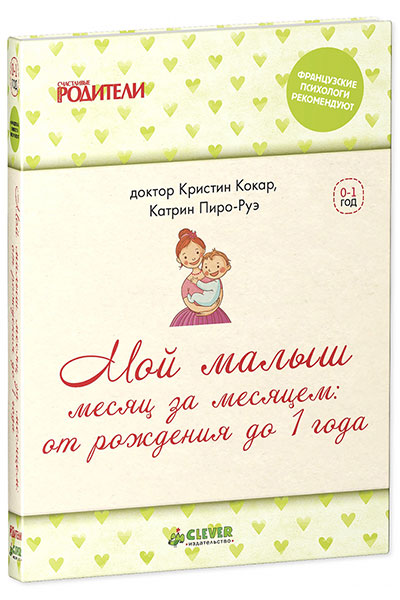 Each chapter of the book "My Baby Month by Month: From Birth to 1 Year" (CLEVER Publishing House) is dedicated to one month in the life of a baby. It gives clear information on the most important topics: what new skills appear in the child and how his senses develop, how his sleep and wakefulness mode is built up, breastfeeding, daily care of the child, first walks, choice of toys, etc.
The Russian edition was prepared in collaboration with the experts of the magazine "Happy Parents".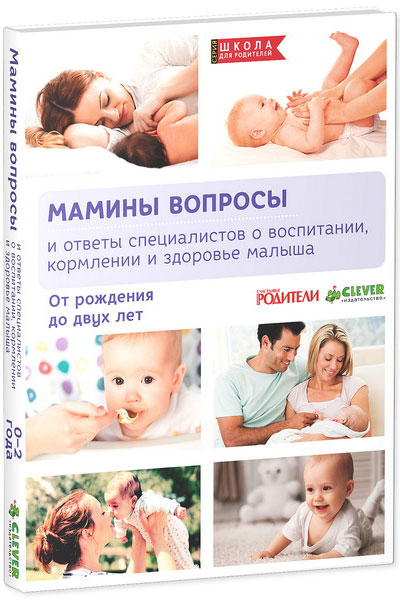 The book "Mother's questions. And the specialists' answers about raising, feeding and the health of the baby "(publishing house" CLEVER ") contain the answers to the most obvious and unobvious, the most common and topical, the most acute and naive mother's questions.
Mom's questions arise constantly, and many answers will be in the book. Experts of the magazine "Happy Parents" – leading pediatricians of Russia, share the best new and time-tested tips.
Pregnancy and the birth of a first-born child are not only a waiting time and a joyful meeting with a new family member, but also a period of serious trials for spouses and young mothers. These books will help to better understand how a child develops and how to act to parents of a newborn in different situations.
In the book "Smart Mom. How to prepare for the birth of a child in three days (published by Alpina Publisher) a pediatrician with 25 years of experience Elena Antsiferova gives practical advice to young parents with a lot of pictures and schemes. Why do newborns develop eye inflammation?
How to feed a child so he does not belch? The book tells not only how, but most importantly – why and why it is necessary to do this way and not otherwise.
The series "Flight School" (published by Dolphin) by Natalya Balorzhetskaya, a child and family psychologist with extensive experience, is dedicated to the psychological health of the family and child. The series tells about the age characteristics of the child in different periods of development.
Particular attention is paid to the role of the father in raising a child.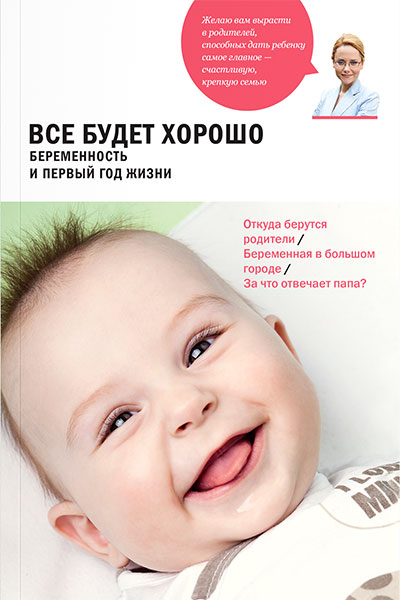 The book "Everything will be fine. Pregnancy and the first year of life "will help the expectant mother to answer her questions and achieve a state of spiritual harmony, a sense of the correctness of what is happening, and instructions in the publication" Only Calm.
From 1 year to 3 years "will help parents to cope with household and educational problems of the baby.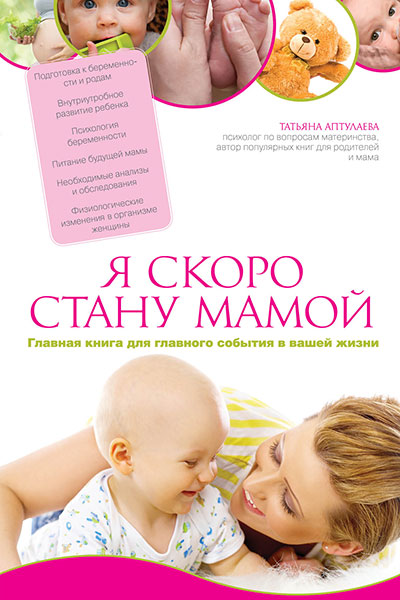 "I will soon become a mom. The main book for the main event in your life "(Exmo Publishing House) is a bestseller, first published 10 years ago.
To this day, the book is relevant for young women who are preparing for the first time to become mothers. Psychologist Tatiana Aptulaeva tells how to prepare for pregnancy; what happens to the body in these nine months; how the child develops; how to eat for the benefit of yourself and the baby, how to cope with toxemia, what type of exercise to choose, how to prepare for childbirth.
And all this taking into account Russian realities and new trends in medicine. Read a fragment from the book: http://cdn.eksmo.ru/v2/ITD000000000242376/read/full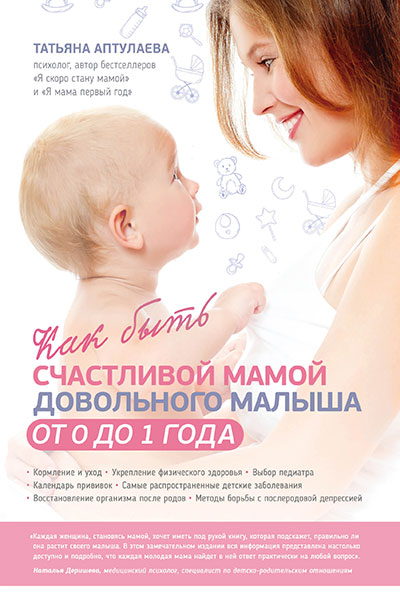 Another book by Tatiana Aptulaeva, "How to be a happy mother of a satisfied baby from 0 to 1 year old" (published by Eksmo) will suit not only an "beginner" mother, but also an experienced one. You will learn to feel the child better, to understand his needs and desires; quicker to calm him when he cries. Read a fragment from the book: http://cdn.eksmo.ru/v2/ITD000000000606716/read/full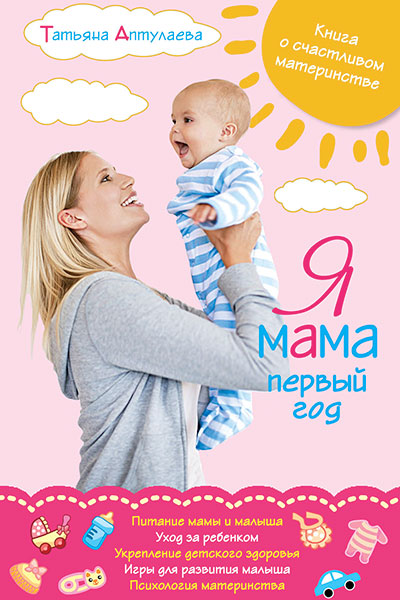 The book "I am a mother for the first year. A book about happy motherhood "(by Eksmo Publishers) is more than a regular encyclopedia of advice. The author teaches young mothers to understand the child; play with him, in time to notice the first ailments.
Author Tatyana Aptulaeva convinces readers that taking care of yourself: getting enough sleep, keeping fit and looking good – everything is possible.
Read a fragment from the book: http://cdn.eksmo.ru/v2/ITD000000000190802/read/full
Every mother begins to prepare for raising a child during pregnancy. This will help the publication "Mother and Child.
Encyclopedia of Harmonious Pregnancy and Happy Motherhood (Exmo Publishing House) is a guide book on pregnancy, childbirth and motherhood from a psychologist, author of several bestsellers Tatiana Aptulaeva. How to make contact with the baby before birth and how to communicate with him when he is already born, so that both mother and child enjoy this activity. Read a fragment from the book: http://cdn.eksmo.ru/v2/ITD000000000178676/read/full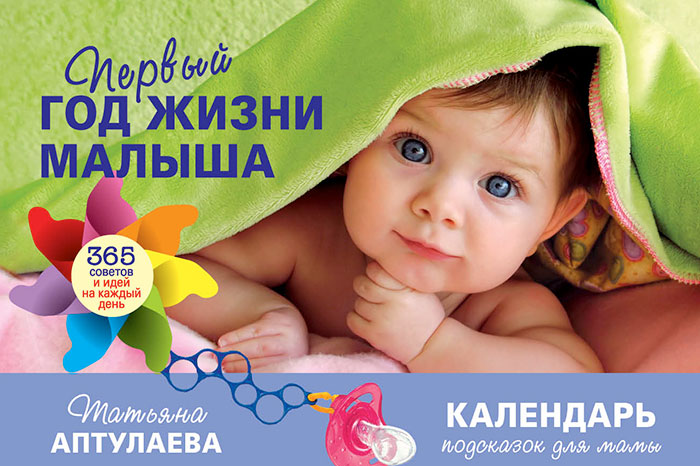 A calendar book "The first year of a baby's life. 365 tips and ideas for every day "(published by Eksmo). The calendar is designed so that mom can easily find the right answer: for each day of the baby's life, very brief, practical and proven tips and ideas are collected.
Care, feeding, development, games, gymnastics, health – everything is in this unusual calendar from the author of popular books, psychologist and mother Tatiana Aptulaeva.
Staying active, inquisitive and fun, despite the number of children and worries – what could be better?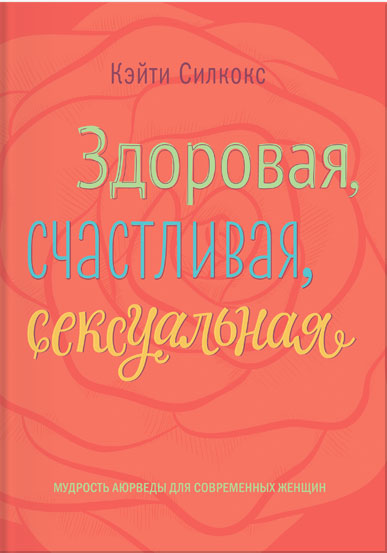 How can mother stay young and active? About this manual from Katie Silkoks, a yoga teacher, ayurveda practitioner, author of Yoga Journal articles "Healthy, happy, sexy.
The wisdom of Ayurveda for modern women "(" MIF "publishing house). In order to bring the ancient wisdom of Ayurveda into your life, it is not necessary to refuse to sit down with a friend for a glass of wine, fashion magazines and other pleasures.
The book has exercises, meditations, recipes and ancient practices – everything that is needed for women's health and beauty, and that does not contradict the way we live now.
Read a fragment from the book: http://www.mann-ivanov-ferber.ru/books/zdorovaya-schastlivaya-seksualnaya/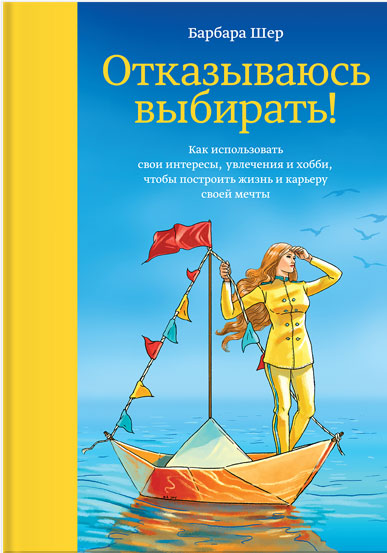 They say people can be divided into two types: scanners and divers. Divers are those who have chosen one area of ​​interest for themselves and began to develop in it. But scanners have too many hobbies to focus on one thing. "Scanners" want to try everything, they both read the structure of the flower, the theory of music, are interested in travel and politics.
And it does not matter, but a gift. Read more about this in the book "I refuse to choose! How to use your interests, hobbies and hobbies to build the life and career of your dreams "(publishing house" Myth "). Read a fragment from the book: http://www.mann-ivanov-ferber.ru/books/otkazyvayus_vybirat/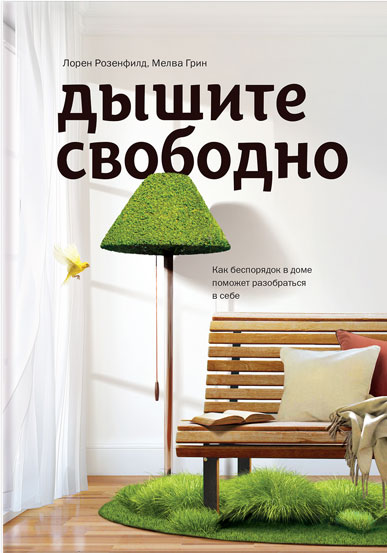 Did a bunch of trash accumulate in the house? Look at him more closely – under these heaps are hidden spiritual lessons and emotional insights. They will make room not only in the house, but in the soul.
The book "Breathe Freely" (publishing house "Myth") will tell you where to start if you want to get rid of the disorder – external and internal. Read a fragment from the book: http://www.mann-ivanov-ferber.ru/books/dyshite-svobodno/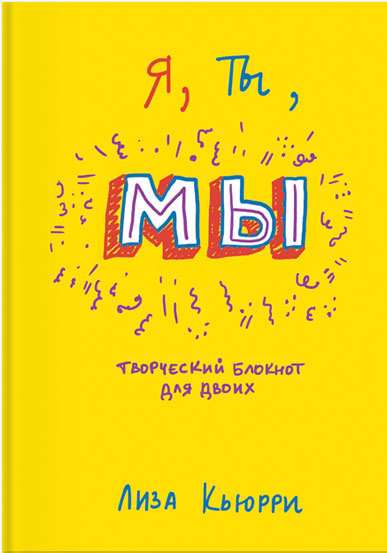 The possibility of joint work with friends, family members and colleagues gives the book "I, you, we" (publishing "MYTH"). In fact, this is not quite a book, but rather a creative notebook that needs to be filled out together: write wishes to each other, choose a favorite song, draw portraits and even sketches for tattoos. Read a fragment from the book: http://www.mann-ivanov-ferber.ru/books/ya-ty-my/
The material was prepared with the support of the Russian publishing houses EKSMO, MAKHAON, NIKEA, DOLPHIN, and MIF.