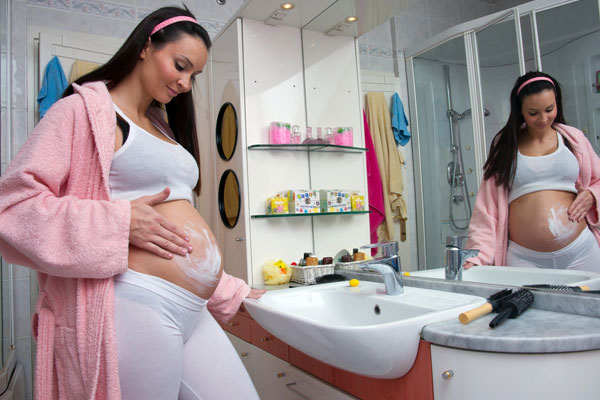 It is impossible to completely avoid these problems, since they are natural companions of the pregnant woman, but it is possible and necessary to smooth their manifestations without delaying the care of your skin for later.
How to deal with dry skin? During pregnancy, be sure to use creams and oils that moisturize and nourish the skin well.
In this case, remember: in order not to harm yourself and the child, the expectant mother should choose only natural remedies that prevent dehydration of the skin and ensure its effective nourishment. Be prepared for the fact that your skin may respond to habitual care products very differently than before pregnancy.
You may have to change them.
For daily washing, use vegetable-based soap designed for dry skin, for example, a mild cream soap enriched with evening primrose oil, borage, sunflower and rosewood. After washing, be sure to apply a moisturizing and soothing agent on your face.
Perfectly suitable for this purpose is a balm with aloe vera extract, shea butter, jojoba oil and opuntia oil, developed for irritating, dry, dehydrated skin.
Be sure to use moisturizing oils after taking a shower or bath. Thus, organic little jojoba has a wonderful effect, similar in composition to the sebum, which makes it an ideal means for the care of dry skin of pregnant women.
Jojoba oil, completely natural in composition, is also present in the line of cosmetic oils of all known cosmetic brands of organic cosmetics.
For skin care, you can use special children's moisturizers or cosmetics from the "For Moms and Kids" series; such products are subject to more stringent certification and quality control.
The appearance of cellulite is another skin problem that often occurs during pregnancy. This is due to the fact that, against the background of a hormonal shift, sodium accumulates in the body of a pregnant woman, retaining water. This creates conditions for the accumulation of fluid in the subcutaneous fatty tissue, which leads to the development of cellulite.
For the prevention of this condition, it is useful to use cosmetic preparations with an active moisturizing effect, described above, as well as cosmetics that improve skin elasticity and increase its elasticity (you can read more about such cosmetics in our article "Stretching during pregnancy").