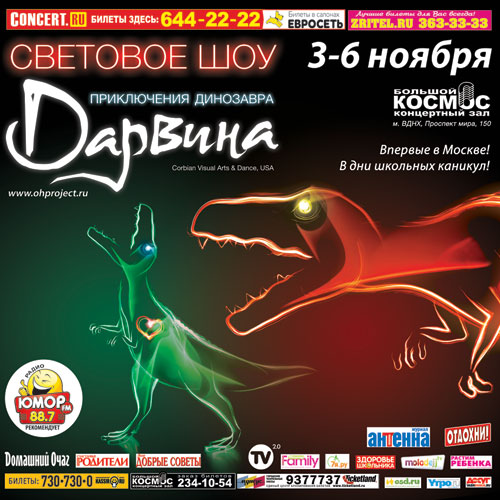 The performance will be an excellent and very unusual gift for children during their school holidays. What is happening on stage will not leave indifferent either children or adults.
The performance creates vivid emotional experiences and at the same time allows the child to experience the world.
40 different characters are represented by 6 artists in fancy high-tech LED costumes and dolls that seem alive. In the "black office" of the scene, fantastic creations suddenly appear, as if created from luminous colored crayons, tracing the space with a scattering of bright colors.
They appear out of nowhere, shine and shimmer, their flickering shine fascinates … And to the sound of music, they tell the audience an interesting story about the adventures of a little dinosaur who learns the world.
The creators of the show Ian Carney and Corbin Popp met while working on the Broadway show "Moving Out". Their life was changed by the occasional find of a product called EL wire. EL wire is an electroluminescent wire, powered by batteries.
Unlike ultraviolet light bulbs, this technology glows from the inside and does not require a power connection. Together with their wives, Eleanor and Whitney, they set about developing a modern puppet theater and honing the skill of turning dolls into living beings, that art form that finds a key to every spectator who sees it live.
And as a result of many years spent on the development and development of the project, Darwin appeared. Truly unique and stunning.
The story begins with Professor Henslow, the most famous scientist who possesses magical charms. We see him in the workshop, collecting his last creation, Darwin, in one piece, piece by piece.
With a wave of Henslow's magic wand, Darwin comes to life. The professor makes Darwin a heart that creates in him compassion for other beings.
After that, he calls on the dinosaur to study life outside the workshop and sends him outside, giving him fireflies to guide him through the night. Darwin will encounter many different creatures, including Verla's awkward ostrich, the beautiful fish Peche, and the sinister red dinosaur Brutis.
In the end, when Brutis threatens Professor Henslow, Darwin will be forced to make a decision. A decision that will change his life forever and ultimately reveal the true meaning of love to him.
After the show is over, every curious spectator will be able to see with his own eyes the magic of transforming inanimate wires and batteries into living creatures.
WHERE TO LOOK: Cosmos Concert Hall (metro station VDNH, Prospekt Mira, 150)
BEGINNING SHOW:
November 3 at 19.00.
November 4-6 at 12:00, 15:00 and at 18:00.