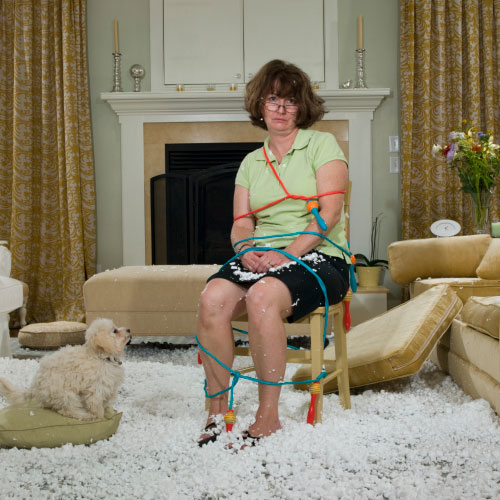 Before announcing the results of the experiment, let's say a few words about nannies in general, keeping silent, however, about Arina Rodionovna (everyone already knows about her).
A few years ago, a nanny in an average Russian family was an exotic phenomenon, but today this phenomenon is considered a family without a nanny. Women want to make a career without prejudice to the family and have children without prejudice to their careers.
Desire is absolutely normal and causes nothing but understanding. In the meantime, it's difficult to meet an understanding among grandmothers – not all of us can boast of a mother who selflessly rushes to the embrasure of the home and fully devotes herself to her grandchildren.
In addition, such selflessness has a downside: grandmothers start looking at their grandchildren as if they were their own children, and mother often feels moved away from the back. In short, sooner or later everyone comes to the same thought: the family needs a nanny, and the sooner the better.
In the park near my house, kids from all the surrounding buildings arrive on a daily walk. Accompanying them exactly nannies, and their presence does not prove the high material level of the family.
What is a good nanny? Each of us has our own idea of ​​this, but the ideal image is built from the same features: a middle-aged woman with higher education and medical skills, not talkative, neat, diligent, cheerful, having her own (adult) children, good looking , not envious, clever, with pedagogical abilities …
Approximately the same young girls make up a portrait of an ideal husband, fashioning him from mutually exclusive qualities. Ladies adults and experienced perfectly understand that this option is unattainable.
Nevertheless, one must strive for the ideal and remember that in each of the seven nannies in question there are some of these qualities.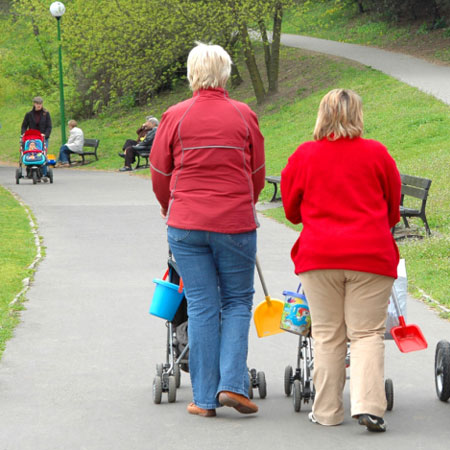 She is already retired, but she is too active to sit idly on the stool with other grandmothers – what else! The grandmother-old woman was not going to become a nanny – you once liked it, as she talked on the street with the kids, and you decided to look at her more attentively.
The grandmother-old woman will never demand a huge payment for her services, will always be happy to take on the additional burden associated with cooking and even cleaning your apartment, and one day you will realize that it is irreplaceable.
Surrounding, meanwhile, will not get tired of being surprised at how you are not afraid to leave the kid with such an old man, to put it mildly! And you grin: experience and hardening of such grannies are expensive – now people like your nanny simply do not exist.
Advantages: experience, patience, the lack of pronounced monetary interests, affectionate attitude towards the baby.
Disadvantages: care and upbringing in the old fashioned way, neglect of new medical and pedagogical trends, inevitable grumbling and sluggishness inherent in age. In addition, the grandmother-old woman will educate not only your baby, but you and your husband as well.
Degree of reliability: higher than it seems. No wonder the nannies of children from time immemorial were old women – others simply did not trust them.
Many young mothers, having devoured a queen in a maternity hospital, dream of a nurse with a medical education. Unfortunately, few of us can boast of a perfectly healthy child, so the soul, of course, will be calmer when there is a knowledgeable person next to the baby.
Doctors in nannies, as a rule, do not retrain, but the nurses are happy to take additional work, out of habit, calling it "duty". In principle, a nanny in a white coat is quite a worthy option, but only if it is a child of the first months of life, when he needs general care more than upbringing.
Nurses – the profession dictates! – they are usually very careful, they do not miss the medication, they can provide additional services: to massage the baby, injections, etc. However, few of them agree to work as a nanny for many – many people like the hospital atmosphere, besides, the question always arises about the experience and other specific things. In general, the nanny-medical is an ideal option for the first time, and many of them willingly take night shifts: they are no stranger to them, and you will get rest and a normal sleep!
Advantages: professional child care, medical outlook.
Disadvantages: in a year you will have to look for another nanny.
Degree of reliability: quite high.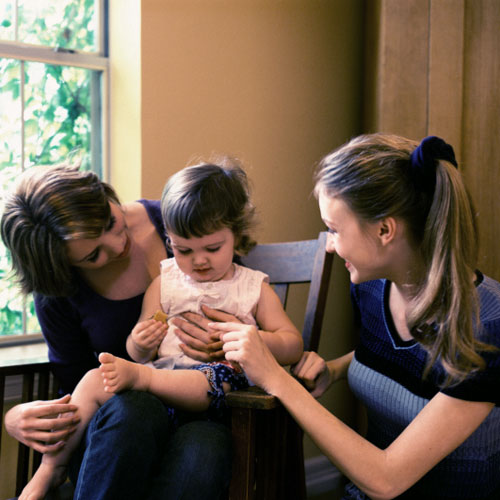 She least of all wanted to be a nanny. And she would never have become, if not for extraordinary circumstances, as a rule of a material sense.
Low-paid or non-existent work, debt, need – that was what made her work in this field. As a rule, such nannies come to work on someone else's recommendation.
Sometimes moms look out for them among their friends, neighbors, neighbors friends and familiar neighbors. Arguments "for" in these cases are good nature, accuracy, the presence of their children.
But do not forget that this nanny is unlikely to truly love your child, because she became a nanny not by vocation, but by need. She was brought by random wind to your home, and you cannot be insured against all sorts of accidents: this nanny will not be able to make independent decisions (for example, the baby became ill in your absence, and instead of immediately calling the doctor, she will wait for her mother to return to work), it will be frankly its duties and even to pronounce that she, she says, is engaged not in her own business and in general is born for a different fate. There is also another turn: the nanny sincerely binds to the child, but not knowing how to bring up someone else's baby, she starts to let him everything, after which you look with horror at the spoiled little bastard, not immediately realizing that this is your child.
Still, you should not trust the fate of a child to a random person. Exceptions, of course, are, but they are exceptions to exclude them.
Advantages: the services of this nanny can cost less than others. However, this is a very doubtful plus.
Disadvantages: lack of professionalism, unwillingness to work, inability to find a middle ground in raising a child.
Degree of reliability: below normal.
Another very dubious option. There are, of course, unique girls who manage to combine work with the session and first love, but this is still a great rarity.
Typically, a student takes on the work of a nanny, considering it solely as an extra income. You get a babysitter, limited time and passionate about their own interests.
In addition, one day you will be able to see at your place also a nice young man who is a little embarrassed at your appearance and the subsequent discovery of the dinner eaten by him (a case from personal practice!). It is unlikely that someone will like it, because the child in this situation is given very little time.
And in general, young girls are not accustomed to seriousness – no one condemns them for this, just a nanny should take his responsibilities very responsibly and in no way neglect them. A young girl may be frightened by your negative reaction and not tell about what happened to the baby in your absence – while an adult will not hide if the child has fallen heavily or has poisoned … In general, it is better not to trust the baby (especially the baby) to young nannies .
Advantages: inexpensive service fees.
Disadvantages: lack of experience, frivolity, inconvenient schedule, attitude to the work you have, as a temporary extra.
Degree of reliability: extremely low.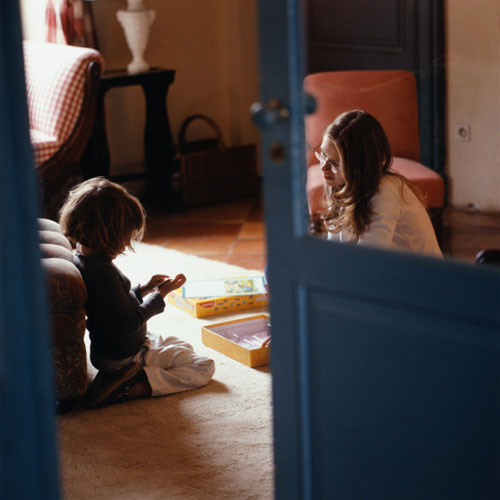 You probably found it with the help of the agency and are now asking yourself why they did it. The nanny-pro behaves as if she knows best what your child needs.
She constantly teaches you, intervening not only in children, but even for some reason in your adult affairs. From herself, she, however, in complete delight.
Indeed, she manages everything: from primitive swaddling to teaching six month old children to reading. Other moms ask with envy where you have found such a treasure.
Children, as a rule, love her – she knows how to make contact with them again, professionally, however, children (especially very small ones) will love any nanny – they don't know that there are other options … In short, you know how to skip past additional tips, if you are not annoyed by constant boasting and self-promotion, perhaps the nanny-pro will be the most suitable option for you. In any case, her child will be well-groomed and developed.
The important moment – the nanny-pro always considers the payment insufficiently high and absolutely not corresponding to her knowledge and accumulated experience.
Pros: The nanny-pro is a jack of all trades, and she actually knows how to handle children. With it, you can leave the child even for a week and not worry.
Disadvantages: an inexhaustible fountain of tips against the background of permanent self-glorification, constant (and unconcealed) dissatisfaction with salary.
Degree of reliability: very high.
If you can imagine the exact opposite of the old grandmother, then it is she, Mary Poppins, the dream nanny, in comparison with which all the moms turn into tortured Mrs. Banks from Vishnevoy Lane. Mary Poppins knows and is able to do everything, and does it all simply flawlessly.
Children love her, but they are a little afraid – she never indulges them, considering rational rigor to be the basis of a competent upbringing (even if the pupil was equal to three weeks). She will not caress the child once again, will not go on about his whims, so you will definitely get a perfectly educated offspring.
That's just … It's better that Mary Poppins will come to your house a bit later – just a little love and warmth are needed just as much as compliance.
Advantages: prevail. Nothing to complain about, which is somewhat annoying.
Disadvantages: excess of merits and excessive severity.
Degree of reliability: extremely high.
She also treats your child as if her own, but does not impose her own method of education or care on you – she just sincerely worries about the baby, listens to him, feels his problems and needs. Not a single child, not one of his new "skills," will ever escape the soul mate from the nurse, she will always guard the interests of the child, while being well aware that this is first and foremost your child. Sometimes it tends to be hyper-active.
In your opinion, it would be possible to neglect some things, but it is difficult to argue with her – for some reason she always turns out to be right. Such babysitters are equally adored by both babies and their parents. If your nanny loves the baby, experiences his diseases as his own, but does not dissolve in your life, having your family and your interests, then you are phenomenally lucky.
Take care of such a nanny, do not carp at her for nothing and remember – she is as close to the ideal as possible. Because the ideal nanny really only needs to truly love your child.
And if so, everything else will definitely work for her!
Advantages: reliability, attentiveness, sincere affection for the baby.
Degree of reliability: the highest possible.