HAPPY PARENTS According to many, for a woman, childbirth is the most important event in life. And for a man? SERGEY SAFRONOV Of course!
And what's more, not only for a man, but for the whole family, including grandparents. Especially for my parents, for whom Alina and Volodya are the first and so far the only grandchildren (my brothers have no children yet).
So, my parents were very anxious about the appearance of a granddaughter, and then a grandson. I remember when Masha and I told them that we would have our first child, I saw such warmth, such love in their eyes! And at the same time responsible.
You see, my brothers and I have already grown up, have become adults, independent people, and then babies reappear in the family, and parents who have become grandmothers and grandfathers, need to educate someone again, take care of someone. On the other hand, they are younger with their grandchildren. We need to see how grandfather and Alina chase the ball, as if he was again two years old, and her grandmother rolled her on her back!
Who else would they behave with ?!
S.R. Do grandchildren return adults to childhood? Ss Yes!
And when we had a son to please even the older generation of our families, we named him after Masha and my dad – Vladimir. For them, it was a surprise and a great gift.
S.R. Not at all, but for many parents with the birth of children the relationship is going through a certain crisis. Did you have something like that?
MARIA SAFRONOVA It was with the first child, two or three months old, when we had a very difficult time. Everything was new to me, and Serezha was constantly on tour and filming was lost. But gradually everything worked out, Alina began to grow, to bring joy with her own successes, and we tried to concentrate on joy.
And in her seven months, we had a nanny of Light, she came to us on weekends, and we could already afford to go somewhere, get distracted. Her help has seriously helped us maintain a normal psychological climate in the family and still helps. Perhaps there are such self-sacrificing families where the husband is ready to go on vacation for a month, and the wife to sit on maid and sit in it until the child comes of age, but I am not like that.
I believe that a person should develop, and if you dedicate yourself only to a child, then at some point this development stops. Therefore, I think mom must go to work, sooner or later.
S.R. Did you do that? M.S.
Yes, I am a producer on NTV, and I really like my profession, although, having left home for work at 12 o'clock in the afternoon, I can return at 9 pm and at one in the morning. I miss, of course, and they miss me.
Previously, Alina asked me: "Do not leave!", And now in the morning she says: "Sit one minute!" I will sit with her and she calmly lets me go. Therefore, for all the holidays, for the weekend, we try to get together.
S.R. Is it easier with the second child than with the first?
Ss At some point, when you have a second baby, you realize that this is not so scary. Of course, with the firstborn there was a lot of incomprehensible, but now we have already ceased to tremble like that: oh, oh, now something will happen!
Moreover, Alina, who is already running with might and main, has a conscious girl and understands what to do, which is impossible, her fingers won't stick her in the socket for sure. I hope that when Volodya goes, she will be equally intelligent.
S.R. So they are obedient guys? Ss
Well … With character. Yesterday, when I came, I learned that Alina had learned a poem.
I asked her to tell. "No," he says, "I will not tell you!" I say: "What about a chocolate bar?" I told twice about a chocolate bar!
S.R. Children tricks probably show?
Ss No, I do not show.
Alina shows us all tricks. For example, he takes any object (it may be a nipple), rubs it between the palms, as magicians do, and then "imperceptibly" and quickly hides it.
Clenches fists and asks which hand.
S.R. Did you teach her? Ss
I do not do such tricks. I definitely did not teach this.
S.R. What could it be – a congenital craving for the tricks of the illusionist's daughter?
Ss Maybe somewhere I peeped, or maybe something really inborn.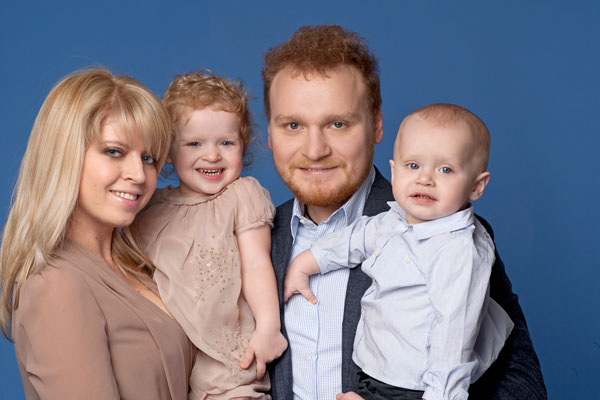 S.R. Already you can tell who they are like the character?
Ss Alina – on mom!
She is unpredictable: she was kind, then she went right away, offended, and in a minute she was kind again. As for Volodya, his character is not completely clear to us. M.S.
Alina is very emotional, bright, whimsical, naughty. And, on the contrary, it seems to me that the daughter looks more like Sergey.
She is father's daughter. And Vova looks very similar to me in childhood, but the character is really completely incomprehensible. Dark horse can say.
The son is quieter than Alina, but, in my opinion, for the time being: as they say, still waters run deep.
S.R. Will there be a difference in the education of the girl and the boy?
Ss To be honest, I did not think about it, but, of course, I will not bring flowers to Volodya for my birthday.
S.R. Alina bring? Ss
I bring. Such special, foam rubber. And recently, she was at her friend's birthday party (yes, she already has male friends!).
There she was presented with flowers from balloons in the form of sausages. She liked it.
Volodya will soon run with us, I will play ball with him. In general, I think my daughter is more inclined to engage in creative work, because already now she is clearly drawn to this direction: she dances, sings, tricks again.
Volodya give up the sport. And let them choose something more definite already at the age of 16. M.S.
Alina, except for creativity, will also be engaged in sports. From next year on rhythmic gymnastics will go.
S.R. Do you want them, like you, Sergey, to become illusionists?
Ss The main thing for me is that they become good people.
And also, in my opinion, one friend very rightly said: it is necessary that when they grow up, they should be surrounded by really decent people and that they have a lot to reach.
S.R. And where can you find such a society?
Ss You can start now.
And do not go far. We have many wonderful, decent people, and they also have children of the same age as Alina and Volodya. I think that this is exactly the circle of people with whom they will go through life.
My parents also formed a circle of friends with my brothers, restricting our relations with the yard boys who smoked and drank from the school bench. And I think that this played a very important role in our upbringing.
If it were not for the parents, it is not known who we would be now. Every day we had a schedule, we visited a lot of circles, and a lot of it came in handy in our lives. Today in our shows we dance, sing, play musical instruments – we learned all this thanks to mom and dad.
Although not all the classes we agreed. I didn't have a guitar, ballet too …
S.R. Did you do ballet?
Ss Yes, with brother Andrew.
But we didn't feel too comfortable, despite the fact that there were so many beautiful girls there, and of the boys only, actually I am a brother.
S.R. And left them ?!
Ss The young were very stupid!
S.R. Are you strict parents?
Ss I try to be strict, but I can't do it. I am sure that strictness is necessary, otherwise then, at 18, she will communicate with me as a friend and my word will weigh as much as the word of Vasya, a classmate, but this should not be.
Masha and I both always try to keep the last word. I am convinced that children can not indulge. M.S.
We have no rigid framework in education, depending on the situation, everything can be changed and varied. And we try not to repeat mistakes with the first child in the second. Up to two years, Alina slept with us, and Vova was put in his bed from childhood, no matter if he cries or does not cry.
And over time, he began to fall asleep and sleep better than his sister, and it never occurred to him to ask us. But this does not mean that a child should never go to bed with his parents.
Wants Vova to come to us to lie down – please! And then, there are situations when it is simply necessary, and the bed of the parents becomes the best protection and comfort. Or when you're sick.
For example, I remember, the last time I went to bed with my mom was 13 years old. That is, one-time is allowed, and courses are not recommended. Ss
Yes, Alina comes to us at night. Just recently, I watched the film "Paranormal Activity" and for some time was impressed by it. Especially at night.
I wake up somehow, I feel something is wrong, I turn around – almost sleeping is standing over me, but Alina is with her eyes open. I immediately remembered the heroine of the film, who also rose and stood silently and fearfully at night, and became cold.
Meanwhile, Alina, having murmured, "I'm coming to you," already climbed over me and got settled between me and Masha.
S.R. Your new year show "Wondersarium" was a great success.
Cooking something new? Ss And we are preparing a new one, and we will show "Wondersarium" in other cities and countries, of course.
Absolutely new principles were applied there, which no one else had used, workshops from five countries of the world were connected. The same "Tesla lightning", literally piercing a person. The current discharge in it reaches about 3.5 million volts!
And this is a real discharge, which is quite difficult to deceive. There are only three similar pieces in the world.
In general, to create a miracle of the XXI century, you need to put a lot of effort and the most modern knowledge in different areas, and today's sophisticated viewer is very difficult to hit.
S.R. Do you believe in real miracles?
Ss Of course I believe!
I myself witnessed several times myself. For example, the first miracle happened some time after our birth with my brother.
And my mother told us about this only recently. The fact is that the doctors told her that we would be stunted in development, we just made a diagnosis like that. As a result, the first month our mother did not sleep, wept and kept watch at the door of the children's ward (we were all together in the hospital), listened: if we cry, then at least we are alive.
And we were not only alive, but also quite healthy! Isn't that a miracle ?!