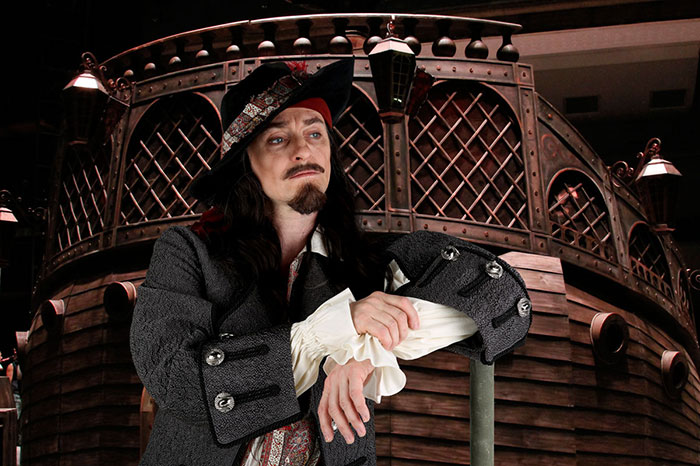 Moscow Gubernsky Theater invites guests again! On May 30 and 31, young spectators, as well as their parents, are waiting for the premiere of the play "Treasure Island" based on the novel by Robert Louis Stevenson.
The theater will present the most complete stage version of the novel of all existing in Russia. This is a story about a boy, Jim Hawkins, who accidentally becomes the owner of a map pointing to the treasure.
In the company of Dr. Livesey, Squire Trelawney, Captain Smollett and one-legged ship chef John Silver, he sets off on a schooner in search of an island where the treasure of Pirate's captain Flint is hidden.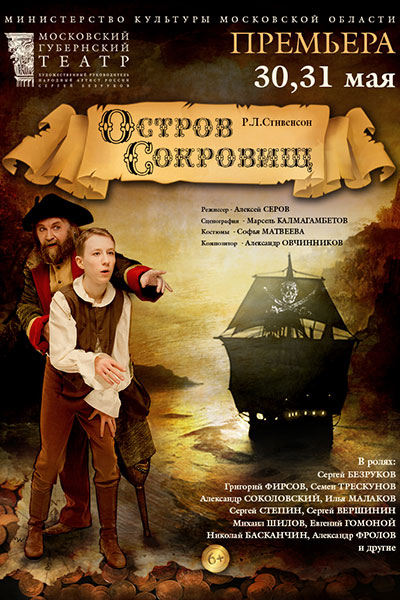 Artistic director of the theater Sergey Bezrukov said that "Treasure Island" for him is a favorite book of childhood. And for the first time in his acting career, a well-known artist will appear on stage in a children's play. "In the premiere performances I will play the famous pirate John Silver. Of course, I will not play Silver alone, – it would have been difficult without my roster because of my employment, "Bezrukov stressed. – Paired with me is a wonderful actor Grigory Firsov, who, I think, is even more suited to this role both in age and in texture.
But I really want, even at a mature age, to play pirates – shooting with muskets and firing from guns, taking a fort, fighting with sabers and swords! This is a romantic, adventure play – about traveling, searching for treasures. It seems to me that now there is a shortage of quality works in this genre in contemporary literature, and on TV, in movies, and in the theater they are not enough.
It is a pity, because the genre of adventures gives rise to an amazing attitude towards life – a child brought up in good adventure novels, it seems to me, will grow up to be a bright, clean, inquisitive, caring, active person. "
The main role – the boy Jim Hawkins – will play a young actor Semen Treskunov. Many viewers probably remembered him for the recent film premiere "Ghost", where Fyodor Bondarchuk became Semen's partner.
And the role of an adult Jim Hawkins will be played by two actors: Alexander Sokolovsky (known from the TV series "Molodezhka", "Sklifosovsky", "Chapay Passion") and Ilya Malakov.
Director and author of the performance – Alexei Serov.
Moscow Governorate Theater
Address: metro Kuzminki, Volgogradsky Ave, 121
The premiere performances will take place on May 30 and 31 on the big theater stage.
Beginning at 12 and 16 o'clock.