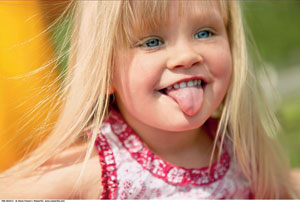 The language consists of a complex plexus of muscles, to which he, in fact, owes the "reputation" of the most mobile of all human organs. His work is controlled by the brain, which is why malfunctioning of the nervous system in children is often expressed in problems with speech and swallowing.
And the language is working in several directions at once.
It is the engine of the first stage of the digestive process, when the food gruel is required to mix, chew, and, having formed a ball out of it, to send further – to the throat. We recall the importance of the role of language in this important matter after anesthesia in the dentist's office.
He is a conductor of taste, because on his mucous membrane there are various and numerous papillae, the task of which is to recognize the taste of food and "report" on the results of his "research" to the brain. By the way, this is why doctors ask us to chew food thoroughly – then these impulses manage to reach the goal, and the brain gives a signal to develop enzymes, with the help of which useful elements (vitamins, microelements) are absorbed from the products.
For each of the four basic tastes on the surface of the language has its own receptors. Sweet is felt by the tip, salty – by the tip and edges, sour – by the sides, bitter – by the area at the root of the tongue.
That's why if you have to give your baby a bitter pill, put it as close as possible to the root of the tongue – so you can fool sensitive receptors, and the child will not know what he swallowed.
He is a compass in the world of sensations, because thanks to the tactile papillae of the tongue we understand what exactly fell into our mouth: rough, with sharp corners, a piece of apple or thick kefir gruel, and what is the temperature of the "object".