Sit by the wall: the back of the head, the upper back in the interscapular region and the sacrum, you must touch it. Bend your legs and feet, put your hands on your knees.
Inhale and pull the crown up. On the exhale, while remaining in the same position, move your shoulders back to the wall, but do not bend your back. Perform the exercise 15 times.
Then move away from the wall, straighten your back and repeat the same movements, imagining that the wall is yours. You should have a muscular memory – how to keep your shoulders straight.
Stand on all fours, dropping to your elbows, put your knees on the width of the pelvic bones. Lift one leg, straighten it at the knee and pull the heel back, trying not to bend your back.
Do 15 exercises with one leg, then the other.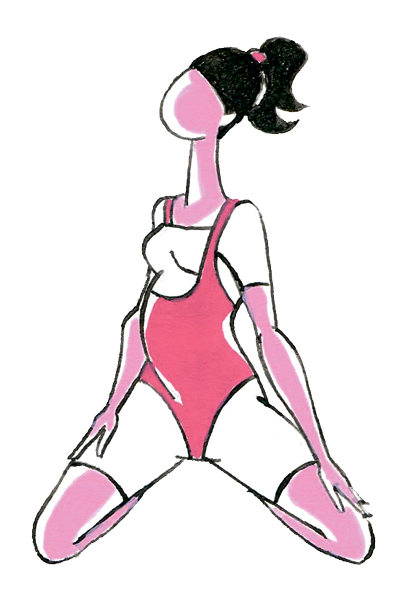 Rise, stand with your back to the wall. The distance between your heels and the wall should be 3-5 cm.
Put your legs shoulder-width apart, knees slightly, straighten your shoulders. Strain the buttocks and, without tilting the chest and head forward, with effort of the gluteal muscles, lift the pubic bone up. Perform at least 20 such climbs.
After this, move away from the wall and repeat the exercise 20 more times.
Stand with your back to the wall again. The task is to inhale to raise the pubic bone upward with the effort of the gluteal muscles, at the same time straightening the shoulders and pulling the crown upwards.
On the exhale, you need to relax. Repeat the exercise 15 times near the wall, then move away from it and take another approach 15 times.
Sit in such a way that your buttocks are comfortable on the heels. Spread your knees to the sides, lower your hands on your knees, keep your back straight. Straighten your shoulders and circle your shoulders back.
Lowering them with an effort to reach the waist. Repeat the "circles" 12 times.