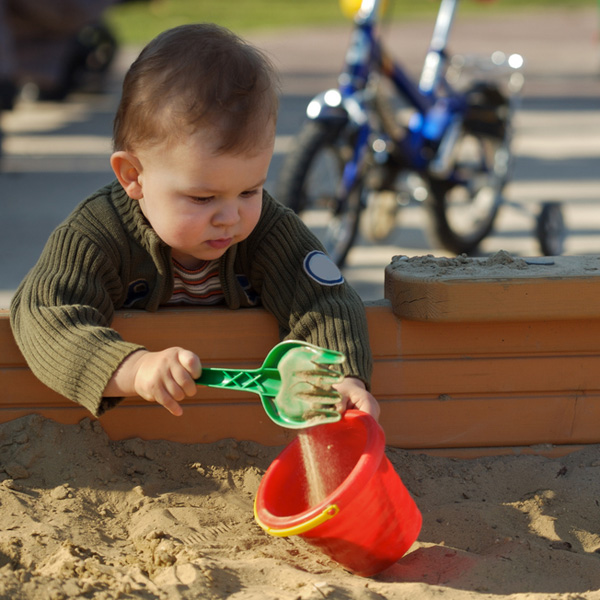 It is a pity, my mother was unhappy and could not understand that our pie dough is not ordinary dirt at all. What kind of magic lies in this pliable material – the sand, which, since the children began to play games, has attracted each child to itself ?!
The mother of two-year-old Oli says: "When my daughter and I go out for a walk, she looks like an angel: blond curls, a clean dress, white socks. But as soon as Olya sees the sandbox, she pulls me by the hand, sculpts the cakes with delight, crawls in the sand, scoops it up with both hands and takes it from place to place.
In general, there is no trace of the neat type of daughter. "
The essence of one of the favorite children's entertainment can be expressed in a few words: "sculpt", "knead", "knead" and, of course, "break"! Moreover, playing with sand is not only a great pastime, but also a signal of the onset of the next stage of development. If earlier the baby knew the world through the mouth and therefore all the objects must have tasted on the tooth, now the organ of touch and familiarity with the world becomes a hand.
The baby gets new – tactile, or, in a different way, skin sensations. At the earliest opportunity, for example, on holiday on the seashore, allow the crumble to lie down or run (for someone who likes and temperament) on the warm sand, sprinkle sand on each other's palm, show how sand runs, it seeps between your fingers.
Surprisingly, due to its properties – variability, softness, fluidity – sand is used not only in frivolous children's entertainment, but also in serious psychotherapeutic practice. Even a special technique of work of a psychologist with a client, sandplay, has been created that allows living and experiencing emotions, correcting some personal problems.
To the game with sand in such classes add other natural materials, toys, play fairy tales.
Indeed, the possibilities of sand for relaxation and stress relief are indisputable. A child in the "Kulichiki" helps to remove the internal prohibition, stiffness, stiffness.
Sand gives a little man a sense of control over the situation, in a game with sand, the child, as anywhere else, feels that it is up to him to build or destroy a creature, build a road or a house, only he makes a choice. This plastic material naturally and unobtrusively demonstrates to the child important life patterns – for example, teaches that nothing disappears without a trace, but everything changes, turns into another, new.
In order for the game to act soothingly on the baby, give him freedom of expression, encourage initiative, rejoice and be surprised with him if something happened, but do not demand a mandatory result. Watch and encourage more and interfere less.
However, if the baby asks for help, play with him, ask what the baby wants to create, and tell about what you would like.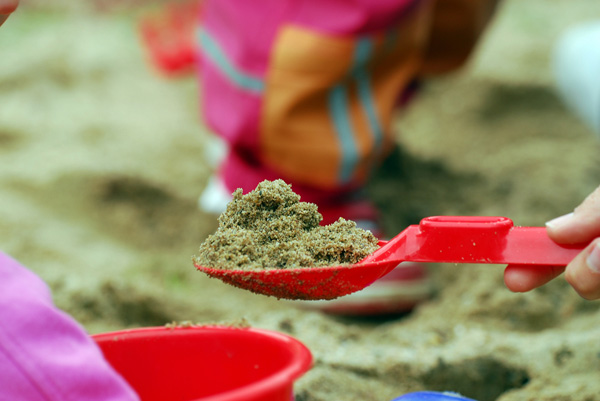 Sand is not the only material that solves the problem of relaxation, knowledge of the world. In city apartments, of course, there is no way to mess around with land, water and sand. But parents find a solution in this situation.
So, the mother of one-year-old Romana advises: "Put a large saucepan on the floor and put into it everything that is on hand: pasta, pieces of paper, beans. The kid will run the handles into the pan and will be happy to mix its contents. "
With the desire to feel everything, hold it in your hands, it is connected with the desire of many children to dig in a plate with potatoes, take pasta with their hands, sculpt from breadcrumbs. Practically all children pass in their development a moment when they categorically push a spoon away from themselves.
Of course, we would prefer that our children eat like little princes, tied a napkin around their neck! And yet you should not be too upset – the development of culture does not happen overnight.
Softly and gently teach your baby to use cutlery. If from the very first feeding you "convey" with good manners, show the baby that this question is emotionally colored for you, you can provoke a conflict, and some babies even become afraid to sit at the table and refuse to eat.
Be sure to offer the crumbs that food that you not only can, but also have to hold, such as a piece of carrot or apple, cookies. Nothing prevents you from joining the game yourself, attracting your child to cooking.
For example, if you are cooking sushi, let a small sculpt of rice balls or, baking cakes, give the crumbs a piece of dough and assign them to create a couple of culinary masterpieces for mom and dad.
Children love soft textures, which they can knead as much as they like in their hands, so wet sand can be partly replaced with dough, and as a substitute for dry sand you can try ordinary semolina. Mixing various materials – liquid and solid, soft and hard, cutting and sticking together, the kid unexpectedly and at first accidentally gets the result – creates something new. For example, the crumb gradually understands that you can just knead the clay with your hands, or you can fashion a cat or a steering wheel out of it.
Does the child like to tear the magazine page into small pieces? Cut a paper out of paper and spread it with glue. Let the baby stick bright scraps.
He will be delighted when colorful leaves will appear on the tree! Such a transition from destructive games to the creation of "works of art" will mean that your baby is growing and a new stage of its development begins.