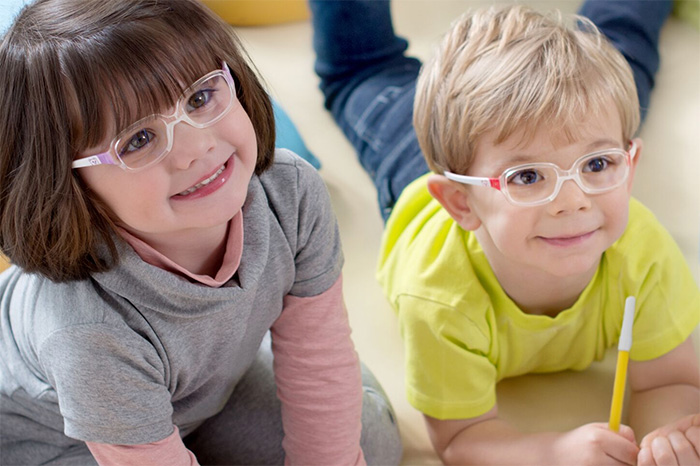 Rims KIDS BY SAFILO created to embody not realized until now the needs of children. The new eyewear collection is the perfect combination of innovation and comfort.
It perfectly meets children's needs and at the same time the expectations of parents.
As a result of cooperation with SIOP (Italian Society of Pediatric Ophthalmology) and WSPOS (World Society of Pediatric Ophthalmology and Strabismus), Safilo created a special product using a medical-scientific approach to meet the basic needs of children in eyeglass optics:
Rims are flexible, safe. There are no sharp surfaces and edges.
COMFORT and CONVENIENT LANDING
Frames are very comfortable in terms of ease and stability, due to the presence of the lower bridge and the special design of the bows with horizontal bending. Moreover, thanks to the improved design of the front frame, the lenses completely cover the child's field of view, providing an effective correction.
The frames are made of flexible, safe, durable and washable material that prevents deformation or loss of elasticity.
At the core of the collection is a selection of delicate colors: the transparent front frame looks harmoniously on a child's face and allows parents to see children in all their glory. The frames on the children's face look discreetly, they are almost invisible, which is important for the little ones.
A clear definition of previously unfulfilled children's needs prompted the design of KIDS BY SAFILO glasses. Indeed, we found that every sixth child has visual defects, and that approximately 15% of refractive errors require timely correction.
For this reason, Safilo decided to develop a special collection to meet the complex requirements of children's glasses, thus ensuring the quality of children's vision and their healthy development.
Louise Delgado, Safilo CEO, comments: "The idea to think more deeply about children's optics came from the workers of our factory, more than 75% of whom are women. Many of them are mothers and grandmothers.
At one of the quarterly meetings with factory workers I was asked if we could create glasses for children all over the world and tell their mothers that they were made with the care of children by the hands of the same mothers. This mission brought us all together, and we tried to understand the real needs of the children and their parents. We decided to earn their trust by offering our rich experience in the field of spectacle optics, and also to assure moms and dads with the help of the advice of a specialist doctor.
So this idea was born. Today this project also reflects the new approach of our corporation – understanding of the goal by all employees of the company, which is based on the awareness of the functional and emotional needs of our customers.
In this case, children from all over the world and their parents. "