Not all contraceptives can be used after childbirth, some are prohibited during breastfeeding, because can inhibit lactation and adversely affect the development of the baby. So what to do?
Give up sex for the period of lactation? No way out, such radical methods of joy in the family do not add. Rely on interrupted intercourse?
It is also not an option – a young mother and without the risk of unwanted pregnancy are enough reasons to worry. So what methods of contraception to choose, so as not to deprive yourself of the joys of intimacy with a loved one, but at the same time not worry about your health, or the health of your own child, or breast milk, and not doubt the reliability of their contraceptives?
Some young mothers place the responsibility of protecting against unwanted pregnancy on lactation itself. Indeed, nature provides a mechanism for the so-called lactational amenorrhea: while the young mother is breastfeeding, the maturation of the eggs should not occur. But one cannot hope for a 100% efficiency of this method, because it works only if the following conditions are strictly observed:
No more than 6 months have passed since the birth
Mom hasn't started her period
The child does not receive additional feeding, i.e. breast milk makes up his entire diet. At the same time, he gets his chest at least every 3 hours during the day and every 6 hours at night.
If at least one of the conditions is not met – it's time to run for contraceptives. In order not to be afraid to harm either yourself or the baby, we advise you to pay attention to such contraceptives as "mini-drank" and intrauterine devices.
There are a lot of arguments in favor of taking pure progestin oral contraceptives, or the so-called "mini-drank":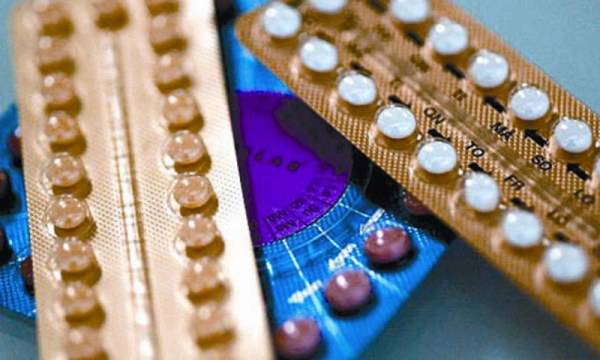 Unlike combined oral contraceptives, they do not contain estrogen, and therefore do not suppress lactation and do not affect the quality of breast milk and are safe for babies.
Easy to use: one tablet per day – and the issue of protection against unwanted pregnancy is resolved.
The "mini-pili" containing desogestrel in the amount of 0.75 mg, contraceptive effectiveness is not inferior to other means of contraception.
In comparison with the same condoms, it is a much more economical method of contraception. Regardless of the sexual temperament of both partners, more than one tablet per day is not required, while a condom is needed for each sexual intercourse.
You can use the "mini-pili" from the 6th week after birth and throughout the entire lactation period.
But there are also disadvantages that you should also pay attention to:
Contraceptive efficacy in "mini-pili" is usually lower than that of combined oral contraceptives (in drugs containing 75 mcg desogestrel, the efficacy is comparable with combined oral contraceptives)
Moms with a "girl's memory" should set themselves a special alarm clock, reminiscent of the need to drink a pill. However, for those who have everything in order with their memory, too, efforts to distract the baby can distract even the most responsible mothers, but they cannot miss the pill, otherwise the contraceptive will lose its effectiveness.
As with any other drugs, the "mini-drank" may be contraindicated, therefore, before you start taking such funds, you should consult a specialist.
For those who do not like to drink pills, or do not want to burden themselves with the need to take them daily, the intrauterine device is suitable.
What to pay attention, is responsible Nina Shinkarenko, obstetrician-gynecologist:
Models containing an alloy of copper and gold (the so-called gold-bearing intrauterine systems) have the lowest degree of rejection, combined with high protection against unwanted pregnancy. In this case, the period of use of such spirals reaches seven years. It is important that gold has its own bactericidal properties, which reduces the risk of inflammation. In addition, this combination allows you to add less copper itself, which reduces the risk of allergic reactions.
It is possible to install the spiral only six weeks after delivery – there is a risk of loss in earlier periods.
The spiral is set only by a specialist, so for this you need a visit to the doctor.
After the end of feeding, the young mother will have to choose a method of contraception. Now there are many varieties of combined oral contraceptives, from which a woman can choose suitable ones for herself.
However, if for any contraindications, the contraceptive pills have to be abandoned, then a modern spiral, for example, with a gold content, can be a choice. Most importantly, remember – whatever method of contraception you choose for yourself, it is better to consult with specialists before the final decision.
There are CONTRAINDICATIONS. BEFORE APPLICATION, REQUIRED TO READ THE INSTRUCTION OR CONSULT A DOCTOR