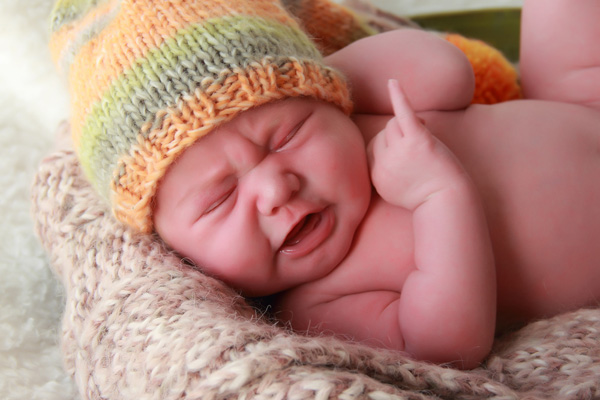 Only physiological regurgitation is considered normal. They occur strictly within an hour after feeding, usually in 2-3 episodes. In this case, liquid food in the form of undigested milk, a mixture or watery whey is not pulled out by a fountain, but flows from the corners of the mouth.
When pylorospasm situation is completely different. You can suspect the problem of copious frequent (more than 3 episodes), late or gushing regurgitation. In the latter case, the contents of the stomach flies out of the mouth with sharp jolts in a stream several centimeters high.
Why is this happening? From the esophagus, food enters the stomach, and from there into the duodenum through a narrow opening – the pyloric section (the second name is "gatekeeper").
On this section of the digestive tract is a massive muscle layer. When the pyloric muscle contracts, the passage from the stomach to the duodenum is closed, when it is unclenched, it is open.
If the pylorus works poorly, the movement of food from the stomach into the intestine is disturbed, and it rushes out under great pressure. This is pylorospasm.
In children, it is caused by the immaturity of the nervous system, which leads to muscle hypertonia. At the same time, no anatomical abnormalities are observed, unlike pyloric stenosis, a congenital defect that leads to a narrowing of the pylorus.
Pilorospasm often occurs in young children, but usually passes by 3-4 months without consequences. The main task of the doctor is to eliminate pyloric stenosis, because it requires surgical intervention.
To clarify the diagnosis, the baby can be X-rayed with a contrast agent or fibrogastroscopy. Also, pylorospasm must be separated from increased intracranial pressure, which also causes regurgitation of the fountain.
This requires consultation with a neuropathologist and neurosonography (ultrasound of the brain).
In case of pylorospasm, even nutritional correction is most often not required, but it is better to feed the child fractionally – more often and in smaller portions. However, sometimes outside help is still needed.
In severe cases, an anti-reflux mixture may be administered. It is not necessary to transfer the baby to her completely.
You can limit yourself to 1-2 measuring spoons, that is, 30–60 g. You should give the anti-reflux mixture at the very beginning of the meal, and then feed it to the crumb by the breast or the usual mixture. Only a doctor can prescribe a medical formula to a child; you cannot make that decision yourself.
Sometimes both medicines (children's Motilium, No-shpa), relieving spasm, as well as agents that reduce tone, and drugs used to treat dysbacteriosis are required.