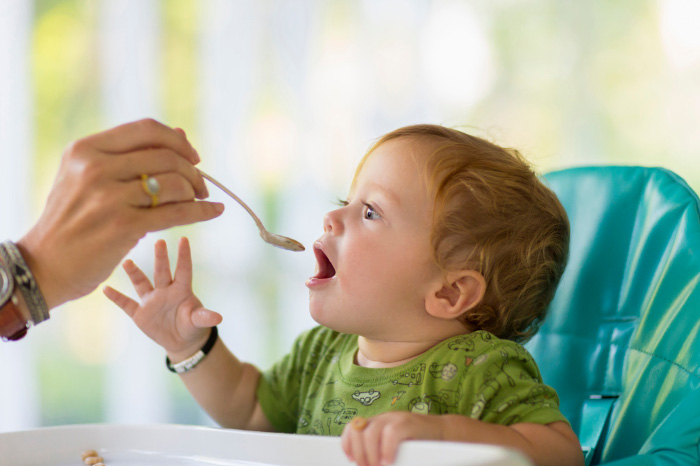 Meat mashed potatoes are a source of animal protein, iron, B vitamins and other nutrients that a growing child needs. Of course, most of these substances are in vegetables and fruits, but vegetable proteins differ from animals in the composition of amino acids and cannot replace them.
And the necessary amount of iron the baby can acquire only from meat: from cereals and vegetables, the body takes 2−3% of iron, and from beef, for example, 17−22%.
If you deprive the baby of meat, it can lead to a lag in growth and development, impaired attention and serious disruptions in the functioning of the gastrointestinal tract.
Before you introduce meat prikorm, you should consult with a pediatrician. As a rule, familiarity with the meat to be baby in 6−7 months.
This is due to the fact that only by half a year the children's gastrointestinal tract is able to fully digest meat products, and it is at this age that the child needs more iron than it can get from milk, mixes, vegetables, and fruits.
The first portion, which can be given crumbs, – 5 g (1 teaspoon); Every day, add one more and bring the daily rate to 25−50 g. This is the optimal daily portion of meat for a child aged 6 to 9 months. By the year a baby can be given up to 70 g, but not more, because overfeeding with meat can overload the kidneys, liver and pancreas.
What meat puree will be the most useful – the doctor will tell. Healthy kids can eat any kind of beef, pork, lamb, and even horse meat. The only thing that should not be abused is veal and other "young" meat: it can provoke an allergy.
Children prone to allergies and diseases of the gastrointestinal tract, it is better to eat dietary hypoallergenic species: rabbit and turkey.
If the mashed potatoes are thick and the baby hardly swallows it, add a little milk or infant formula.
Baby mashed potatoes are made from meat of the highest grade only. Meat, whether it be pork, beef, horsemeat or poultry, undergoes the strictest quality control.
Each jar is 40–70% pure meat (depending on the manufacturer), the rest is vegetable oil, natural spices and additives.
Meat puree there are three degrees of grinding, each for a baby of a certain age. Homogenized mashed potatoes are suitable for the smallest (after 6 months): they are completely liquid, meat fibers are not felt, they can simply be swallowed.
Purebreads are designed for 8−9 months, and after 9−10 months, finely ground mashed potatoes will suit: they can already chew it, developing a chewing apparatus.
It is no secret that the jar with baby meat puree contains not only the specified type of processed meat. Manufacturers add "seasonings" to taste.
If you see sugar, salt, vegetable starch, dill, parsley and celery on the label, there is no cause for concern. Greens stimulates the production of digestive enzymes and helps the baby properly digest the mashed potatoes.
Moreover, greens contain substances (phytoncides) that have antimicrobial properties: they strengthen the immune system and protect the intestines. The remaining components are used to enhance the taste and create the desired consistency of the product.
They are also safe for the health of the child.
It is important that the composition of the meat puree was not:
GMO (genetically modified organisms);
artificial colors;
artificial flavors;
artificial flavor enhancers.
Most of the harmful additives denoted by the letter "E". Therefore, pay attention to the label of meat puree.
With the addition of oil.
Comment specialist. Vegetable oils are an indispensable source of fatty acids, vitamin E and lecithin, which are very important for the proper development of the body of the baby and the work of its gastrointestinal tract.
Manufacturers of baby food, as a rule, use sunflower oil, olive or corn.
Does not contain salt.
Comment specialist. Most of the baby meat purees do not contain salt, and this is absolutely correct.
The fact is that the body of the baby is not strong enough to maintain the correct water balance, and salt makes it difficult to remove the liquid. Moreover, excessive salt intake can cause hypertension.
Comment specialist. Gluten is a protein that is present in cereals, such as wheat, barley, rye, and oats.
The potential danger of this substance is that gluten can cause allergic reactions in babies. Producers carefully choose cereals for the composition of children's jars and prefer buckwheat, corn or rice – only these varieties do not contain gluten.
Comment specialist. Genetically modified organisms and products with their content are dangerous for the digestive system and the nervous system, they also provoke the development of allergies and skin diseases.
The use of GMOs in the production of baby food is strictly prohibited, and strict control is exercised by law.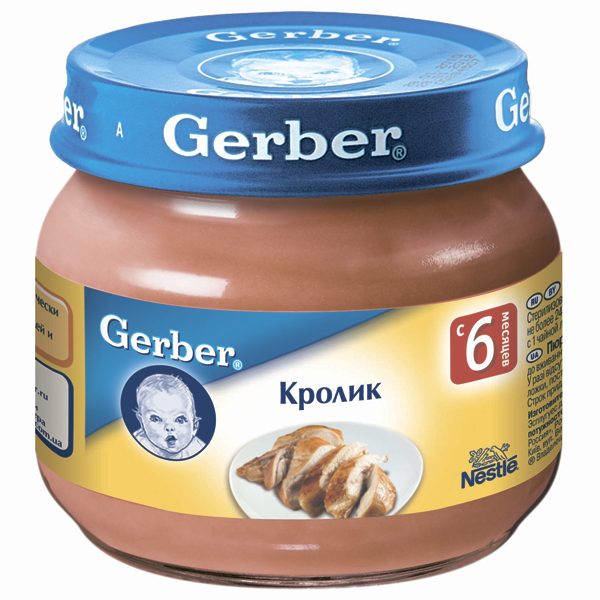 Sterilized.
Does not contain: GMO, artificial preservatives, dyes, flavors.
Ingredients: rabbit meat puree, starch, vegetable oils.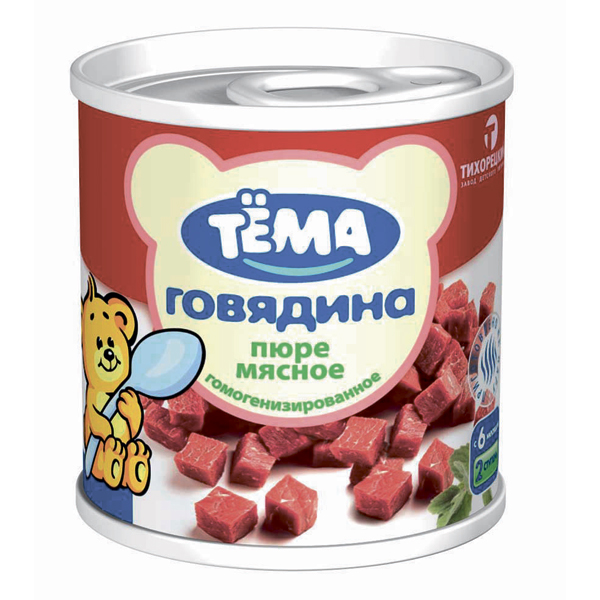 Homogenized.
Sterilized.
Does not contain: preservatives, gluten.
Ingredients: beef, sunflower oil, potato starch.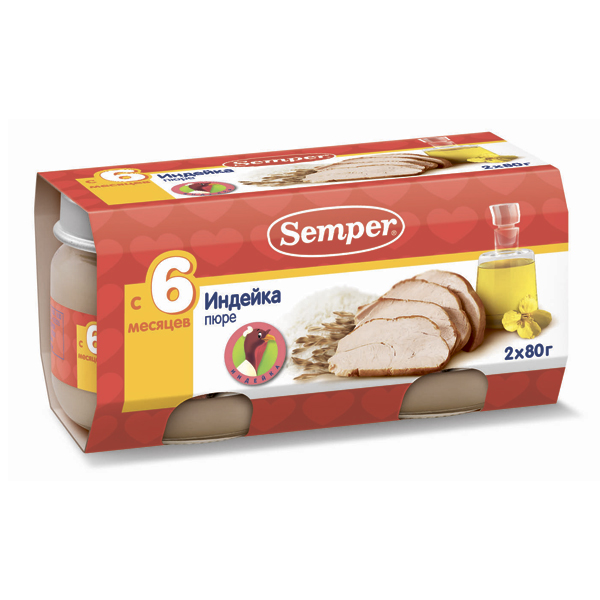 Sterilized.
Does not contain: GMO, artificial preservatives, dyes, flavors, gluten.
Ingredients: turkey meat (60%), rice flour, rice starch, vegetable oil, water.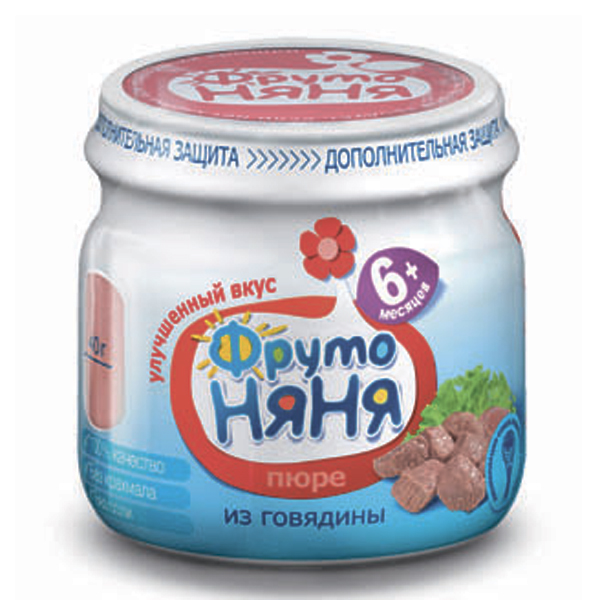 Homogenized.
Sterilized.
Does not contain: GMO, artificial additives, preservatives, dyes, starch, salt.
Ingredients: beef (55%), water, thickener – rice flour (not more than 5%).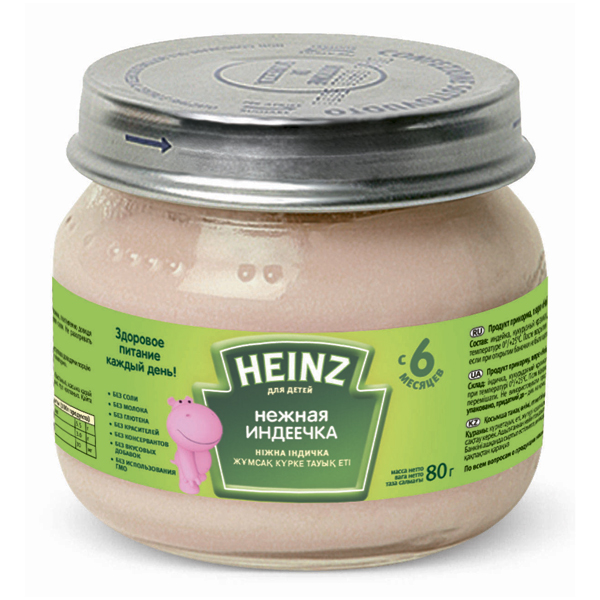 Does not contain: GMO, milk, gluten, dyes, preservatives, flavorings, salt
Ingredients: turkey, corn starch, vegetable oil, water for cooking.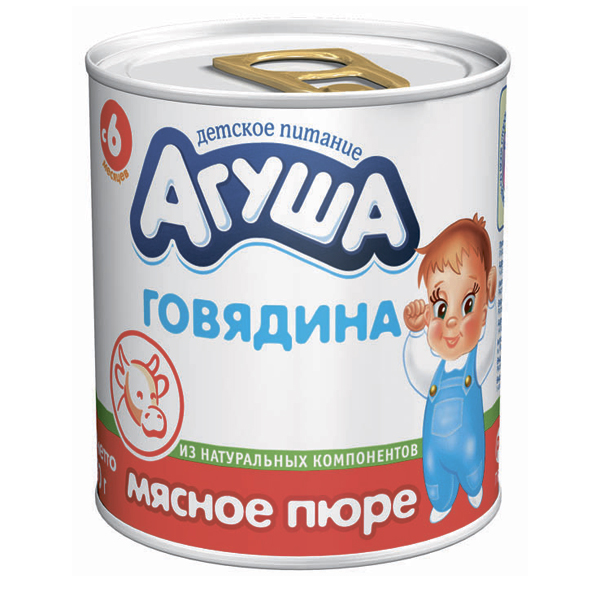 From natural ingredients.
Homogenized.
Sterilized.
Does not contain: GMO, preservatives, dyes, artificial additives and spices.
Ingredients: beef, vegetable oil, thickener – corn starch, drinking water.
Mashed potatoes on a meat and vegetable basis.
From products with low allergenic properties.
Canned.
Does not contain: GMO, milk protein, thickeners, gluten, preservatives, dyes, flavors, salt.
Ingredients: turkey (40%), water, rice, boiled onions.