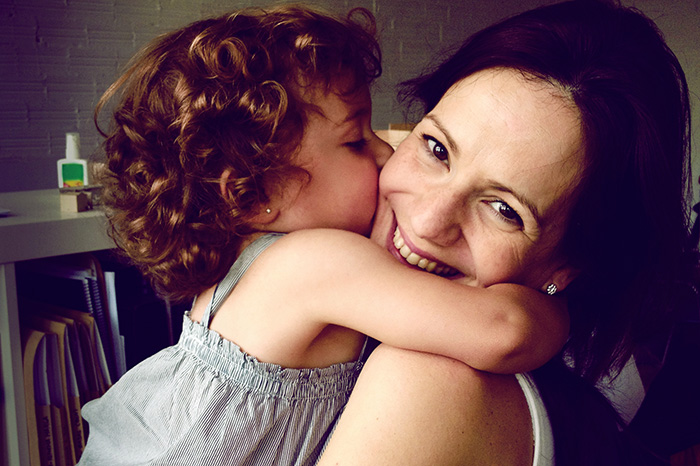 Very many children at a young age are anxious about the attempts of people with whom they have relatively little experience of interaction, to care for them. Arisha, visiting her grandmother, finds herself in a new unfamiliar space, with people whom she apparently doesn't see very often, but who by right of kinship begin to tinker with her very actively: to undress and dress, feed, put to sleep, demand obedience. It's not so much about the daughter's attachment to you (she's inherent in the child at this age), but rather that she's worried about the situation that is incomprehensible to her until the end: an unusual place, not quite familiar people, unusual rules.
And you also find yourself in an unusual role for Arisha – not mothers, but daughters-in-law or daughters – and at the same time transfer some of your normal functions to your grandmothers (feeding, dressing, etc.). When a child only learns to walk, he moves in space, like a shuttle: to his mother (to make sure that she is "in place", to gain strength and courage for a new journey) and from mother (to a new, interesting, unknown).
The same thing is happening with Arisha in communication: to interact with other people, she needs to understand that her mother is near, moreover, that she is calm and confident.
Explain to grandmothers that Arisha is slowly learning to communicate with them and this training is a process that requires time and patience. During your next trip to your grandmothers, talk to your daughter about what you will do there. Take your favorite toys with you – let them show them to their grandmothers (along with you!) And tell them about them.
A girl should see how you communicate with your mother-in-law: bake the cake together under your grandmother's guidance, look at family photos or go for a walk. Joint work will help to establish the interaction between the grandmother and granddaughter.
It will be great if the grandparents visit your home, where it will be easier for Arisha to get close to them, since she is there – the hostess.