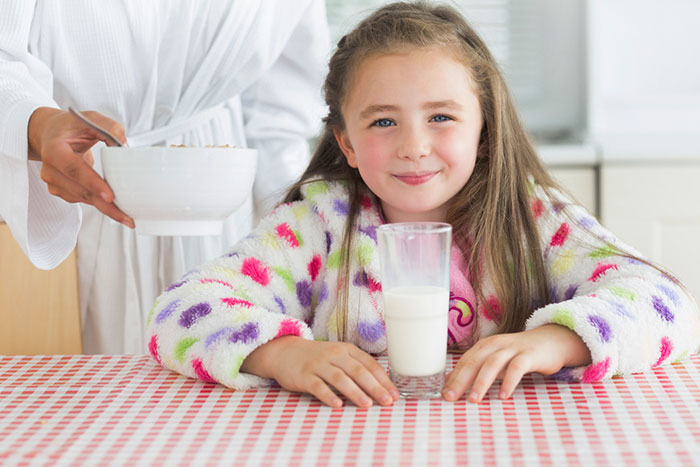 "For elementary school students, in terms of calorie content and nutrient ratio, breakfast is virtually no different from the pre-school nutrition. But if in the kindergarten the caregivers were responsible for nutrition (remember how they categorically protested that the kid bring his "snack" to the group?), Then at school the child gets more independence. Without adult control, he has the opportunity to buy something, which means that the student must be aware of the dangers of an excessive amount of chips or soda!
It is good if he gets used to taking fruit (apple, banana, pear) or healthy sandwiches (cereal bread or bran bread, cheese, lean turkey ham, chicken roll, lightly salted red fish, cucumber slices and leaves) as a snack. salad), "- says MD, dietitian Yulia Moskvicheva.
Of course, porridge – our food. Nobody denies the benefit of oatmeal, but not all children are happy to absorb it.
And even buckwheat porridge, and even rice, not to mention semolina. We decided to offer you several alternative morning menu options for small students. Some dishes are prepared quickly, some – longer.
But each of them will be an unusual and original breakfast and definitely will appeal to your child.
On weekends, we usually try to make up for what we didn't manage to do in working weekdays: take a longer walk, redo more cases, go to bed later. The result of this is "unkind" morning of Monday, when there is a catastrophic lack of time to get together (to school, to work, to the clinic), not to mention preparing a full-fledged breakfast.
We offer a quick, but useful and nutritious option.
You will need:
½ tbsp. milk, ½ drinking yogurt (without filler or vanilla), 1 tbsp. l ground flax seed, 1 tbsp. l peanut butter, 1 tsp. liquid honey, 1 ripe banana.
Cooking
Peel banana, cut into small pieces. Together with milk, yogurt, flax seeds, peanut butter and honey, transfer to a blender and punch at high speed until a homogeneous consistency.
Optionally, you can add to the milkshake to taste ground cinnamon.
Intrigue your child: suggest him to guess what is on his plate? Tortelloni is not dumplings, and not dumplings, but just a piece of Italy on your table.
You do not need to be a masterful chef to learn how to cook tortelloni. Their main feature: two corners joined together, and the shape can be any.
And, of course, it's not at all necessary to stand up either before dawn or pasture in order to stick tortelloni: just like dumplings, they prepare for the future, freeze well and wait patiently in the freezer for their time.
Tortelloni with ricotta cheese and spinach
You will need:
For the dough: 300 g flour, 3 eggs, salt
For the filling: 300 g of spinach, 180 g of ricotta, 3 tbsp. l grated parmesan cheese
Cooking
Knead the dough, cover it with cling film and put it in the fridge. Prepare the filling: boil the spinach, cool and chop finely.
Mix the spinach with ricotta cheese, add the grated parmesan, add salt to taste.
Roll the cooled dough into a thin layer and cut into squares. Put a little stuffing on each square, close with a "triangle" and pin the edges.
Cook the tortelloni in salted water and serve with a small piece of butter.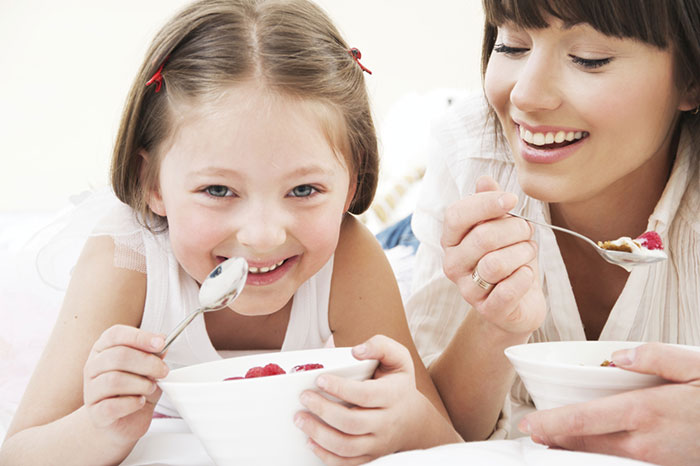 Do you even think about fast food? Alas, the children's craving for burgers and sandwiches often fails to be destroyed by any parental instructions about the dangers of "fast food". You will have to work hard to offer the student a decent alternative.
Let's try?
Turkey, Apple and Cheddar Sandwich
You will need:
Two slices of whole grain bread, plastic cheddar cheese, 2 thin pieces of boiled (or smoked) turkey, several thin plastics of green apple, unsalted butter, honey mustard.
Cooking
Spread the butter evenly with a very thin layer of bread. On the other hand, slice each piece of honey mustard.
Put turkey and apple plastics on one slice of bread with mustard. Cover with a second slice of bread so that the oil side is outside. Brown the sandwich in the pan (3-5 minutes on each side) and serve warm.
And if you use electric grill for roasting a sandwich, it will turn out to be exactly the same as in the famous eateries.
Another breakfast option for all times is, of course, an omelet. Tired of the traditional version? Send your child to Spain – at least at the table.
You can be calm: the Spanish omelette is not only amazingly tasty, but also very satisfying. By the way, in addition to the main ingredients – eggs, potatoes and onions – you can add vegetables (for example, small pieces of zucchini), ham or lean meat (turkey, chicken) to your choice.
You will need:
5 eggs, 300 g potatoes, 1 onion, 3 tbsp. l olive oil, salt and freshly ground black pepper to taste.
Cooking
Cut the peeled potatoes thinly, chop the onion into half rings. Fry in a pan for 2 tbsp. l olive oil potatoes and onions.
Pickle. Reduce heat to low and simmer another 15 minutes. Beat eggs, add salt.
Add to them the finished potatoes with onions and mix well. On the remaining amount of olive oil, cook the egg-potato mixture over low heat. When the egg on the surface of the omelet grabs, turn it over and fry for another 2 minutes.
Before removing the omelet from the pan, let it stand for a while.
The beginning of the last day of the week is the time when the forces are already running out. Do not want to spend energy on cooking breakfast on Friday?
We have an option for this case. The minimum effort (you don't even need to turn the stove on!) Is maximum efficiency.
You will need:
150 g pumpkin, 2 eggs, 1 tbsp. l sugar, 1 tbsp. l flour, 100 g of cottage cheese, ½ tsp. soda, cinnamon chips, salt to taste
Cooking
Finely chop the pumpkin, put it in a container suitable for cooking in the microwave and hold it under the lid for 2-3 minutes at a power of 800 W. Beat eggs with sugar and flour, then mix with cottage cheese. Add soda and add salt.
Once again, beat the whole until smooth and season with cinnamon. Put the pumpkin in a larger container, pre-oiled.
Put the curd-egg mixture on the pumpkin, level and cook, without covering, for 3 minutes at a power of 800 W.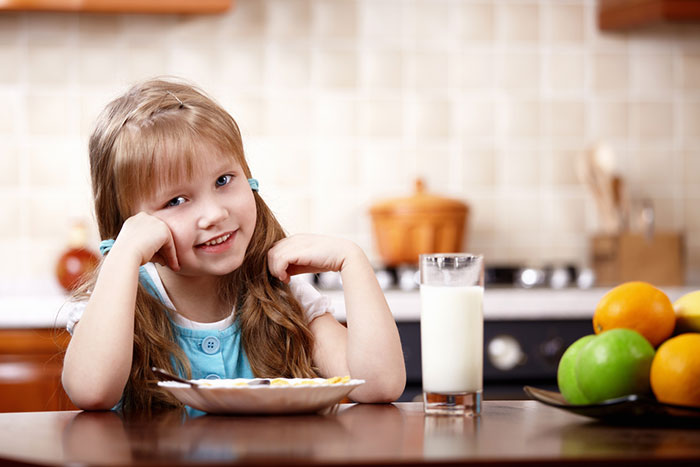 But on weekends you can tinker in the kitchen a little longer, because the whole family gathers at the table in the morning. Delight them with an unusual and tasty breakfast in the best restaurant traditions – cook sweet rolls!
Believe (and check) that it is not as difficult as it seems.
Sweet Fruit Rolls
You will need:
For pancakes: 500 ml of milk, 2 eggs, 50 g of sugar, 250 g of flour, 1 tbsp. l vegetable oil, ½ tsp. salt, 2 tbsp. l starch.
For the filling: 250 g of cottage cheese, 5 tbsp. l ready whipped cream, 100-150 g of strawberries, blackberries, blueberries, 2-3 tbsp. l powdered sugar.
Cooking
Prepare the dough for pancakes: beat all the ingredients until they have a homogeneous consistency (the dough should be thin and not lumpy). Fry pancakes on a thin non-stick frying pan over medium heat.
Rinse and dry the berries, cut each into 2-4 pieces.
Prepare the cream for the filling: whip curd cheese, powdered sugar and cream.
Grease the pancake cream, spread the berries on the surface of the pancake and spin it into a roll. Cut the roll into equal parts, put on a plate, sprinkle with powdered sugar and garnish with fresh berries.
Another salvation of modern moms: casserole – a dish that is prepared from what was at hand. We decided to recall the traditional "children's" variant of casserole – cottage cheese. You will need some effort, but the result is worth it!
And if by some miracle this improvised "cheesecake" is not eaten right away, the slice can be a good breakfast the next morning. Enjoy your meal!
Cottage cheese casserole "A la Cheesecake"
You will need:
For short pastry: 125 g butter, 65 g sugar, 1 egg, 200 g flour
For curd mass: 6 eggs, 250 g of sugar, 700 g of cottage cheese, 200 g of mascarpone cheese, 150 g of sour cream, 100 g of cream for beating, 70 g of flour, vanillin
Cooking
Mix softened butter with egg and sugar, combine with flour. Knead the dough. Bake the cake in the oven until tender.
Let cool and finely crumb. Put the crumbs into a culinary form in a thin layer and send to the oven for another 5-7 minutes.
Prepare the curd mass. Beat eggs with sugar, add sour cream and cream, mix well. Connect the cheese with mascarpone and enter into the egg mass.
Last but not least add flour. Mix well again.
Put everything on a sand cake and send it to the oven, preheated to 120 degrees. Place a bowl of water on the lower level of the oven and bake until cooked – the casserole should be browned.
Video: Children's menu. Dishes for little geniuses