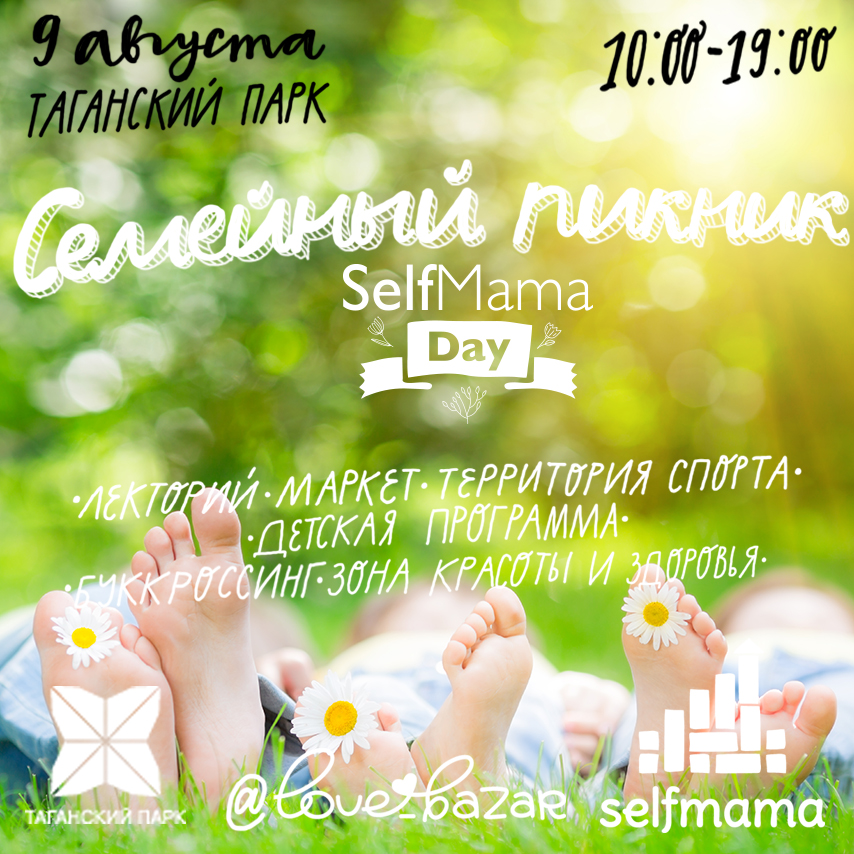 On Sunday, August 9, the popular project for moms SelfMama awaits all Muscovites in Tagansky Park of Culture and Leisure. The SelfMamaDay city family picnic will take place here.
A rich program is waiting for parents and children – educational, sports and entertainment, as well as a design market and food market.
Entrance to the picnic is free, registration is open.
What awaits you on SelfMamaDay:
Lecture hall for moms
Selfmams will share their inspirational stories about combining motherhood and self-realization and tell about the role of attachment in a child's life, the basics of self-management for mothers and the search for their vocation.
At 13:00, the photo editor of the magazine "Happy Parents" and family photographer Elena Run will tell how the baby can get into the magazine "Happy Parents".
Sports training and competition
SelfMama Run Club will run the race My first kilometer for moms who want to start running, and a fan race for children and dads. Attention!
Participation in the race must be paid. TagSport Football Academy organizes open football training for mothers and children.
And riding skids, sports workshops for the whole family and much more.
Picnic guests can exchange books, read and listen to their favorite children's works sitting on the grass.
Design Market from LoveBazar
50 design and hand-made projects created by moms and not only: clothes, dishes, interior items, products for children and home.
A program full of games and master classes from the best children's projects of the city especially for the youngest picnic guests. And the opportunity to leave the child for a while under the careful supervision of teachers, thanks to our network of children's centers CitYKids
10 projects of modern eco-friendly and healthy food will offer guests a lot of tasty and healthy.
Here you can make a wreath of flowers and makeup, braid braids and get advice on beauty issues, as well as participate in a master class on creating flower decorations.
A platform for good photos and developmental implementation, where meeting-meetings of well-known insta-bloggers and insta-projects with their subscribers will take place throughout the day.
And, of course, good deeds will be done on SelfMamaDay: in support of the "B.Е.L.A." foundation. Butterfly Children ", which helps children with a rare genetic skin disease, actors of the theater and cinema will read fairy tales to children, and guests will have the opportunity to get stunning prizes from picnic projects by participating in a charity lottery.
Entrance to SelfMamaDay is free. From 10.00 to 19.00.
All the details and important news of the event can be found on the event page on Facebook.