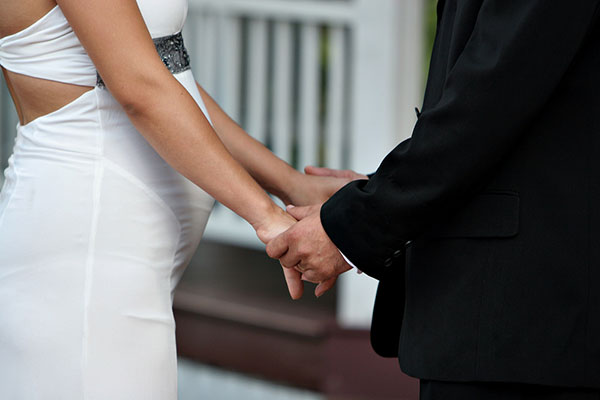 It would seem that the official ceremony can not rush and wait for the baby to be born. But there are a lot of couples who do not want to postpone the campaign to the registry office. Oddly enough, this decision has its own reason.
First of all, it is psychologically more comfortable for women to first legitimize their relationship with a man, and then become a mother. Such a sequence is inherent in us for a long time on a subconscious level, and you probably shouldn't change it only for the sake of fashion fad.
There is another bonus: after the birth of a child, it is much more difficult to arrange a celebration, for the first year and a half the center of the universe will be a crumb. However, behind all these positive points, it is important not to miss the potential difficulties.
Choosing the time of the solemn ceremony, we must take into account the peculiarities of the course of pregnancy in the first trimester. Up to 12 weeks, toxicosis, poor mood, and increased anxiety are typical. So the very beginning of pregnancy is not the best time for celebrations of this magnitude.
But after the 12−14th week, the emotional background, as a rule, stabilizes, and well-being improves markedly. In addition, the belly is not noticeable at this time, so the expectant mother is fairly easy to lift.
Thus, the ideal time for a wedding is the beginning of the second trimester.
First of all, we must remember that the main participants in the celebration will not be two, but three: it will be necessary to take into account the needs of the baby when designing all the details of the holiday. The key emphasis should be placed not on the wedding dress and not on the number of guests, but on the calmness of the bride and the safety of the child.
And even if the newlyweds dreamed of a long walk with access to the astral, now it is better to temper the ardor and celebrate the wedding in a narrow circle of close people. A great celebration requires tremendous physical and moral stress, an understanding of every detail and constant involvement in what is happening. With a hundred guests it is even hard to say hello, and yet each of them will have to at least smile.
Such loads during pregnancy are contraindicated. The emotional state of the future mother directly affects the well-being of the child. If she is happy with everything and feels good, the level of happiness hormones in the blood increases and a part of this bliss falls to the baby.
In addition, during such periods, the child's blood circulation improves and he receives more oxygen. If a woman is nervous, the level of stress hormones (adrenaline and norepinephrine) increases in the blood, which have a vasoconstrictor effect, which makes the blood circulation, on the contrary, worsen.
Try to draw up a holiday schedule in such a way that as little time as possible between the ceremony at the registry office and the wedding feast will pass. In order not to overstrain in the evening, guests should be invited for lunch, and not for dinner.
Then it makes sense to go to the registry office in the morning. If there is a big break between the official ceremony and the banquet, it is necessary to provide a siesta and a full snack.
Cultural program is mercilessly cut. It is better to refuse to visit the city sights and long photo sessions at each monument at all.
The extra emotional load will surely affect in 1-2 days, when the holiday bustle settles. If you really want to make a wedding, choose a quiet park or arrange a country picnic by the picturesque lake.
For rituals that will take place on the street or in the open air, do not forget to bring (depending on the weather) a warm cape, shawl or jacket.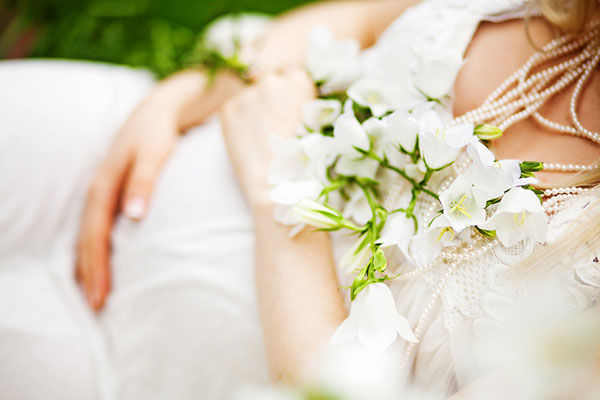 A pregnant bride is recommended to choose a dress not earlier than two weeks before the celebration. To determine the growth rate of the tummy is impossible, and it may turn out that on the right day it will be small.
No slack corsets: cut and bodice should be free, so that nothing holds back breathing and does not disturb the blood circulation. Choose dresses, tunics or dresses with a high waist from flowing fabrics of pastel shades: in them your rounded shapes will look especially touching and romantic. So that the skin breathes, and the room is not stuffy, choose natural materials.
Cotton or silk or a combination of the two is best.
From shoes with heels have to be abandoned. Shoes should be on a stable heel up to 5 cm.
It is best to prefer models of soft leather, so that you can walk for a long time without rubbing corns. Just in case, it makes sense to bring along an identical pair of half a size or a size larger: it is useful if the legs are swollen.
Lingerie is also worth choosing a specialized, designed for pregnant women. Do not forget about the compression tights or stockings, invented for the prevention of varicose veins: on this day you will probably have to spend more time on your feet than usual.
Carefully have to think and makeup. If the hair dye does not contain hazardous substances like ammonia, you can use it without fear.
But it should be noted that during pregnancy, the structure of curls has a tendency to change, because to predict the final shade will not be easy.
Visit the beauty salon on such a serious occasion is not prohibited. Only time must be adjusted so that there are few people.
Not all clients are afraid of ammonia, and some do not cost anything to come for a cold haircut. If you invite the master to the house, these incidents can be avoided for sure.
During pregnancy, food has to be treated more selectively, but this does not mean that your guests should be content with boiled beef and carrot juice. To make everyone happy, make a menu for friends according to generally accepted traditions, and for yourself, consider a separate and safe table. For a starter, it is best to order pure vegetable salad, seasoned with vegetable oil, hot meat – lean meat (veal, beef, chicken) or fish with a vegetable garnish, and for dessert – a small piece of wedding cake, but only on a yoghurt basis, which is also necessary take care in advance.
Between dishes, try to keep at least 15−20-minute break: so the food will be assimilated faster, and the risk of overeating will decrease.
Alcohol remains strictly prohibited. Harmful substances get to the baby through the placenta, and he still does not have his own enzymes that destroy them. A glass of champagne can only be sip.
Do not forget: sparkling wines are sucked at maximum speed. An alternative to alcohol will be non-alcoholic non-carbonated drinks, such as natural juices, fruit drinks and fruit drinks.
The optimal time for a honeymoon trip is II trimester. However, the doctor must certainly approve the trip, because with some complications of pregnancy, movement on airplanes and trains can pose a serious threat to health.
In later periods, travel is also not forbidden, but it becomes much more difficult to do it with a big belly. When choosing a paradise, do not forget that an abrupt change of climate (especially moving from winter to summer and vice versa) and the time zone is extremely undesirable.
The body spends too much energy adapting to such cardinal drops, which is why the immunity often weakens. It is then that cold, allergy, and indigestion begin.