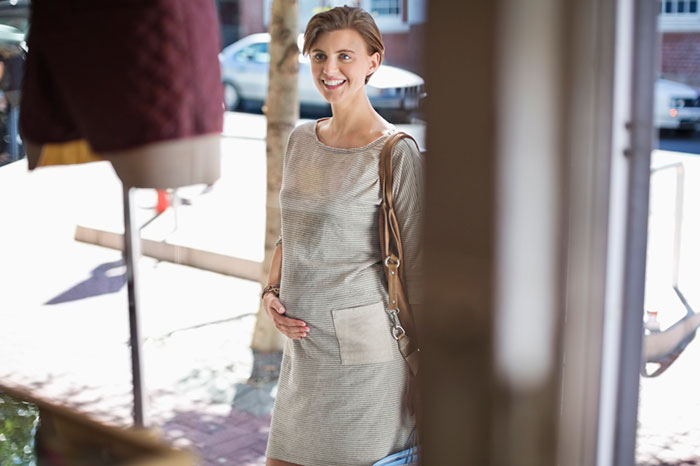 According to the observations of doctors, until about the fourth month of pregnancy, most expectant mothers continue to walk in their usual clothes (except when weight gain is so great at once that there is an urgent need for outfits of a different size). At the same time, today they have at their disposal a whole niche of specialized clothes for pregnant women, to which high demands are made, which are much more strict and rigid than to the usual everyday ones.
It should be not only free and not just comfortable, but also durable, safe, functional. "The shape of the future mother changes every week," you say. – What now, do not get out of the shops? "Not at all!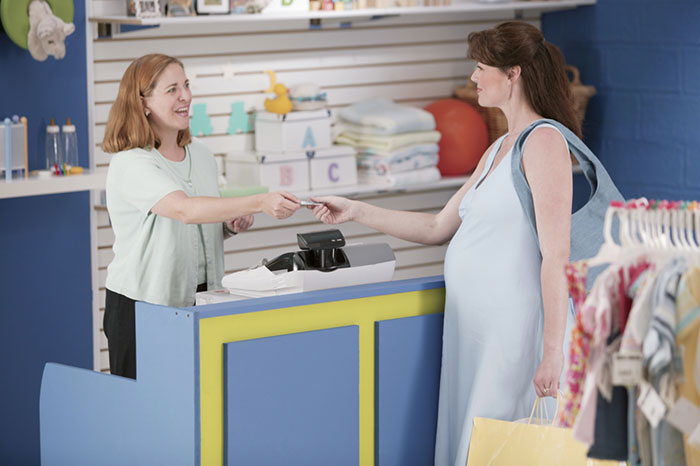 Sofia Svetlozanova and Zhanna Karpinskaya, the owner of a network of salons for children and expectant mothers Kangaroo, tell us how to create a minimum basic wardrobe for the future mother. Ideally, it should include several blocks: an office dress code, casual clothes, and options for going out.
1. The office dress code includes suits, jackets, jackets, cardigans, skirts and pants. A variety of models allows you to choose the option that is right for you.
It is quite possible to wear trousers from the beginning of pregnancy to the very birth, if this is a model with a special elastic belt. This model is perfectly combined with an elongated cardigan and a tunic and allows you to create very discreet and at the same time incredibly comfortable kits.
But you can pick up several options, say, midi-length trapezoid skirts, which can vary depending on the period.
2. Casual wear is a sporty suit or denim jumpsuit, a soft sweatshirt or cardigan, pants or leggings, skirts and free-cut dresses. In such clothes, the future mother feels most relaxed at a meeting in a cafe with her friends, during a country holiday or a walk in the park. Today's fashion to comfort, and such things have become very fashionable.
Young ladies in sweatshirts, sports trousers, light skirts with elastic and sneakers can be found at the most fashionable events, and celebrities often dress this way in everyday life. Moreover, shorts for future mothers even appeared in the collections of brands, for example, Love2Wait or Pietro Brunelli – they are very comfortable, perfectly combined with any top options, help out in hot weather and look incredibly fresh.
3. Of course, be sure to choose at least 1-2 options for outfits. The future mother just needs to once again feel feminine, desired, delightful, able to catch the eye and fascinate. For many women, the choice of such an outfit becomes a real problem: elegant dresses are tight, sometimes do not converge, then the fabric causes discomfort, then numerous fasteners cause difficulties.
Models should be tailored to reflect the changes that occur to a woman's figure during pregnancy. Natural fabrics of the highest quality – cotton, linen, silk, cashmere give incredible tactile sensations.
Reasonableness of the smallest details – from decor to comfortable fasteners – everything should be aimed at giving the expectant mother a feeling of unsurpassed comfort.
4. Periodically components of blocks can be combined with each other. A suit for business meetings, consisting of a jacket and a skirt, for example from MMissoni, can be easily turned into a dress for a walk with friends, replacing the jacket with a sweatshirt, say, from MRZ or Markus Lupfer. A low-waist tunic or a free Attesa or Isabella Oliver jumper can fit perfectly in any setting, whether at work or at home.
One has only to supplement them with elastic pants or leggings, put on an original cardigan or actual vest from above – and you can vary the images, going straight from the office to the fashion premiere.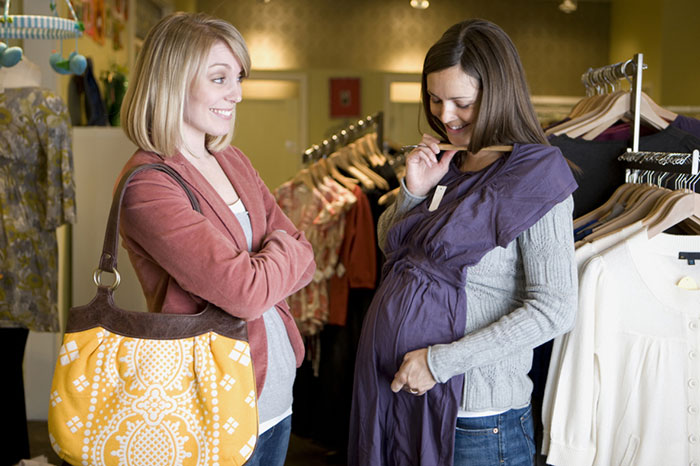 Note that today obstetricians and gynecologists in general are quite loyal and categorical advice when choosing clothes during pregnancy is not voiced. The outfits can be completely different, depending on the lifestyle and fashionable passions of the woman herself. At the same time, they urge for the time of the "interesting situation" to abandon any hard and pressure clothing in the first trimester.
Why? Too tight outfits (skinny jeans, trousers, pencil skirts, sheath dresses) cause discomfort in the chest, thighs, and most importantly – the abdomen. Narrow things pinch the hip nerve, provoke blood stasis and can even disrupt the blood supply to the uterus!
And if you are ready to sacrifice yourself for the latest trends from the podiums and excellent appearance, think about the little one: slowing down the blood circulation threatens him with a real oxygen starvation. And the effect of constant squeezing can, among other things, provoke also "internal" varicose veins – varicose veins of the pelvic organs.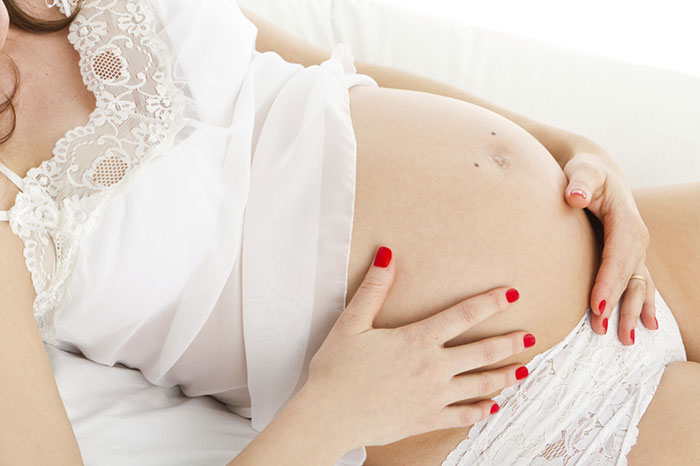 Bra. Change the usual bra on a special one often falls on the second or third month of pregnancy.
This is due not only to an increase in breast size, but also to an increase in the sensitivity of the skin and nipples: synthetic fabrics can cause significant discomfort. From the second trimester set aside bras with bones. It is believed that such models can interfere with the blood flow in the mammary glands and thereby worsen the process of lactation.
Special "pregnant" bras have deep cups (retain the shape of the mammary glands, reducing the risk of stretch marks, and help reduce pressure on the chest), a wide "belt" and straps (provide reliable support for an ever-increasing breast) and multi-level hook-and-eye closures (allow good fix the chest). How good a bra shouldn't be for a future mom is that it's tight: this bodice does not allow you to breathe freely and can provoke blood stasis, which can sometimes lead to mastopathy.
Tip: Buy a new bra with a small margin – in case of an increase in breast volume and the possibility to put a pad in it that will hide colostrum leakage in late pregnancy.
Panties during pregnancy should be chosen only from natural materials (cotton, linen). Synthetics can exacerbate chronic diseases such as thrush or allergies. Of the models, the optimum "slips" with a cut "under the tummy" or shorts, in which the front part is noticeably higher than the back.
Thong and tanga panties remove out of sight – discomfort in the crotch area is unacceptable!
Tip: choose a seamless panties that will not rub, but well "ventilated."
* Stockings and tights
Their presence in the wardrobe of a pregnant woman in the warm season is very conditional. Of course, if you have a predisposition for varicose veins, then stockings or tights are compression ones! – must be present, especially at the latest dates. Compression tights, stockings and socks are prophylactic and therapeutic.
Their compression is not measured in the usual "denakh", but in millimeters of mercury. The obstetrician-gynecologist who monitors the pregnancy will help determine the type of product suitable for you, the material (cotton, synthetic, mixed with rubber), size and degree of compression (it can be of four types).
An important detail of the wardrobe of the future mother. Wearing it is not obligatory, but the doctor may strongly recommend using it in some cases: for example, if the pregnancy is repeated (the uterus and muscles of the abdominal wall are more stretched) or multiple, when the baby is too large and activates so that the stomach turns.
The bandage supports the abdomen from the bottom, which means it levels the posture and relieves the spine, tones the abdominal muscles and supports the skin on the abdomen, preventing the appearance of stretch marks. Not all bandages fit so tightly to the body that they become almost imperceptible under clothing — consider this when choosing a wardrobe.
As for the fabric, it is preferable to model made of cotton and only slightly "diluted" with lycra or elastane.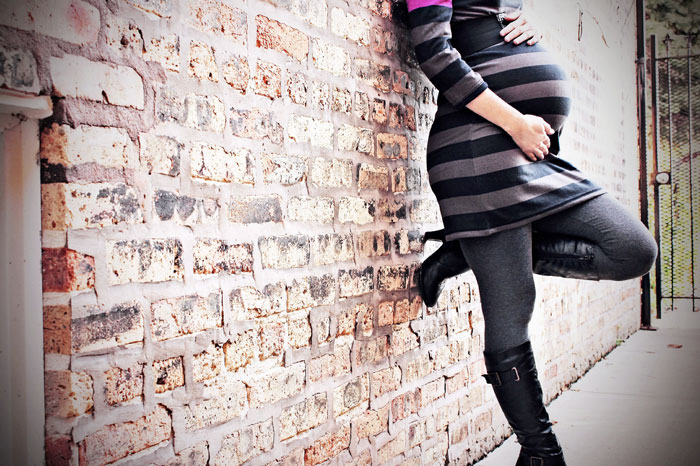 A special wardrobe shelf to be revised is a shoe. Starting from the second half of pregnancy, lovers of fashion shoes need to abandon the studs.
The main reasons are the same – health and safety. When the baby in the uterus is growing rapidly, the center of gravity shifts, and to maintain balance when walking, you have to constantly deviate backward, and your stomach, on the contrary, bulging forward. What is the result?
The unnatural position of the spine, a large load on the back muscles and a strong pressure on the internal organs – all this together can lead to the wrong position of the baby. Do not forget that already 8-10-centimeter heels reduce the sole area by almost a third!
A fall from a height due to an unreconciled step can be fraught with serious complications. In addition, beautiful, but often narrow, cramped and uncomfortable shoes provoke other problems in future mothers: swelling, varicose veins, fungal infections due to excessive sweating of the soles, various injuries (under the influence of hormones during pregnancy increases the mobility of ligaments and joints, which increases the risk many times, for example, tuck up the leg).
So, your choice is shoes made from natural materials (leather, suede, textiles), with a comfortable shoe and a steady one, with a diameter of at least 3 cm, a heel or wedge heel no more than 4–5 cm. You need to take care that easy to take off and put on, because as you get closer to the birth, it will be harder and harder to bend over.
Bright and lightweight moccasins, loafers, slip-ons and, of course, "orthopedic" sandals "a la birkenstock" can be the best summer options.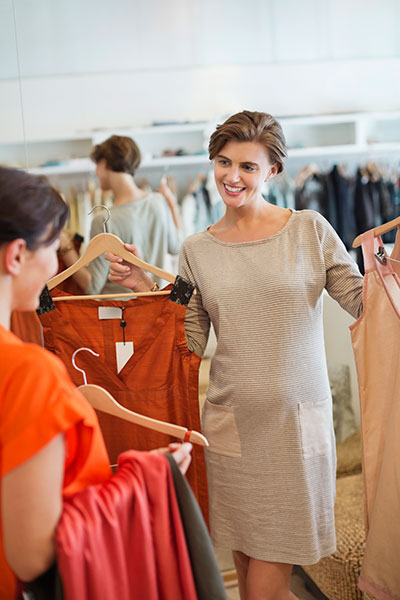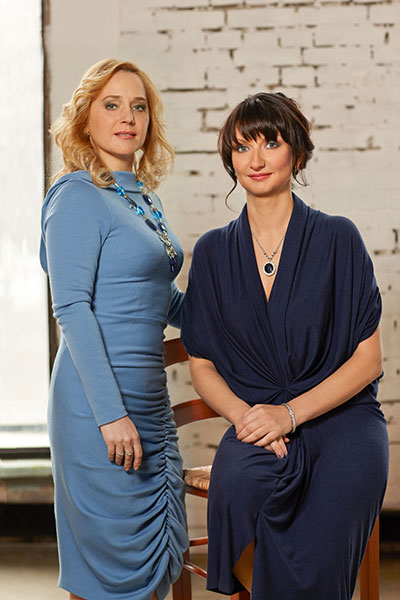 Advice to pregnant women is given by our consultants: Sofia Svetlozanova and Zhanna Karpinskaya, the owner of a network of salons for children and expectant mothers "Kangaroo"
In our country until the mid-90s, fashion for pregnant women did not exist in principle. Future moms made up their wardrobe of dimensionless sweaters, shirts and trousers of her husband and faceless plaid dresses on a yoke, which were tailored in such an amazing way that they did not go to almost anyone. The first signs were overalls for pregnant women.
By the way, to say, this season they are at the peak of fashion not only for moms, but for all other women. One has only to look at the street style images from High Fashion Weeks – most fashionistas pose photographers exactly in them. True, in the 90s only the choice of clothes for mothers was limited to overalls.
And we are talking about those who are lucky to be abroad!
An amazing thing happened today: the main trendsetters for expectant mothers suddenly became celebrities in the position. Kate Middleton and Keira Knightley, Scarlett Johanson and Christina Aguilera, appearing on the red carpet and in the lenses of photographers during pregnancy, dictated current trends for all fashionistas.
Naturalness and comfort, natural fabrics and shades, smooth lines, floral and floral prints – all these favorite star trends are ideal for expectant mothers.
The hottest trends of this summer, one way or another, have something in common with the 70s of the 20th century. At the peak of popularity – flowing long dresses and skirts in the style of boho and culottes with arrows like Erika Cavallini, A-silhouettes and midi-skirts like MRZ and Markus Lupfer.
Actual prints and patterns with images of representatives of the fauna (Marcobologna), large exotic inflorescences in the entire canvas (120% Lino, Issa London) and a small "vegetable" pattern on the edge (Pietro Brunelli).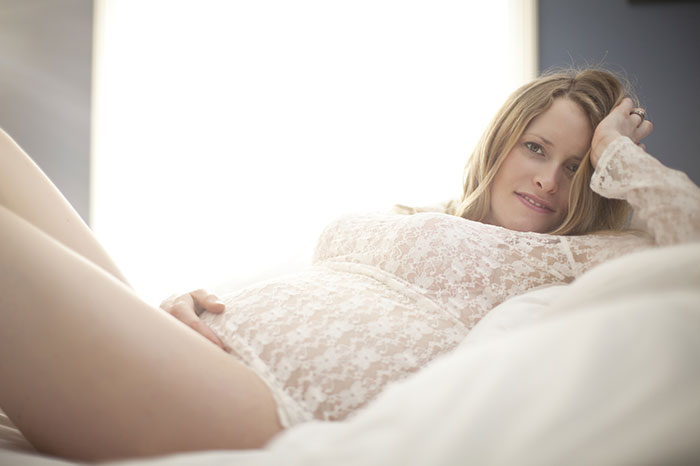 It is impossible to imagine a fashionable wardrobe without lace, silk and organza, which are numerous in the collections of MSGM, Deha and SI-JAY. This season's ethnodrends to the theme of oriental traditions and ethnic ornament. The kimono dresses, beloved by future mothers, and the MMissoni collection inspired by the Mexican artist Frida Calo, inspired by the image of this trend.
And this season, designers are singing a real ode to denim. Denim dresses and skirts, jackets and jackets, vests and shorts, denim total look and denim print, and, of course, the classic "pregnant" genre – denim overalls (for example, from La Robe Bleue or Pietro Brunelli), the absolute must buy this spring .
The current novelty of the season is trendy luxury lingerie for pregnant and lactating mothers Nid d'Ange. The collections were created by the French designer Vanessa Schleimer in the waiting period of the baby, and she knew exactly what the future mother needed.
There are models made with true Parisian chic from stretch satin and delicate delicate lace, linen from cotton and lace, trendy colors and trendy prints.
And finally, the summer season is unthinkable without a new swimsuit! Future mothers can choose both single-piece models in actual colors and shades, as well as separate ones, on drawstrings and ties, where the top can be made in the form of a sconce, soft top with ties around the neck or thin straps.
Luxurious swimsuits from innovative fabrics (such as Anita) do not constrain movements, ideally sit on the changed figure and allow you to feel comfortable both on the shore and in the water.