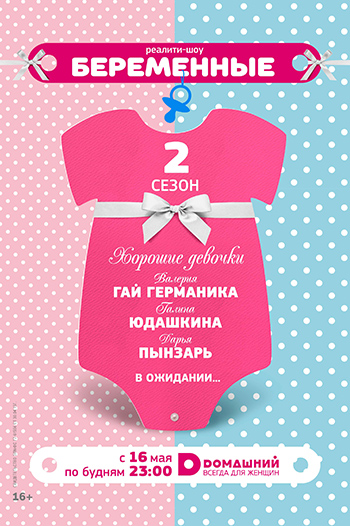 The phrase "Congratulations, you will have a baby!" Divides the life of a woman into two periods: "before" and "after". Emotions going wild, and a thousand questions immediately arise in my head: how to behave correctly in a new status, when and on what basis to choose a maternity hospital, is it worth signing a contract with a clinic?
Do not panic! The heroines of the new season of the reality show "Pregnant Women" on the TV channel "Domashniy" will share all the subtleties of being in the position and tell you how to cope with all the difficulties that arise.
The first season of the project, in which the TV presenter Tutta Larsen, the wife of Dmitry Dibrova Polina, and the former soloist of the group "Demo" Sasha Zvereva, became participants, was watched by viewers of the channel in 2015. This time, ordinary women will join the star characters – Galina Yudashkina, Valeria Gai Germanika and Daria Pynzar.
The paparazzi do not hunt them, the press does not write about them … But they, like any mother, are ready for anything for their child.
Never sleeping New York, the peaceful Bali, one of the most expensive cities in the world or a modest town outside the Moscow Ring Road? Private clinic or natural birth center at the other end of the world?
For nine months, girls will face not only the joys of an absentee acquaintance with the baby and his first jolts, but also serious tests: an obsessive fear of having a child with pathology, terrible news about a serious illness of her husband, stereotypes about late pregnancy, and typical problems of "single mother" and the inability to give birth naturally. Each of the women will go their own way and prove that no problems can become an obstacle to the main happiness in life.
Watch the second season of the reality show "Pregnant Women" on "Domashniy" since May 16!