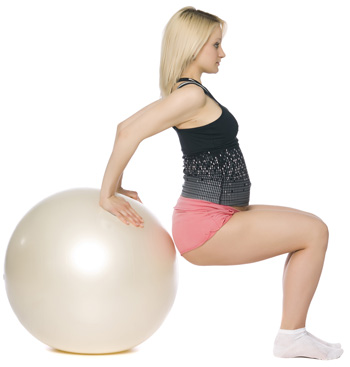 Before starting any activity, measure the pressure. This can be done at home or in the office of the functional diagnostics of the fitness club.
If the indicators of the tonometer are beyond the usual framework for you, do not risk it: in this situation, physical activity is fraught with increased uterine tone.
In order to benefit the future mom's benefit, you need to start with a warm-up. Warm muscles and ligaments are better contracted and relaxed, which means they spend more energy helping to maintain a shape.
Breathing exercises and relaxation classes are very useful for future mothers, they are conducted both in the hall and in the pool. The fact is that frequent and shallow breathing, which we most often use in everyday life, does not fully saturate the blood and muscles with oxygen, which means that the baby will get less. This shortage affects the development of the nervous system of a small one, and in my mother causes frequent colds. And the above practices will help you learn to breathe deeper.
Take time to be more like yoga lessons, then the feeling of inner balance and peace will not leave you all 9 months of waiting for the baby. All the more so for a small mother's attitude is also important: your excitement is transmitted to him, and this tension can affect his sleep, behavior and development after birth.
Do not forget to do exercises to strengthen your lower back, because only strong muscles of the back will be able to adequately hold the load – in our case, the growing up baby.
Those future moms who are familiar with the problem of varicose veins should be more engaged in the pool. Such a load, sparing for the vessels of the legs, nevertheless will greatly help the veins to stay in good shape so that the blood can move easily to the heart.
Finish any activity in the club stretching or breathing exercises. They will help more likely to deduce from the body the products of decay and increased muscular work.
Do not forget to take a break between exercises. Exercise stretching or just relax to return the increased pulse to a level of not more than 140 beats per minute.
The fact is that a high pulse causes an increase in pressure, and this may affect the well-being and development of the baby in a wrong way.