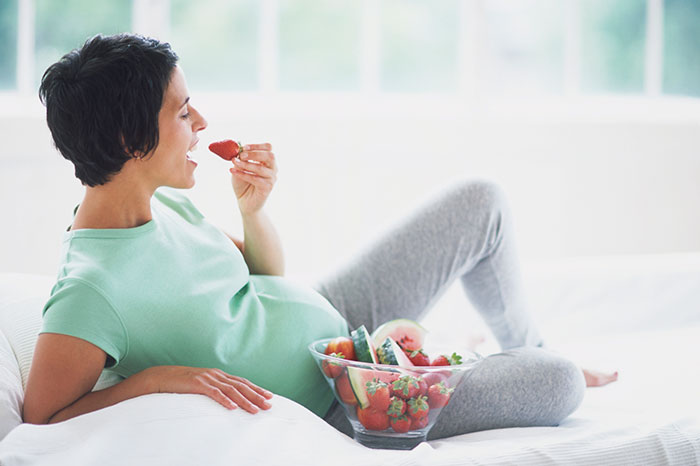 The pressure of society and the new canons of beauty have led to the fact that today many modern women do not want to have children for just one reason: they are afraid to get fat and not get back into shape. The situation is complicated by frank photoshoots of stars, where they appear in perfect forms a month later, or even a couple of weeks after birth. But do not forget that no one has yet prohibited photoshop or canceled the individual ability of the body to quickly recover.
Yes, there are women who only increase their belly during pregnancy. However, this is a rarity, and it is better to focus on those who could keep within the recommended norm, and with the initial excess weight even managed to lose weight, after all, it is possible!
Every future mother has something to strive for, the main thing is to be inspired by positive examples and not to make the most common mistakes.
Do not go to extremes. If your weight before pregnancy was normal and with an increase in the period the set of kilograms is going according to plan, you do not need to lose weight.
But if you were pysche or obese before conception, you need a bland diet. During pregnancy, it is extremely important to control weight gain.
For 9 months, gynecologists are allowed to gain us from 9 to 15 kilograms, depending on the baseline. If your obstetrician-gynecologist, relying on your body mass index (BMI) and other calculation formulas, advises you to reconsider your menu, it is better to listen. It is believed that if the BMI is above 25, you not only can, but also need to go on a diet.
It is only important to remember that we are not talking about the "diet" in the narrow-minded way. To starve, to get involved in monodiets, to give up meat right now just can not.
Getting rid of extra pounds during pregnancy should be under the supervision of a physician to take into account the interests of the baby and not to harm his health.
"Eat for two!" And "This cake will make you happy, and you now need positive emotions!". The fact that you are pregnant does not give you the exclusive right not to deny yourself anything and to increase portions on the machine. Such a position can damage not only you, but also the baby.
For example, if a child gains more than 4 kg by the end of the term, there is a high risk of weakening contractions, in which doctors use stimulant labor activity. The risk of rupture of the birth canal also increases, so doctors almost always make an episiotomy. After childbirth, due to the fact that the muscles of the uterus are too stretched under the weight of the baby, it will slow down more slowly.
Mother's bad eating habits can later affect the health of the child, because he also risks to perceive the tendency to obesity. Now you understand why your obstetrician-gynecologist is so severe?
Conclusion: one should eat not twice as much, but two times better.
To abandon many products that we refer to the category of "fatty" or "high-calorie" is not necessary. For example, you should not exclude from the diet starch-containing foods (eg potatoes), bread and butter.
Yes, you can recover from them, but you will control yourself! Now we must first of all think about the baby: every day he needs to get the most complete set of useful nutrients, including fats and carbohydrates (of course, not anyhow, but slow, "right").
So make sure that your "diet" does not lead to a shortage of certain substances. Every meal should be well balanced.
Mix in your menu all the groups of healthy foods, eat 5 times a day, so as not to bring yourself to sudden attacks of hunger, lean on foods rich in iron and protein. Every month the baby will grow (protein is a building material), and the volume of blood will increase (iron is necessary to maintain an adequate level of hemoglobin). But from fast food and all products that contain harmful additives, will have to be abandoned.
But let's look at this need not as a heavy duty, but as a happy chance: pregnancy is a time when we have the strongest incentive to change bad eating habits for healthy ones. And we will be able to practice these new skills for the rest of our lives.
As for the "low-fat" dairy products, during pregnancy it is better not to use them. It would be wiser to allow yourself to eat standard yogurt once a day, even from whole milk, than two zero percent and transformed ones, because our body has almost no benefit from them.
You and your baby need complete animal fats, not their substitutes. For products marked on the package "no sugar" should be taken even more carefully. They give us pleasure because they have a sweet taste and contain fewer calories, but they can be dangerous for a baby.
First of all, you need to give up any sweeteners that contain aspartame. Phenylalanine is present in this supplement – an aromatic alpha-acid, which is necessary and useful for our body, but for children with phenylketonuria it turns into poison.
Since this serious hereditary disease can become apparent only after the birth of a child, it is better not to risk it! About protein bars, powdered drinks, instant soups, omelettes and desserts do not even think.
The baby is growing all the time, and in these months you need a lot of energy. If you completely abandon the usual food and go to its hyperprotein variants, then you can get about 600 calories per day. This is very little for a pregnant woman.
The bottom bar with a lot of weight for the future mother – 1200 calories per day. Yes, this "diet" allows you to lose a few pounds, but with them will go and muscle mass.
As a result, irritability and fatigue will appear, which you do not need at all in the present situation.
It will turn out if you are not too strict with yourself and you will not initially impose excessive limitations on yourself. Despite the real need to control weight during pregnancy, psychologists still urge to listen to their own body and their desires. It is important to continue to enjoy life and food, because this is one of the brightest earthly pleasures.
Otherwise, the high bars will spoil the mood, lead to breakdowns and cause a heavy feeling of guilt, because the responsibility of the expectant mother is twofold: not only for herself, but also for the baby. Believe me, there is nothing scary about making exceptions to the rules.
When the daily diet is well balanced, in the morning you can safely afford a small piece of cake or chocolates. The main thing, do not forget to move more!