Myth number 1: In the potato almost no nutrients
Potato has a lot of useful properties, therefore it is undesirable to completely exclude it from the diet. There are many vitamins in it, first of all vitamin C – 20 mg per 100 g. This is practically the same as in black currants. Potatoes boiled in their uniforms have a lot of potassium salts, which are necessary for the proper functioning of the vessels and the heart (568 mg per 100 g is more than in mushrooms or bananas).
In addition, this root vegetable is rich in vitamins of group B, useful amino acids, phosphorus, zinc, magnesium, silicon, and other nutrients necessary for normal life.
Myth number 2: Potatoes are solid carbohydrates
Yes, because of the high starch content in potatoes, there are a lot of carbohydrates (about 40 g per 100 g), but these are complex carbohydrates that the body needs so much that potatoes can be used even by people with type 2 diabetes. Because everything is good in moderation.
If you exceed it, then the carbohydrates are converted in the body into lipids, that is, into fat, which is immediately deposited in the most inappropriate places, and the arrow on the scales will swing to the right. Potato starch reduces the level of harmful cholesterol, that is, has anti-sclerotic effect.
Myth number 3: Potatoes spoil the shape
Probably, the myth of high calorie potatoes came from the fact that we eat potatoes just baked with mayonnaise and even with pork, and children just love french fries and potato chips. In fact, the calorie content of the potato itself is small, and the overall figure depends on the method of cooking.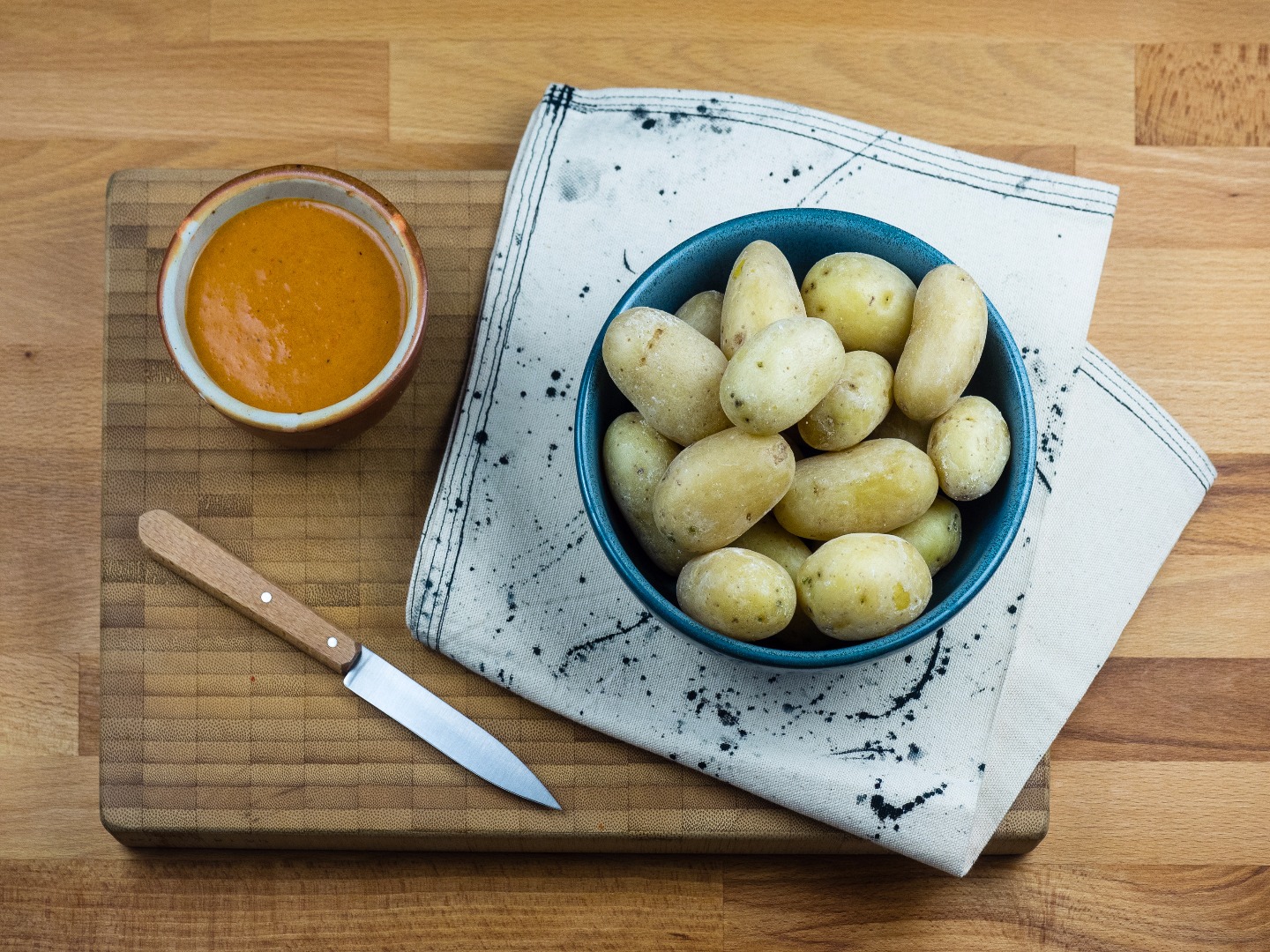 Myth number 4: Potatoes are best eaten as rarely as possible.
The more additional ingredients in a dish with potatoes, the higher its energy value, that is, caloric content. The least calories in potatoes, boiled in uniform – 66 kcal.
If it is peeled and boiled, get 75 kcal. Potatoes baked in their skins will give 80 kcal.
So, such a side dish can be easily allowed once a day. In order not to gain weight, you just need to properly prepare the potatoes and know the measure.
For example, boiled potatoes can be eaten daily, while a portion of an adult – 2-3 medium-sized potatoes.
Myth number 5: Dietary dishes with potatoes do not happen!
It happens, because you can eat it even raw. But one of the easiest, tasty and useful ways to cook potatoes is to bake whole potatoes on a fire or in the oven. Appetite will add a pinch of salt, a little oil (butter, olive, sunflower), garlic, dill, parsley and other herbs to your taste.
And you can dream up! Potatoes go well with vegetables, especially with fresh ones, such as in a salad. Unusually sounds to us, but from a dietary point of view, this approach will be the most correct.
If the potato itself will serve as a side dish, it is better to use it as such in the morning. There are other options!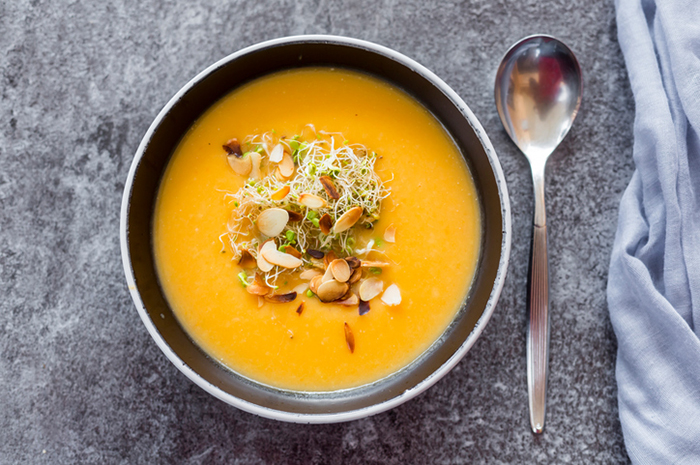 500 g pumpkin;
500 grams of potatoes;
0.5 liters of milk (can be skimmed);
300 ml of chicken broth;
olive oil;
a pinch of salt;
a pinch of pepper;
Greens to choose from: dill, parsley.
Peel potatoes with pumpkin and cut into cubes. Lightly fry in olive oil, then put into a pan and pour over with milk. Bring to a boil, then cook for 40 minutes over medium heat.
Grind to a state of mashed potatoes, salt and pepper.
Add chicken broth, bring to a boil again and cook for 5 minutes, or leave to stand.
Add greens before serving.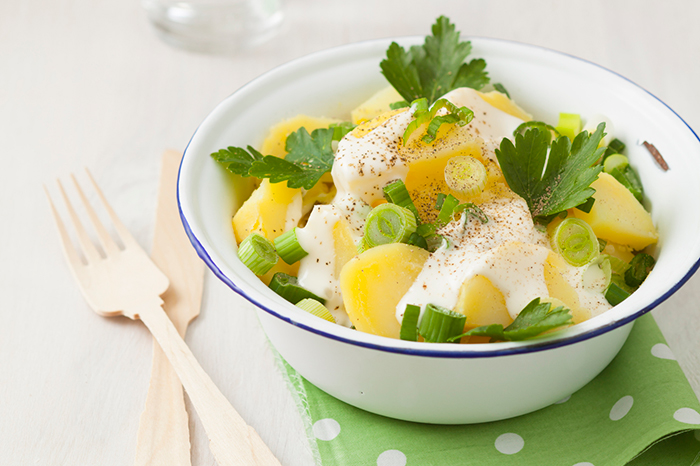 Potato stewed with vegetables
1.5 kg of potatoes;
4 onions;
6 cloves of garlic;
1 carrot;
10 tomatoes;
1 sweet pepper;
Vegetable oil;
A pinch of salt.
Peel potatoes and cut into slices. Put in a deep frying pan, salt and add water so that it covers the potatoes. Cover and simmer over low heat.
Grate carrots, chop tomatoes, onions, garlic and pepper. Mix vegetables and fry.
Add fried vegetables to potatoes, mix and simmer until tender.
Before serving the dish can be sprinkled with herbs.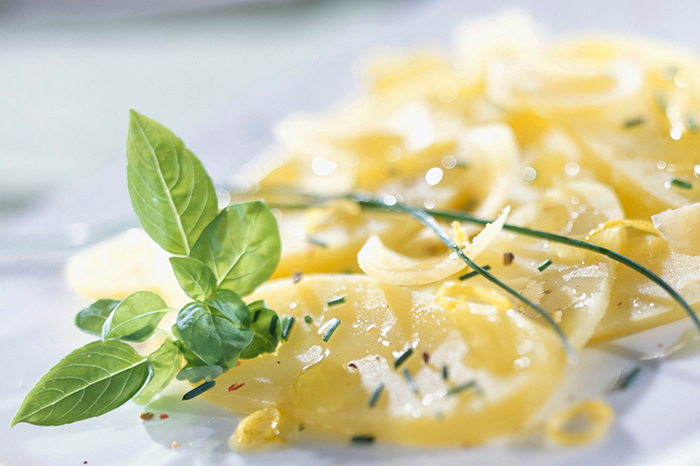 Potato salad with cheese
200 grams of potatoes;
120 grams of hard fresh cheese;
100 g low-fat sour cream;
6 cloves of garlic;
a pinch of salt;
a pinch of pepper;
Greens to choose from: dill, parsley.
Peel and boil potatoes, chop into slices with cheese.
Chop garlic into small pieces, mix with finely chopped greens, pour sour cream.
Add cheese with potatoes, season with salt and pepper to taste. Enjoy your meal!