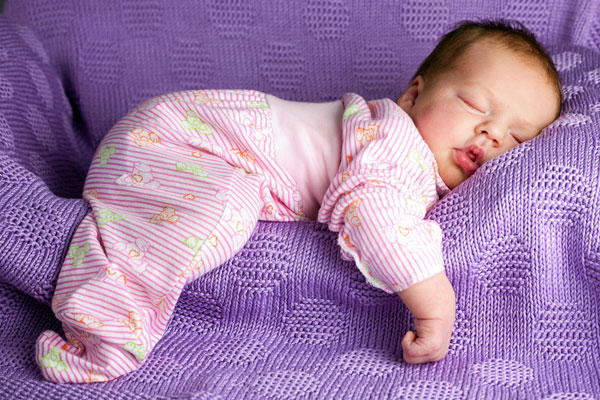 Doctors advise up to 4 months to put the baby to sleep in different positions: on the right or left side, back or tummy, turning his head to the right, then to the left. Each of these positions has its own characteristics.
The position on the back is considered the most useful for the correct formation of the spinal column. Moreover, in this position, the probability of the onset of sudden infant mortality syndrome (SIDS) is significantly reduced.
But, lying on his back, the baby involuntarily rattles hands and feet during sleep, which means that he can wake himself up and scratch or "pull" a blanket to his face, limiting the access of oxygen. And wake up early.
To prevent this from happening, before putting the crumb on your back, put cotton mittens on it and remove the blanket. If the infant has a stuffy nose, the pose on the back becomes dangerous: out of the nasal passages, mucus can penetrate the respiratory throat and cause suffocation.
Position on the right or left side is especially recommended for children prone to prolonged regurgitation, as the most secure. In this position, even burping in a dream, the baby will not wake up. Rolled milk will flow out on the mattress.
Otherwise, it can get into the respiratory neck. Pediatricians recommend putting pillows under the back of a baby lying on its side so that it does not roll back.
American doctors are inclined to believe that the position on the side increases the risk of SIDS syndrome.
Not all children can sleep on their stomachs. Among those who do not like this situation, are babies with an enlarged thymus (hymomegaly). The organ pushes on the trachea, bronchi and blood vessels, causing suffocation.
There is evidence that during sleep on the stomach the risk of SIDS is most pronounced. But the digestive organs in such a position work more efficiently: the gases leave well, and the colic stops bothering the baby.
Pediatricians are advised to leave the child on the stomach at least during one day sleep.
The shape of the child's head changes throughout the year under the influence of internal and external circumstances. One of them is contact with a horizontal surface.
Due to the fact that the baby is lying all the time, the bones of his skull become flatter. If the mother puts the baby to sleep in different positions, the shape of the head changes evenly, maintaining the correct roundness.
The situation is different when a crumb spends too much time in the same position, for example, constantly sleeping on its side or back. In this case, the bones of the temporal or occipital region are completely aligned, and the head looks beveled on one side.
This feature will pass when the baby learns to walk. The time spent in a horizontal position will be reduced, and the beveled area will acquire the same roundness.