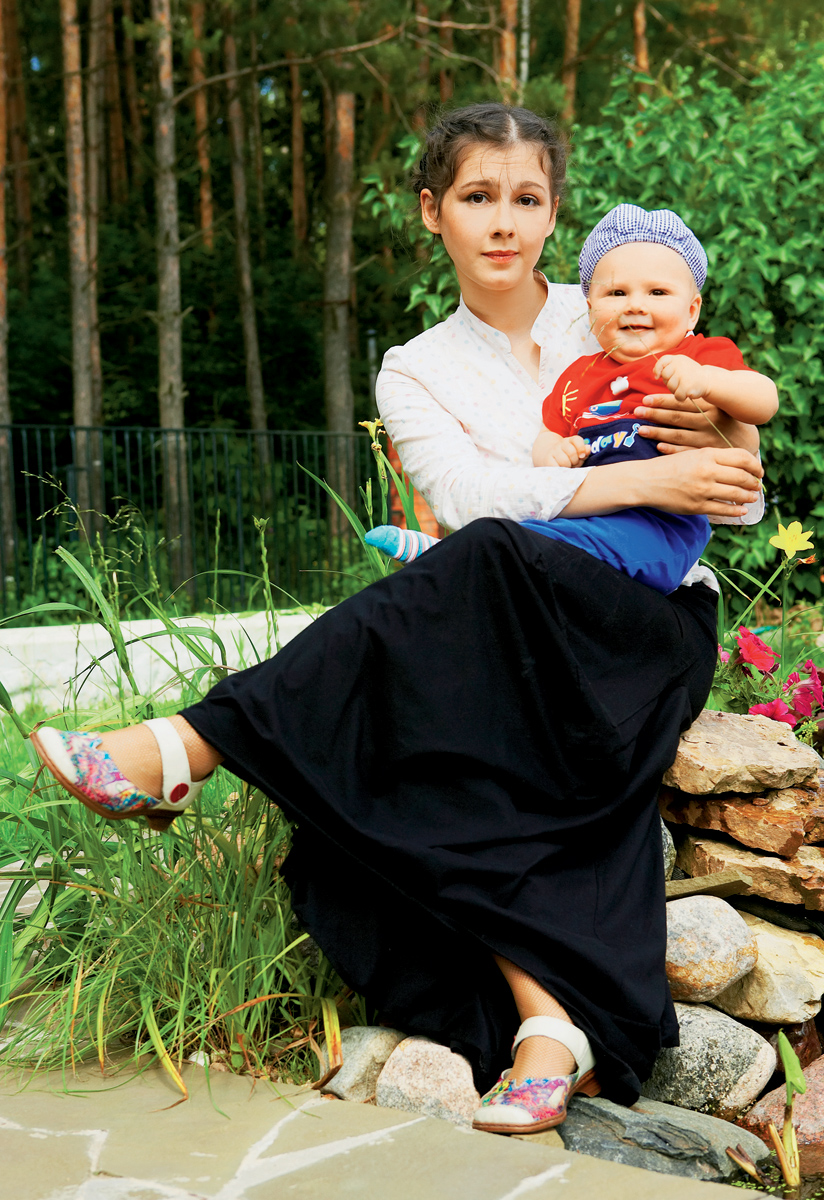 Polina speaks about her native theater with almost the same tenderness as her eight-month-old Pete, born last October and named after theater knight Peter Naumovich Fomenko. While talking, Polina smiles softly and a little embarrassed – talks about her son, about a big village house in the Moscow region, where she lives with her parents, her husband – actor and playwright Ivan Vyrypayev, 18-year-old brother Yegor, and 9-year-old sister Vary, still not used to feeling herself an aunt … Sometimes Polina suddenly frowns and glances at her watch – at exactly six she will leave for makeup. Unravel funny knots on the back of his head, throw off a fashionable dress and take the stage in the guise of a secular lady of Pushkin's time
HAPPY PARENTS When Petya was three months old, you returned to the stage. Did not you think that as an actress you have changed a lot?
Polina There are such events in life that change not only your way of life, but also your inner warehouse, all of you as a person. The birth of a child is one of these events. I do not know if this is visible from the outside, but I have a feeling that I am now playing by other means.
Actually, everything began to change from the first days of pregnancy. I felt like a mom as soon as I learned that I would have a child.
I do not remember which writer has a phrase: she knew him 9 months before birth. Petya was born exactly as I imagined him.
S.R. And how?
Polina A sad boy with thoughtful eyes, unprotected, vulnerable. Of course, it is too early to say, but it seems to me that it will be an introvert, like me. Surprisingly, he also turned out to be exactly that – exactly with the face that I saw during the ultrasound.
S.R. It is not easy, probably, to go to the theater from the Moscow region. No feeling that you are torn between the theater and the house?
Polina. From the autumn we will move to the city and take a nanny, but for now my mother helps me a lot, so there is no feeling of a "gap". I am afraid of comparative characteristics, but the theater and the child are equally important to me. Another thing is that you constantly have to choose between the fuss of the crowd and the child.
This bustle is in every profession, and it is easy to give up. I'm an antitus man.
If there is a free minute – rather grab a book. But the problem of choice, of course, is.
For example, now I am going to go to Don to act in a film directed by my husband Vanya, and I will have to part with Petya for a whole month. I can't imagine it yet.
"Love did not come to me for a long time. But when she condescended, I realized how wonderful and terrible the feeling was. "
S.R. How did you meet with Ivan, if you do not like to hang out at all? Polina He came to our theater to celebrate the old New Year.
Then everyone talked about his "Oxygen". Vanya invited me to this performance. I am wary of all modern drama, but I really liked Oxygen!
It was something genuine, real. And in Van, too …
S.R. Shortly after the birth of Petya, Ivan had a new play, Genesis No. 2, with which he had already traveled to half of Europe.
Does he have time to talk with Petya? Polina Of course!
Vanya is a patriarchal man in this respect, old-fashioned. He attaches great importance to responsibility for his loved ones. Vanin is the son of Gena, who is now 10, often with us.
When Vanya has time, he stays with Petya in the afternoon, and lets me sleep. And when the son was very small, we put him the music that we love – Bach, Maria Callas, – however, we overloaded him a little emotionally, he began to sleep poorly.
Petya is a very receptive boy.
S.R. How did your relationship with Vanya change after the birth of Petit? Polina To me for a long time love did not come.
Strange: on the stage I played so much about this feeling, and it seemed that I was doing quite well, but in life I was empty. And when at last love descended on me, I realized how wonderful and terrible the feeling was.
A feeling in which there are as many animals – from the fear of losing to the sense of ownership of the one you love – as much as the spiritual. But the maternal instinct is even worse. In relationship with a child, animal life must be overcome, and this is very difficult.
But I will try to be an objective mom. At first, when Petya was just born, I didn't know what would happen to my love for my husband. Thought: maybe it is divided into halves?
It turned out that she doubled! It is a gift and a burden at the same time.
A huge, elemental feeling that is sometimes hard to carry.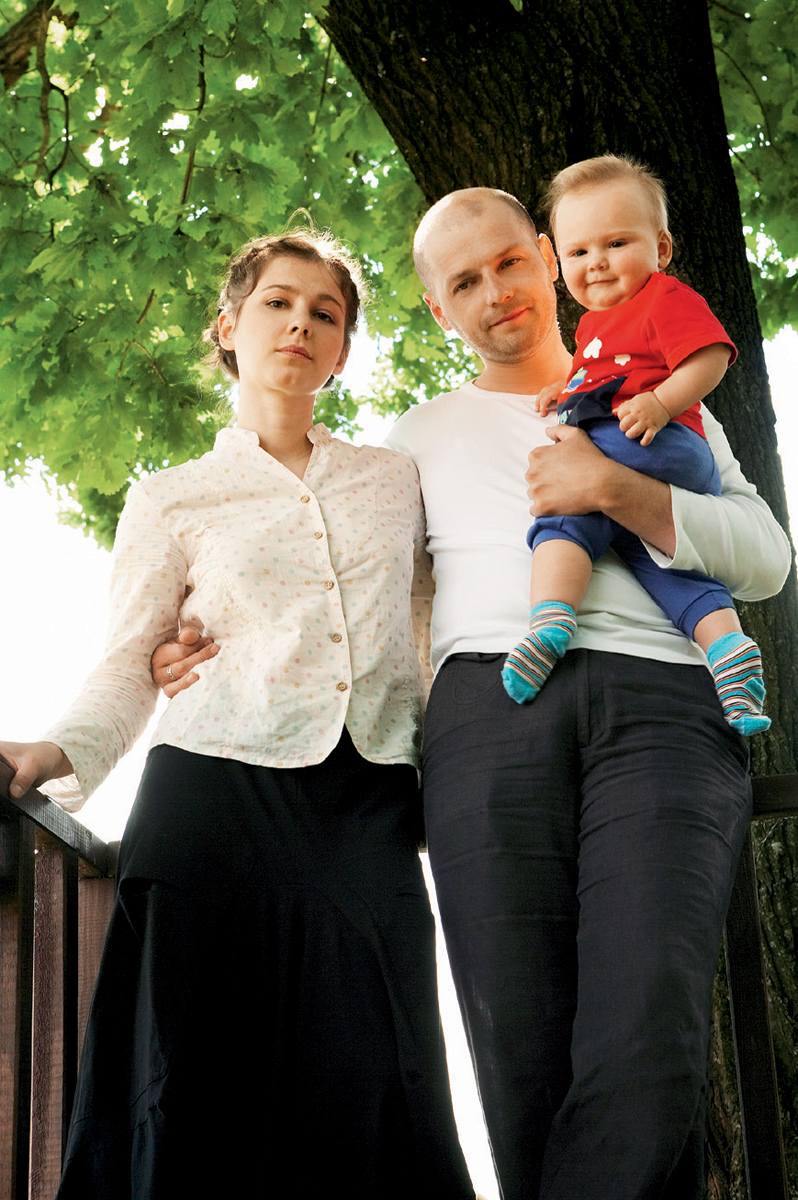 S.R. Who chose a name for his son? Polina (laughs shyly) I decided long ago that if I had a son, I would call him Petya, and Vanya was not against it.
I hope someday a girl will be born. But next time I will definitely ask Vanya to be present at the birth.
It is very important that during this process a close person be with you.
S.R. And you would not hesitate to shout with him?
Polina Of course not. I am not confused by the question of disgust, physiology – at some point you can even get out.
But I need psychological help, the ability to hold the hand of a loved one. True, I worry about Vanya – he's very impressionable. Childbirth is an ordeal, and it is probably scary for a man to watch it from the side.
I gave birth in six hours, but it seemed to me that it was a long painful hell.
S.R. Did you come to the hospital in advance?
Polina I had a difficult pregnancy. The last two months I spent in the clinic – I had to lie, otherwise the child could have been born ahead of time.
At the beginning of the pregnancy, we with Vanya and his son, Gena, went to Lake Baikal. Vanya was born in Irkutsk, there are amazing places – we walked and enjoyed.
Then we went to the Don to see the places where I was from. So, Petya visited my homeland and Vanina before birth. And Petya, being in the womb, traveled with me to Italy.
I do not know whether all these trips could provoke the threat of miscarriage or she would have been without them.
"When Petya was just born, I didn't know what would happen to my love for my husband. It turned out she doubled! "
S.R. Despite all the threats, Peter was born a healthy boy. Polina Yes, although we still have problems.
Petit has a phlegmatic temperament, but a very excitable nervous system. We did a special massage, took contrast baths – they not only strengthen the nervous system, but also harden.
S.R. Do you have time to think about yourself among these massages and baths?
Polina No. Vanya bought me a hoop, I twist it sometimes – when I remember.
I am not so whole a person that it is included in the system, although I make some attempts to return the form all the time. This year, of course, is hard, but infinitely happy – happiness covers all adversity.
With Petya, I discuss my affairs and my thoughts out loud – while Vanya seriously worries if I have lost my mind. But after all, the child feels everything – words, the energy of words. Previously, I could only speak out loud with myself, but now I have such a companion!
I do not know how Petya is with me, but I am very pleased to talk to him. Communicating with him, I take into account that he likes and does not.
He has been watching books for me since a month and a half – he looks from a page to a page.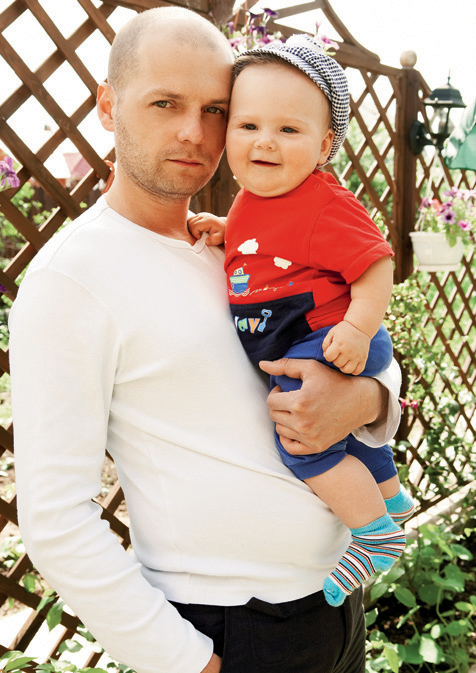 S.R. Will write plays – like dad?
Polina (laughs) He is an ordinary boy for everything else, not a child prodigy. Plump, in physical development, even a little behind, but thoughtful, inquisitive.
We call him "hearer" – he is very responsive to singing, reading poetry. If you cry, you need to talk to him with special intonations, and he will stop.
S.R. You said you were going to take a nanny.
Won't it hurt that not every Petin step happens on your eyes? Polina Of course, it will be insulting, but I love my profession too much!
I really want to work after the birth. Sometimes it seems to me that I am filled with this desire, like an orange – juice: press down – it sprinkles.
And all the half a year that I didn't play, I could barely hold it in myself. Pyotr Naumovich has long been going to rehearse Ostrovsky's "The Unmanned", I am assigned to the role of Larisa. I think we will start in the fall.
And I dream about this time.
S.R. And what is the film that Ivan will shoot?
Polina About love as an element. I think the film will come out not too funny, rather tragic.
S.R. Have you worked with your husband before? Polina No, and I am afraid he does not match.
In family life, Vanya can be a henpecked, and in art he is a tough man.
"I discuss aloud my affairs, thoughts with Petya – at the same time my husband is seriously worried if I have lost my mind. But the child feels everything!
For me, Peter is a very pleasant companion. "
S.R. Do you manage to keep Ivan under his heel ?! Polina To some extent.
I'm not one of those women who completely dissolve in those whom they love. At home we exist on equal terms.
And in the works … Although I should exist on equal terms in the works, otherwise I cannot play.
Time is coming to six. Ksenia Kutepova appears in the buffet. "Hello!
How dityunya? "She asked Polina. "Diathesis," she complains. "It's all the city's children," Ksenia reassures, "Polina (Polina Kutepova ––" The Workshop "actress –S.R.) has a good homeopath, talk to her."
S.R. In your theater you can already open courses for young mothers … Polina We are growing up, changing. But these changes in yourself need to be correlated with what you do on stage.
In life, I had a new role, so in the theater I need to appear in some kind of new acting capacity.