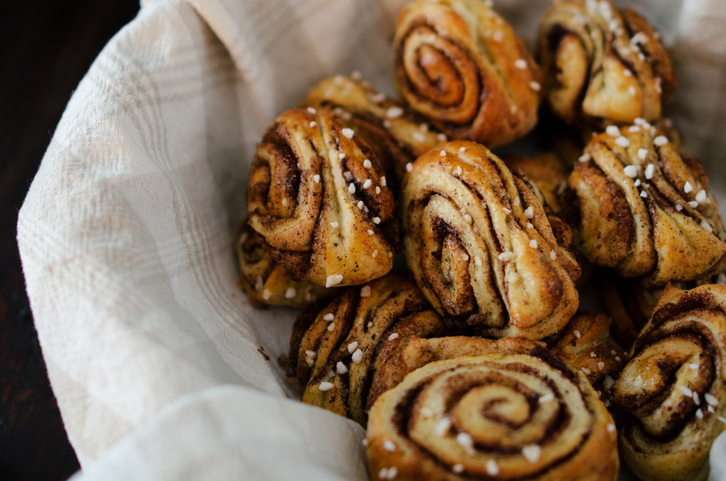 The dough products contain a lot of carbohydrates and vitamins of group B. The former supply energy to the body, the second regulates the metabolism, ensures the normal functioning of the liver, participates in the formation of hemoglobin, favorably affects the eyesight, condition of the skin and mucous membranes. But baking is very high in calories, and children now move less, which means they consume less energy than their parents at the same age.
Therefore, it is not worth overly indulging in buns and pies: this is fraught with weight gain.
In traditional baking, there are eggs, butter, a lot of sugar, often honey or jam is added to it. With such a load, the digestive system of the baby can not cope.
A treat can provoke gastritis in crumbs, disturbances in the gallbladder, bowel disease. Because the first tasting is better to hold after a year. At this age, children can offer homemade buns from lean dough, in which there is only water, flour, some salt and vegetable oil.
It is allowed to add yeast to the dough: a one-year-old child has already managed to taste baby cookies and bread. But the yeast must be fresh.
This dough is less likely to cause digestive problems and allergies.
A child of 1–2 years old can be baked no more than 2–3 times a week, a single portion — no more than 20–30 g. Such food cannot be called indispensable, it is only a source of pleasure and new taste sensations. After 2–3 years, a child can be treated with baking – a dough in which sugar and fat make up more than 14% of the weight of the flour. A single portion is no more than 30–50 g. In this test, there is a lot of sugar and fat, it is more difficult to digest.
After 3 years, cakes and pastries are allowed. For the sample, take a simple biscuit with fruit jelly, then you can offer products from short pastry. The less will be on the cake or cream cake, the better.
It is not only a surplus of carbohydrates and fats, but also that the cream quickly deteriorates.
Although pies and buns can be bought in the store, it is better to give the kid dough products that were baked at home. However, in this case it is necessary to strictly follow certain rules.
In the industrial production of pastries, not intended for baby food, margarine, various food additives and spices are often used. If the recipe provides margarine, it should be replaced with butter. You can not add vanilla, cinnamon, candied fruit, cocoa and other "adult" ingredients.
The products from which the dough is made must be fresh.
It is better to make the filling of pies from familiar products to the child, which it is guaranteed to tolerate well. For 1–3-year old karapuz, pies with apples, potatoes, berries, cabbage are suitable.
After 3 years you can give pies with meat and fish, after 7 years – with mushrooms.