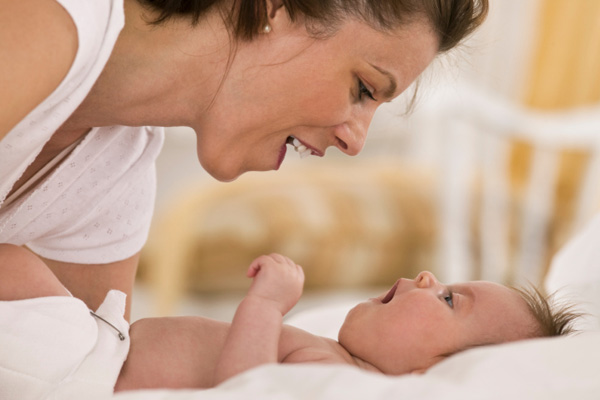 From a scientific point of view, communication with the outside world begins with the baby … before birth. It is well known that the future baby clearly distinguishes the voices of his parents.
And in the first days of life in the new world, they give the baby the opportunity to feel safe. Nevertheless, this period can hardly be defined as socialization: the attitude of the child to the parents is mostly emotional. The child is actually very important contact and the attention of others – in this case, his parents, to feel.
Your view for him is like a mirror through which a child feels that he exists. Very early, from the age of 3 months, he begins to notice the differences between his mother and his father: he bends his feet and makes a noise when he knows that his father is coming, and before the arrival of his mother he squints his eyes.
At the same age, after the first "random smiles" – signs of just a good mood – the baby starts to smile and responds to you – he communicates!
Advice to parents: look at him! Strengthen your family ties with your dad, brothers and sisters – these are the first links of his communication.
The main thing is to constantly talk with the child and look at him, through a look he receives your love and support from outside. In response, he has a desire to look at others.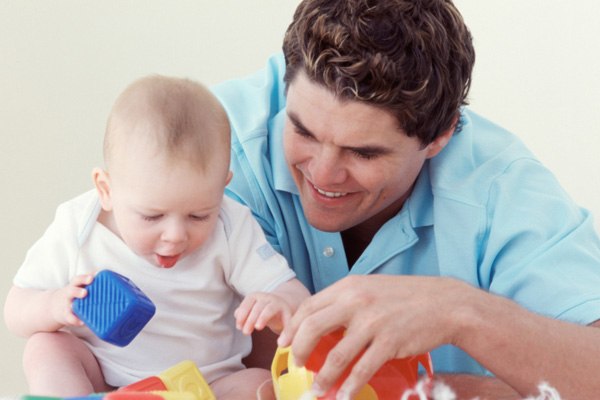 The child's eyesight and hearing develop and become thinner … You will be surprised when you notice how full of adoration he glances at his older brothers and sisters. Babies really need attention from older children. Now the child studies the world more closely and begins to realize that his mother is different from all the others.
By 8 months, this will lead to a regressive phase – the so-called fear of separation, during which the child will complain or fear at the sight of other people – at this time he wants to see only his mother next to him. This should not upset you, because the paradox is that the child is approaching a new stage of socialization – the other person becomes truly different, in all its uniqueness. Between 9 months and a year of the child, some people are attracted and others are repelled.
This is the beginning of the formation of the so-called electoral sympathies.
Advice to parents: rely on time. Encourage your child to communicate with his father, and you do not need to be at that time nearby. The father thus assumes the role of a teacher who devotes the child to communication skills.
Your baby loves when you tickle him, sing songs to him, recite counting when he reacts with words to his emotions. But do not overdo it: it is not necessary to fill in words all day.
Child psychologist Emmanuel Rigon said on this occasion that too powerful stimulation at a tender age kills stimulation. The child must be able to be alone in order to feel the difference … and interest in real communication.
When you are busy with a child: bathe him, change the diaper, feed him – try not to be distracted by anything else, to really be with the baby. Radio, television, talking with a friend on the phone will create a situation of "the absence of any presence."
The more sincere you will be in communication with the child, the stronger will be his desire to communicate with you.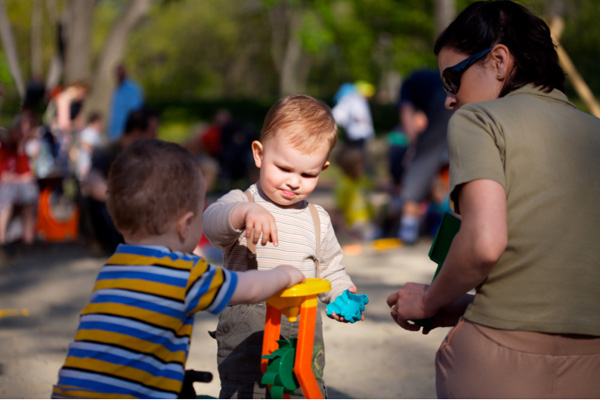 At the age of 1, the child is eager for new contacts. At this time, acquaintance with a child of the same age is very valuable, because it allows you to immerse yourself in a new environment, different from his own family. Walking will be important in the process of socialization: the child explores the world, interacts with others and already chooses who to communicate with!
In other words, its horizons are expanding every day. You can help your child expand his social circle by introducing his acquaintances to him.
The child himself will tell you that he is interested, pointing a finger at people or objects – this is an important phase, and an immediate response is required from you! At this age it is important to begin shaping the child's speech — the basis of his communication in the future.
At the same time, as for the games, it is still not possible to say that the child plays with other children: he plays independently next to them. "Another" for a child is still a stranger, able only to take away his shoulder blade in the sandbox.
Advice to parents: avoid conflicts with others. Feel the child in touch with other people, but do not force him to offer them his toys and do not cite someone as an example. With rare exceptions, small children are not philanthropists!
That you have to explain to the child that he will receive good from communication with others. "If you let him play his toy, he will give you his." That is why at this age nurseries are important, where there is a set of common toys.
And there is always the need for outside intervention to pacify disputes.
Classes outside the kindergarten – dancing, drawing, schools of early development and others – are very important, because they give the child the opportunity to live a different life, in a rhythm different from the usual. Other rules, fewer children. In common games, children learn to lose, learn to be close to others.
When children play a board game, invite them to break into mini-teams so that they feel the joy of a common victory.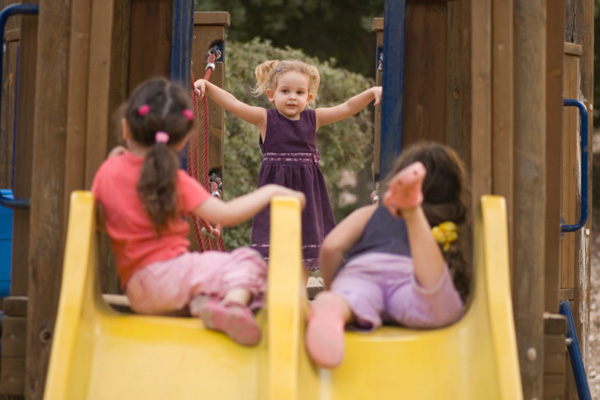 At this age, the child is already aware of his relationship "vertically" with his parents and "horizontally" with his brothers and sisters. Such a family scheme will help him build social and emotional connections with others – with equals or with those to whom he should obey. A child at this age is no longer in need of care from the family.
On the contrary, if he grows up in "incubator" conditions and his communication is limited only to his family, but mainly his mother, he risks becoming a real hermit. Encourage your child to communicate with other children, even if he cannot make true friends.
Advice to parents: be attentive to a shy child. In the playrooms and the manger, everything is done so that the children communicate, even if only for a few hours. And on the contrary, the transition to kindergarten is a more delicate matter, because now no more than 8, but 30 children will fall on one adult tutor.
A premature transition to school practices can cool a child's desire to communicate and leave bad memories. If it seems to you that by the age of 2 your baby still speaks poorly, do not think that he will receive communication skills in the garden – rather, on the contrary, he may withdraw into himself.
Wait 6-8 months. Contrary to well-established stereotypes and ideas, a kindergarten from 2 years old is not the best way to save a child from shyness.
But for those who are already free to keep with their peers, the kindergarten will benefit.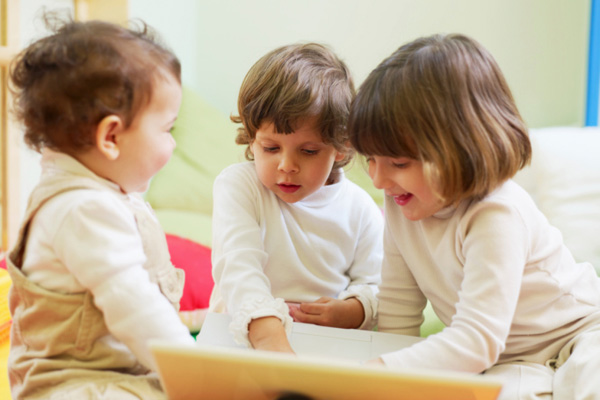 3 years – what an important stage! Children begin to really communicate, and the first friendships are born – this is facilitated by admission to kindergarten. Another important breakthrough: children are able to distinguish among their group of talented, leaders, skilled and clever, and all the rest.
This is how a real social group is formed. Usually the one who owns the best speech, becomes the "main".
We see friendships of "interest" (children sitting next to school), friendships in which identification takes place or complement each other: a restrained and calm child can make friends with the strong and noisy. This is the age when we should be worried if the child has no friends, and, possibly, to consult with a psychologist.
Advice to parents: beware of unequal relationships. At this age, "unequal" friendships can arise – when some children always capture the best roles in games, subordinate to themselves the more timid ones. You have to keep an eye on this — for example, by redistributing roles in games.
If a child never talks about his friends, encourage their joint meetings – invite them to your home, organize joint "appearances".
Invite friends overnight to the child and let him go himself so that he can learn another "family culture". Do not miss the first spiritual wounds: the heard "I am no longer friends with you …" can make a child suffer.
The age of the first true friendship is also the age of the first true parting.