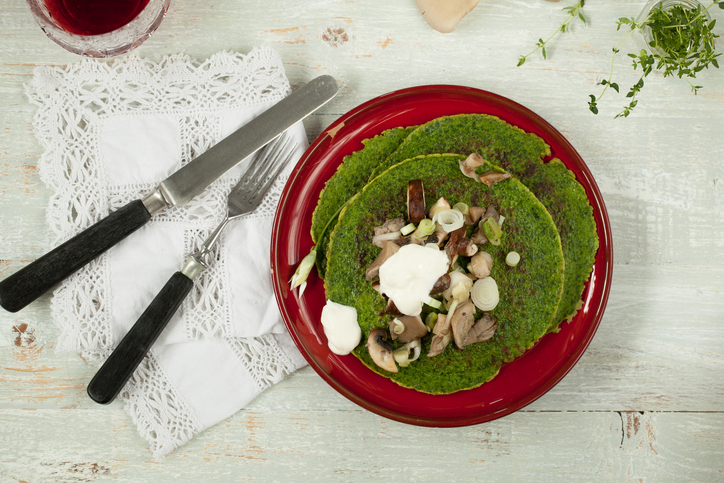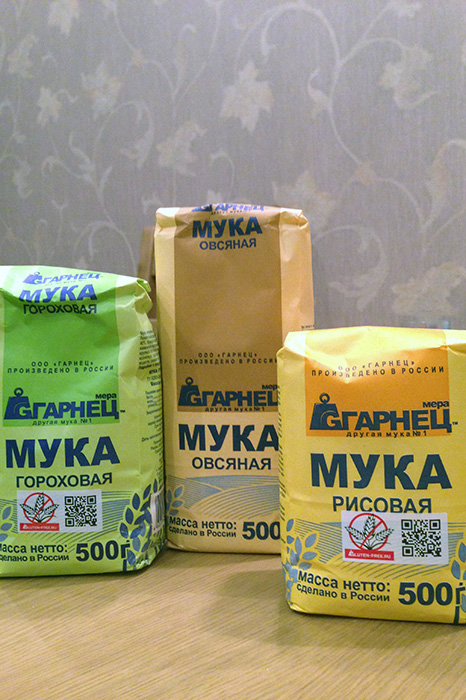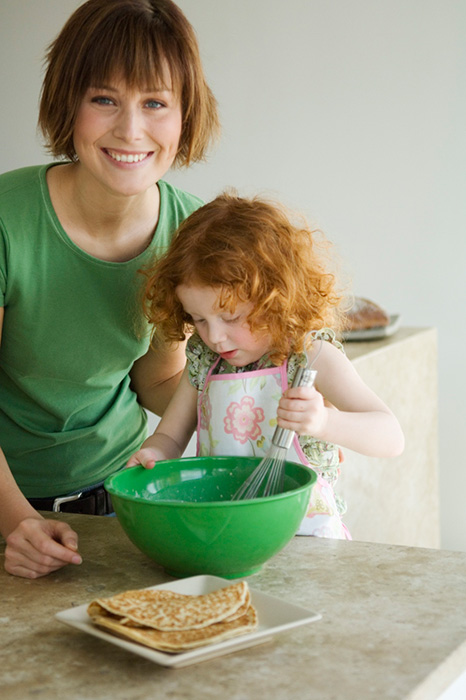 So, we suggest discarding all stereotypes and baking pancakes on pea, rice and oatmeal on this Shrovetide. Find these varieties of flour in ordinary supermarkets, we were not difficult.
By the way, the price at the time of this writing was in the region of 70-100 rubles for 0.5 kg of flour.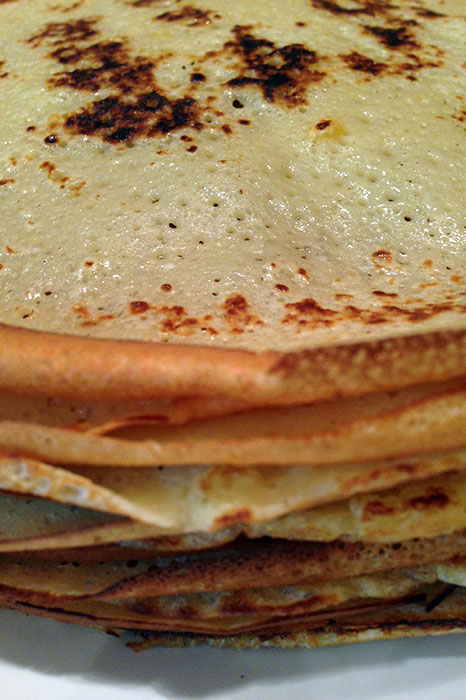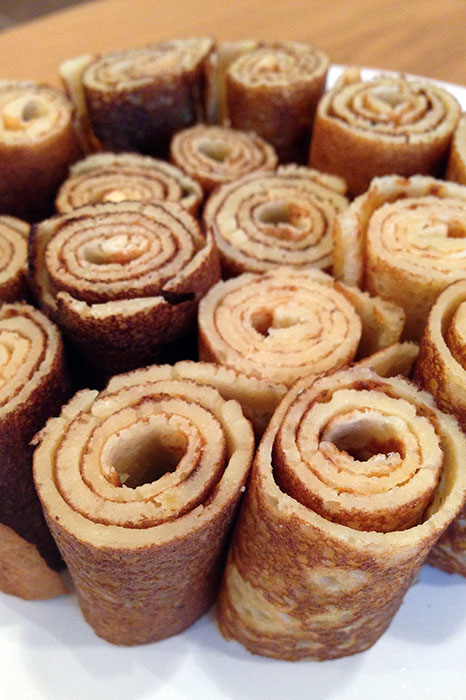 Ingredients: 0.5 liters of milk, a glass of ordinary wheat flour, a glass of pea flour, three eggs, sugar sand – a teaspoon; some salt to taste; refined vegetable oil for dough (1 tbsp) and frying.
Mix both kinds of flour, sift it. Then pour sugar and salt on the tip of a knife.
Then break the eggs and mix everything until smooth. Then slowly, stirring slowly, pour the milk and add a little vegetable oil.
The dough should turn out to be fluid.
Our summary: The combination of two types of flour worked perfectly. Due to the presence of wheat flour, these pancakes are baked without problems – almost the same as classic ones.
But the taste is unusual. The aftertaste of these pancakes is clearly present peculiar to pea tartness.
So, after the first bite, your family members will appreciate the originality and irregularity of the recipe – even if they do not immediately guess what exactly you mixed into the dough. With chocolate paste, these pancakes are especially tasty – the bitter notes of cocoa blend beautifully with the pea component.
Ingredients: 150 g of pea flour, 1 egg, 1 tsp of sugar, 200 ml of water, vegetable oil for frying, a pinch of salt to taste.
Beat egg with sugar and salt, then, mixing, add flour. Lastly add water and knead the batter.
Make sure that there are no lumps. Bake, as usual pancakes, on a heated and oiled pan.
Finished pancakes flavored with butter.
Our summary: Pea flour has a pleasant characteristic smell and a light cream color (however, you unconsciously always find yourself finding what you are looking for in a greenish tint). The dough on the water comes out very liquid, so baking a full flat pancake was not immediately possible. However, you can adapt yourself.
Pancakes are coarse-grained, with a very original taste. The sweetness of the peas adds a pleasant sweetness to them. Oddly enough, the characteristic bitterness of this cereal is felt here less than in pancakes baked in half with wheat flour.
But neither the children, nor the husband, nor even the experienced neighbor-housewife almost certainly does not recognize the entire composition of the ingredients. So this is a good option for those mothers who need, by all means, to feed the child with healthy plant protein.
And by the way! There is no bright yellow color for which these pancakes are supposedly famous.
Their color is perhaps slightly more saturated than usual.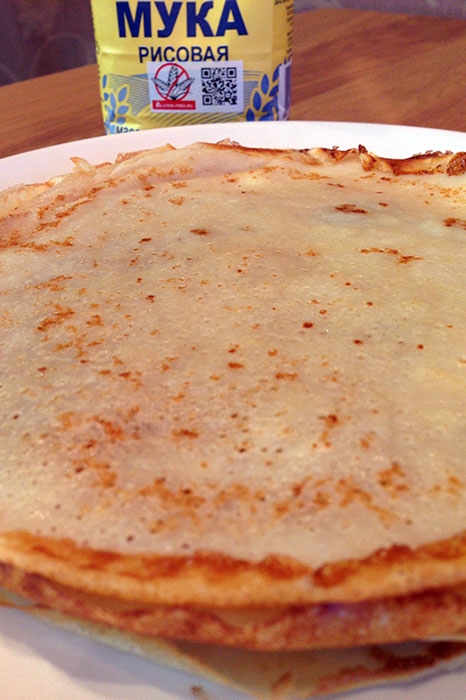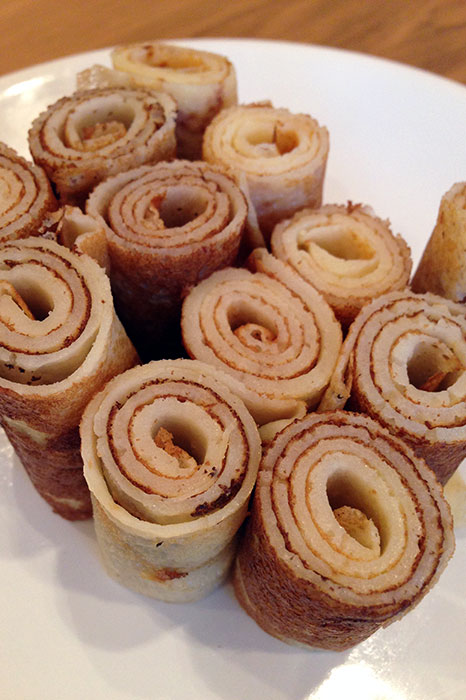 Ingredients: 200 g of rice flour, 0.5 liters of milk, 50 g of sugar, 2 eggs, 20 g of potato starch, 25 g of butter, a pinch of salt to taste, vegetable oil for frying.
Mix flour, sugar, starch, salt. Pour in the milk, stirring slowly, then add the eggs and melted cream a little.
Beat dough with a mixer until lumps are removed. Bake like regular pancakes.
Our summary: To bake rice pancakes, have to try. The snow-white dough is very light, fluid and quickly spreads around the pan. And just as quickly set.
So there is no time to yawn – just manage to shoot, so as not to burn. And here again it is necessary to be on the alert.
The thinnest dough and strives to tear when turning. But if all these barriers are overcome, you will be truly rewarded. Thin, light pancakes have the same delicate, light and pleasant taste.
No wheat gravity! Two full tablespoons of sugar provided such sweetness that it was necessary to forget about jam.
These pancakes will be good with neutral vegetables or salted red fish.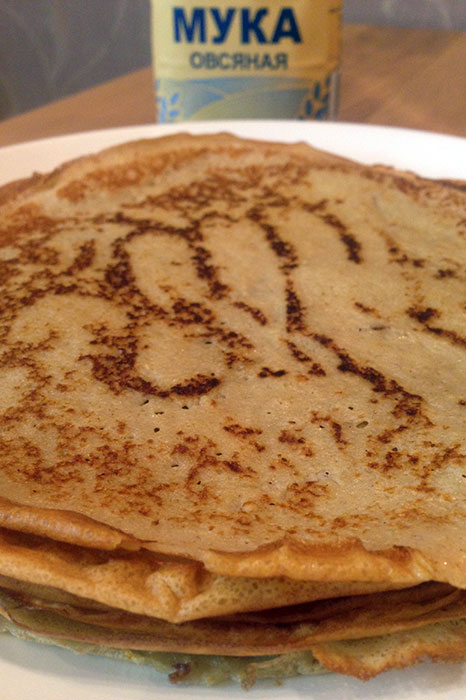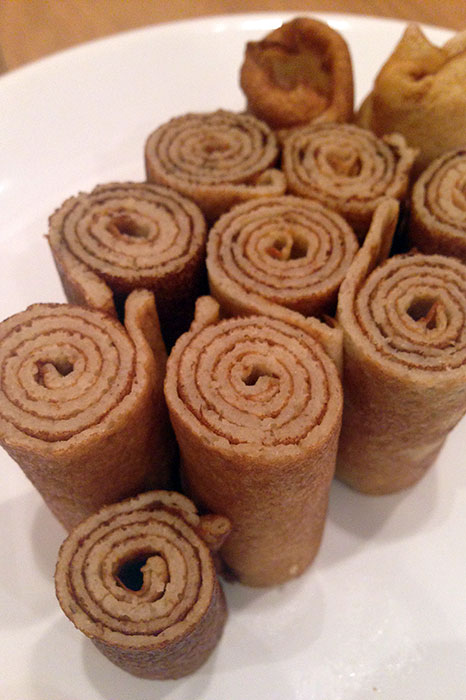 Ingredients: 1 cup of oatmeal, 1.5 cups of milk, 2 eggs, 2 tablespoons of vegetable oil, 1 tablespoon of sugar, a pinch of salt, baking powder or soda, vegetable oil for frying.
Beat eggs with sugar and salt. Add flour with soda or baking powder.
Mixing the mass, gradually add warm milk and vegetable oil. You can beat the mass with a mixer.
Before baking, let the dough stand for half an hour, if it thickens – you can add more milk or water.
Our summary: After the success of rice pancakes, to be honest with experimenting with oatmeal, I didn't really want to. But rave reviews online and already bought a pack of flour still forced to stand up to the stove.
And here we were waiting for the opening – these pancakes surpassed all previously tested – and for the convenience of cooking, and to taste. Thanks to the heated milk, the flour of the color of creme brulee was easily sold into dough of the same color.
The ill-fated lumps were avoided almost effortlessly. After standing a quarter of an hour, the dough did not thicken.
The oven and flip was just as easy as kneading. Without exaggeration, the pancakes themselves melted in the mouth – they almost did not need to be chewed.
Most of the baked scattered, barely been removed from the pan. And, despite the fears, the Herculean porridge did not even smell – only a gentle cereal taste was felt. The dry pancakes were also not — rather, soft and elastic.
Especially for checking the taste, we managed to hide one until the morning in the refrigerator – and he still showed 10 out of 10. You are not going to the store for oatmeal?
We have not mastered this recipe ourselves. But if you want to try buckwheat pancakes as well – a very simple and illustrative video tutorial will help you.
Buckwheat pancakes – video from blogger Irina Khlebnikova: