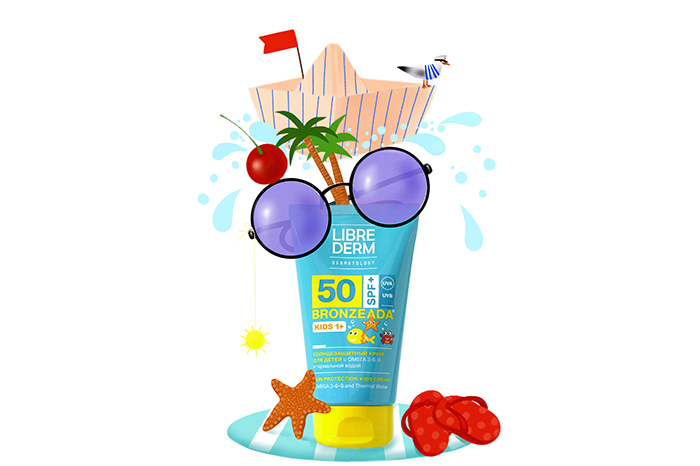 When going to the sea, every time I sacrifice exactly a quarter of the suitcase for sunscreens: my supersensitive first photo type and the presence of a little traveler nearby demand it. This summer, the place for them took more than usual: a miracle happened – our dad went with us.
True, the vacation was almost on the verge of collapse, because I was scared. I was horrified to imagine how I would try to persuade both of the stubborn people to apply cream before going to the beach: male solidarity in our family is too developed.
In order not to turn into an angry fury, I had to go to the trick.
This amusing game was suggested to me by animal prints on my favorite summer dress. The idea is elementary: at the right time, give both of them a tube of sunscreen and give them a task to color each other like a tiger or leopard. Growl and hiss from indignation is allowed!
Our experiment was carried out with the participation of sunscreen for children SPF + 50 Bronzeada Librederm®, produced in Italy. I chose it because it contains not only standard filters that reflect UVA and UVB rays, but also a triple cocktail of natural nourishing oils with an additional effect. Flax, grape seeds and borage herb borage fill the formula with omega-3, 6, 9 fatty acids, which provide antioxidant protection to cells and at the same time protect them from infrared radiation.
Thermal water in the composition in parallel moisturizes and heals the skin, and this is also a big plus. The bonuses were so obvious that we started using this cream with the whole family. As a result, none of us was injured on the beach: not a single burn was found during the inspection.
And this is despite the fact that the boys almost did not sit under the tent, and swam in the sea for so long that they almost did not get gills and fins. True, under my control, they were smeared from head to foot every hour, but the cream was absorbed quickly and without a trace, so they did not complain.