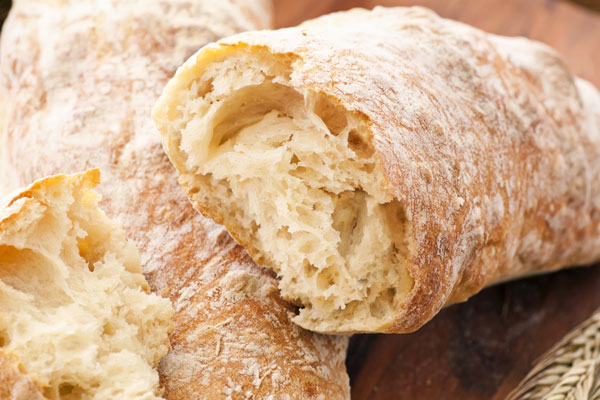 Bread – a rich source of carbohydrates, and therefore energy, the need for which the baby increases by leaps and bounds. There is in it a little vegetable protein, vitamins of group B, necessary for the development and normal functioning of the nervous system, phosphorus and calcium, which are part of the bone tissue, and zinc, which helps to activate the brain.
The baby can try the first piece at 7 months, but only if it is not allergic to gluten – a protein that is present in most cereals. The main principle is this: if familiarity with cereals has passed without problems, then bread can be offered with a calm soul.
In addition, at this age, the child's gums are itchy, and the crust or toast will come in handy. However, it is worthwhile to offer bread at dinner, so that the crumb in parallel learns to bite off small pieces of food and chew solid food.
You need to start with wheat bread from wholemeal flour: this variety is better and easier to digest, and most of the B vitamins are in it. The freshly baked loaf will not work: the crumb will be poorly digested, which can cause colic and bloating. A slice of bread intended for the baby should be yesterday or slightly stale (for example, dried in the oven). After a year, the child can be given rye bread.
Varieties of whole grain flour or bran are introduced into the diet after 2 years.
Daily portion of bread in 7−8 months is 5 g. Give it once a day, usually for lunch. By the year, the baby can be given 20-30 grams of bread, and by the age of 2, up to 60 grams of wheat and up to 30 grams of rye, breaking both portions for breakfast, lunch and dinner.
The bakery products include cookies – a favorite treat of the little ones. For the first acquaintance, it is better to choose its ready-made "child" varieties.
Baby cookies usually dissolve in the mouth, so there is no risk of choking on crumbs. From 8 months, the baby can be given 3−5 g per day, a year – 15−20 g. It is undesirable to exceed the norm: the cookie is rich in carbohydrates, the excess of which leads to excess weight.
Some manufacturers recommend to dissolve the delicacy in milk or kefir, but nutritionists oppose. Cookies teaches your baby to eat solid food, and if it is softened, it will resemble porridge in consistency.
Unleavened biscuits, drying, crackers and donuts can be offered at 1.5 years, ideally for an afternoon snack. When choosing delicacies, you should carefully read the labels: nuts, candied fruits and spices are strong allergens.