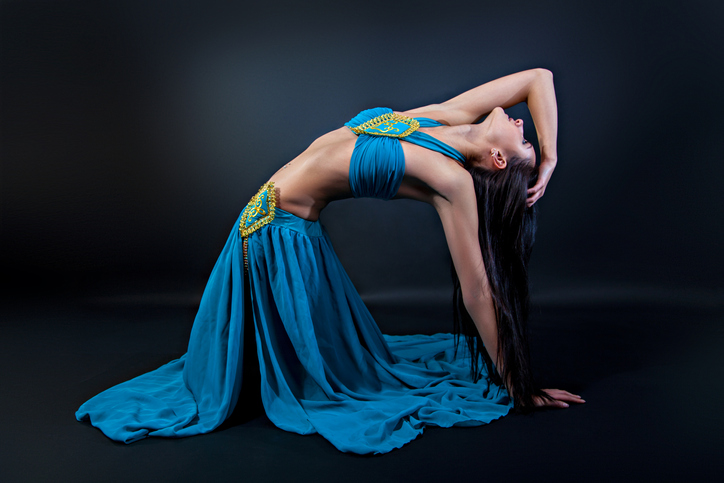 Belly Dance, or belly dancing, is a common name for various oriental dances. Belly dancing gives a woman more freedom: and how to look at the classes, and in the level of physical fitness.
Therefore, Belly Dance is so popular. It doesn't matter how much you weigh and what your figure is.
Oriental dances teach a woman to love herself for what she is at the moment. And feel very attractive. This is helped by bright costumes, ringing jewelry, music … Unwittingly you are transported into a world resembling the TV series "The Magnificent Age".
A young mother, loaded with household chores, such a change of impressions is useful.
Oriental dance is an opportunity to improve your figure, make it more flexible and slim, get rid of swelling, stretch marks, fat deposits on the hips and get a charge of vivacity. What exactly will get those who are seriously carried away by Belly Dance?
Beautiful chest. The movements of the arms and shoulder girdle strengthen the pectoral muscles and intercostal muscles. It helps to return the breasts to their former shape.
Tightened belly. Dance movements "tighten" the abdominal muscles and thighs, especially important impact on the transverse muscle of the abdomen.
Excellent posture. There is a disclosure of the chest. Due to the smooth movements relieve tension in the muscles, it turns out the effect of stretching. In particular, relieving tension from the back muscles. Significantly improves the condition of the spine. Stoop disappears, grace appears in the movements.
Beautiful hands. Thanks to the active and smooth movements, blood circulation in the joints is improved, arthritis is prevented.
General recovery. Thanks to belly dancing, the muscular corset is not only strengthened, but also the internal organs receive a massage. It improves blood circulation in the pelvic area, which helps to improve the functioning of the internal organs and faster recovery after childbirth. Since oriental dancing is an easy cardiac load, the cardiovascular system is restored and a gradual weight loss occurs. Eastern dances have a beneficial effect on various muscle groups, increase stamina and elasticity of body tissues.
The philosophy of Oriental dance is this: every movement should bring a woman pleasure. The joy of realizing their feminine charm, plus moderate exercise, make you want to do and not to quit.
Why run away from where you feel so harmonious?
After class, body and soul continue to exult. Inside, it sounds like a charming melody that does not disappear even when the mother returns "to the family". And the husband will look at his wife, relaxed and contented, in a different way …
After childbirth, belly dancing can be practiced naturally no earlier than after 6 weeks. Provided, if the woman does not have a hernia of the anterior abdominal wall associated with the last pregnancy, and if there are no uterine bleeding due to the remnants of the placental tissue.
If during natural childbirth there was an episiotomy (dissection of the perineum and the posterior wall of the vagina in the second stage of labor), then belly dancing can be practiced only 3 months after birth. If after childbirth there was a manual revision of the uterus or repeated scraping in order to remove the remnants of placental tissue, then belly dancing can be practiced 3 months after delivery.
After cesarean, belly dancing can be practiced only 6 months after delivery.
Common contraindications are also: spinal hernia more than 8 cm, displacement of the vertebrae, exacerbation of diseases of the gastrointestinal tract (gastric ulcer, duodenal ulcer, cholecystitis complicated by cholangitis, varicose veins, hypertensive disease in the stage of exacerbation, acute diseases of the bronchopulmonary system, severe pain and profuse bleeding diseases of the ovaries, cysts, myoma, etc.).
Often we ourselves deny ourselves pleasures, inventing various reasons. Classes of oriental dances also have the risk of falling into the category of "maybe someday", since doing it regularly is a matter of will.
Let's try to understand the reasons for such a regression and strengthen the motivation to continue to engage.
There is no power for sport. It just seems.
Naturally, I do not want to swing a press on a yoga mat in my room. Close, boring – it's easier to open the fridge, take a muffin and dive into the TV series. Another thing is a big hall with mirrors where energetic music sounds.
Bright lighting, an instructor who confidently leads the process. All this is inspiring.
Energy has a strange property: the more you give it to your beloved work, the more it returns. It is much easier to get tired without doing anything and "sitting in the phone" for half an hour than in 45 minutes of dancing.
With whom to leave the baby? The training system is very flexible. Choose the most convenient option.
In the evening or weekends a woman can be replaced by a husband. Isn't it profitable for him to have a wife in a good mood? And then looked at him languidly and dreamily?
The help of grandparents should also not be neglected. If there are no relatives "in the background", you can turn to the services of bebcitters with hourly rates.
Lack of free time. You need literally 2-3 hours a week. This is not so much.
If there is enough time for meetings with girlfriends and shopping, then it will also be available for playing sports. In the end, you can "take" an hour from the weekly shopping.
The main thing is to tune in to a pleasant process, the result of which will always delight. You yourself will feel how grateful you are your body, that you have taken care of it, giving it movement, rhythm, stretching.
No extra money. It is not necessary to buy a subscription to an expensive fitness club. You can buy one-time lessons or workout blocks (5, 10, etc.).
It is more economical. And do, without ruining and happy.