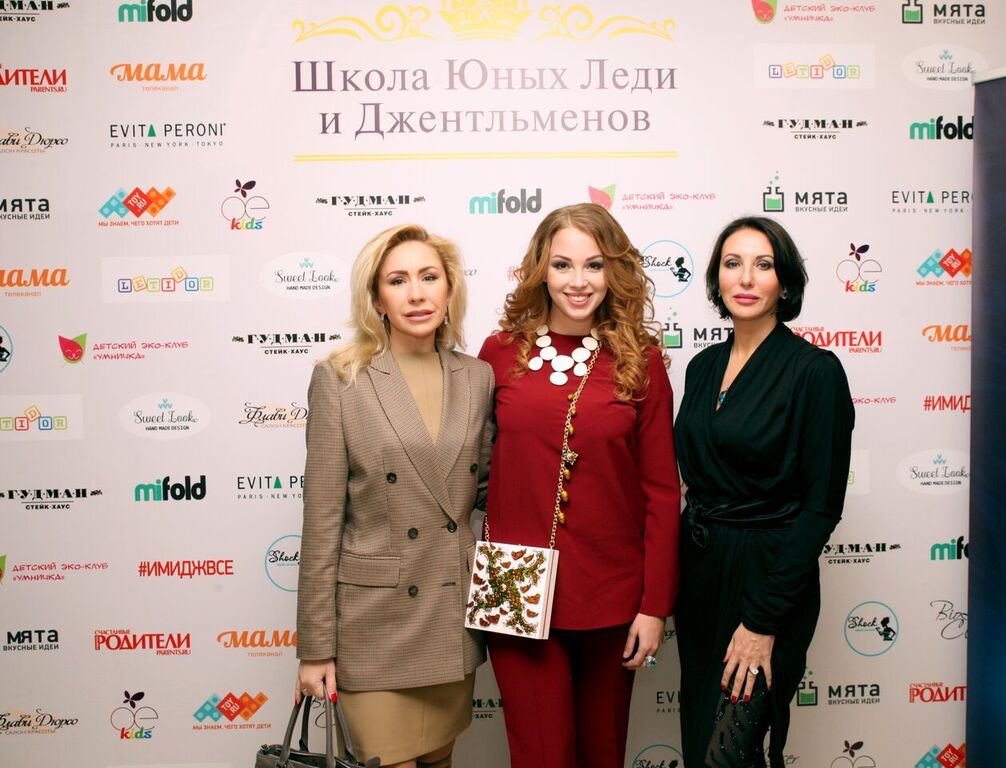 Can you become a true lady or a true gentleman, or should you be born with this status? Polina Dibrova and Elena Sheripova – namely, they are the creators and ideological inspirers of the new educational institution – clearly answer: you can!
True, this will have to work: from an early age to comprehend the rules of etiquette, study works of art and always keep your back straight. The program of training in the "School" is designed for children of different ages, starting from three years.
The disciplines include etiquette, speech culture and oratory, choreography and work on posture, art education, creative workshops, work with a psychologist, and acting skills. The school is located in Odintsovo near Moscow, on Mozhayskoye Highway 71B.
STAR MOMS AND POPES
On November 26, it was no coincidence that the presentation was chosen, because it is on this day that special words of gratitude and love are addressed to each mother. Mother's Day is an international holiday that has been celebrated in our country for several years.
Therefore, all participants of the presentation took the opportunity and congratulated each other.
About the important role played by mothers in the upbringing of children, the creators of the "School" know firsthand. Polina Dibrova is the mother of three sons (and also she is the spouse of the famous TV host Dmitry Dibrova and the title holder of "Mrs. Russia – 2017").
Elena Sheripova is a producer who works a lot with young talents.
The presentation gathered a truly star-like composition of guests, and many guests came with their children – Anastasia Stotskaya, Maxim Drozd, Evelina Bledans, Dmitry Miller, Julia Nachalova, Angelica Agurbash, Konstantin Tszyu, Katya Lel, Dmitry Dibrov, Maria Butyrskaya, Anastasia Meskova, Anastasia Grache, and Anastasia Grach. , Elena Borscheva, Natalia Lesnikovskaya.
Both adults and small guests met with great interest the general concept of the school and the curriculum. From star guests and business partners, there were also congratulations and wishes of good luck to the new project.
AND NOW IS A HOLIDAY!
After the official part, the children and parents divided into two teams. For each of them, the organizers prepared separate surprises and entertainment.
It turned out a real holiday, cheerful and kind! For boredom, the guests literally did not have a single minute!
The little guests along with the fabulous characters Hatter, Alice and the Cheshire Cat made a fascinating journey to Wonderland. Especially for young ladies and gentlemen, stylists held a master class, showing how you can quickly create an interesting image with the help of a beautiful hairstyle and bright face painting, complementing it with fashionable accessories and hair ornaments.
Adult guests were given a festive mood: popular showman and presenter Mikhail Hrushevsky, winner of the Golden Note competition, singer Ksenia Antonova, finalist of the selection for the Junior Eurovision 2017 Yegor Yermolaev, participant in the show voice. Children Mark Potapov, Anika Sahak and Victoria Korobkova, winner of the musical television project Factor-A Sergei Savin.
Also for the parents held a presentation of the new generation booster Mifold.
And what a holiday without food and gifts! A pleasant end to the celebration was the tea party with a delicious cake and handmade gingerbread, as well as gifts from our magazine.