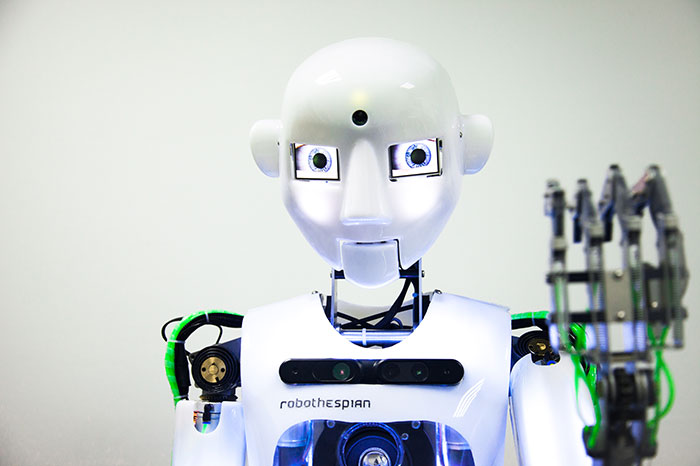 VDNH continues its course on renewal, launched last year. This year, many interesting projects will also appear on the territory popular with Muscovites. And the first of them will be a rostrum. It will be located in the historic Pavilion №2, which is located at the main entrance on the central avenue.
The robotstation will open its doors on April 29 and will work for four whole months – until the end of August 2015.
Robotic station is a kind of continuation of the famous last year project "Ball of Robots". In addition to the already familiar to the Muscovites, the English humanoid robot Tespian, the French robot NAO, the American Baxter, the Korean robot dancers and the anthropomorphic robot Pushkin from Zelenograd, many new robots from different countries are waiting for visitors.
The robot of love "Robozags" will scan how strong the feelings of lovers are, and if the result satisfies him, he will register a virtual marriage. A corresponding note will be made in the Robot Office, and the couple will be given a certificate.
Girls will be able to try a new make-up from a robot-make-up artist from Austria, while music lovers will enjoy the performances of art-robot-flute and robot-guitar.
A robot ATATA (yes, yes, he knows how to punish little hooligans), a robot bartender, a smoothie robot, a beggar robot, a robot prankster will also appear on the Robot station.
"We will create a new space at the Exhibition of Economic Achievements, interesting for both children and young people, as well as more adult visitors," said Igor Nikitin, General Director of Robostantion. "In addition to the huge area in Pavilion 2, we will also hold many events in the main alleys – for example, flying drones on weekends, roboconcerts, and much more, which will certainly give a new start to the development of such a beautiful venue as the ENEA."