Whether you are making a short flight by plane to your grandmother, or going on a long journey to the sea, the thought of traveling with a one-year-old baby makes your parents feel pressure. Children aged 1−2 years are very mobile and actively explore everything around.
Your baby may be an unpredictable companion on the road, so you should take into account some of his needs, so that the crumbs and you will be comfortable.
If your kid, for example, has a tantrum, then the worst thing you can do in this situation is to give in to an anxious mood. The child will feel your excitement, and this will upset him even more. It is better to remember how you usually soothe the baby at home: take it in your arms, shake it, sing its favorite lullaby, or distract it with a toy.
In the plane try to do the same. Do not worry about what other passengers may think of you. After the flight is over, you will not see them again.
Just apologize for unnecessary anxiety and noise. However, the best way to make the crumb in flight feel comfortable is to take the baby's personal car seat with you. Most likely, this will entail the cost of purchasing an additional ticket, but security is much more important.
In addition, you can pre-book a chair or cradle, which are provided for use in air travel. They are given for free during the flight. Do not forget to bring food and toys.
Bottles and nipples will also be useful to you in flight – during take-off and landing, they help babies to cope with the problem of laying their ears.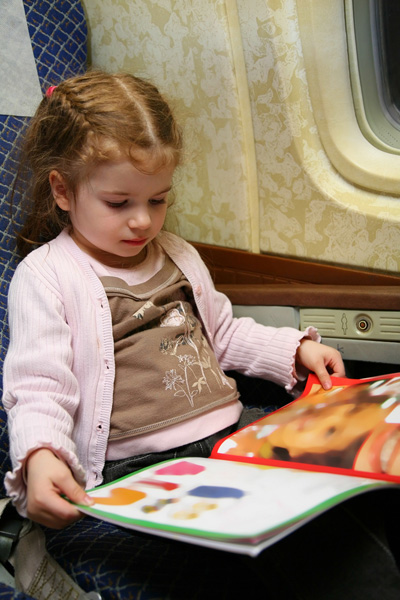 If you are going to the sea with your baby, when choosing a hotel, be sure to pay attention to be on the first line, have a convenient access to the water, a large green area, have children's infrastructure, be quiet and not very far from the airport. If you are flying with a child who has not yet turned two years old, ask the tour operator in advance if there is a refrigerator in the room, carpeting, or a cot. Choose a room where you could adjust the air conditioner yourself.
In some hotels, if you ask, they can prepare a room in advance for your arrival in accordance with the conditions necessary for the baby. But in any case, you yourself would be better on the spot once again how to study the room to exclude all potentially dangerous things, pay attention to the windows and the balcony.
Good hotels, as a rule, have higher safety requirements, so, having a very young child, it is not worth saving.
It is best to go on the road late at night, calculating the time so that most of the way the child spent in a dream. If you are uncomfortable to drive at night, leave early in the morning.
After a two-hour drive, be sure to stop for 20-30 minutes in order to relax and get some fresh air. Of course, you have to spend more time on the road, but this is better than cutting your way in time and tormenting the child.
If you do not have older children, then you or your husband will have to sit back with the baby. Get him a book or play with toys. If you are worried about the behavior of the crumbs on a long journey, you can first make a test trip with him: let the kid get a little used to the conditions of the road.
In addition, this way you will be able to identify in advance all possible problems and think about solving them.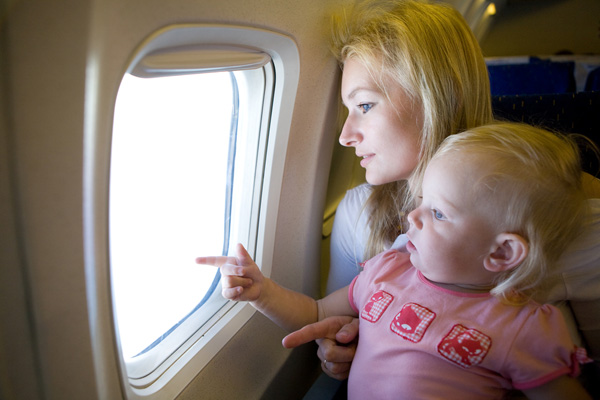 Kids adapt to new time zones surprisingly well. Unless, of course, you help them make this transition gradually.
To begin, start at home at a time gradually moving the baby's meal time — first by 15 minutes, the next day, increase the time to 30 minutes, and so on, until you reach the desired time.
As for sleep time, if the difference in time zones is 2-3-3 hours, then try to arrive at your destination after dark. If the time difference is much larger, choose the last night flight. So the baby will be able to sleep on the plane, and this will allow him not to be disoriented upon arrival.
Try to follow the usual routine while traveling. If you usually bathe a crumb before bedtime and read a book to him, try to do the same outside your usual home environment.
Loss of baggage, flight delay – very unpleasant events. But what could be more disturbing if your baby got sick on the road?
Here are some tips to take in this situation.
Take care of insurance
Before leaving, be sure to take out a medical insurance for the baby. Learn more about the system of medical care in the area where you plan to go. Find out which hospitals you can go to if necessary.
If your child has special prescriptions, be sure to put this information in a medical document, indicating the name and dose of taking the necessary medicines.
When you reach your destination, ask a representative of the host company or any of the knowledgeable locals (if traveling privately) to recommend a local pediatrician from the insurance list. Always keep his phone number with you.