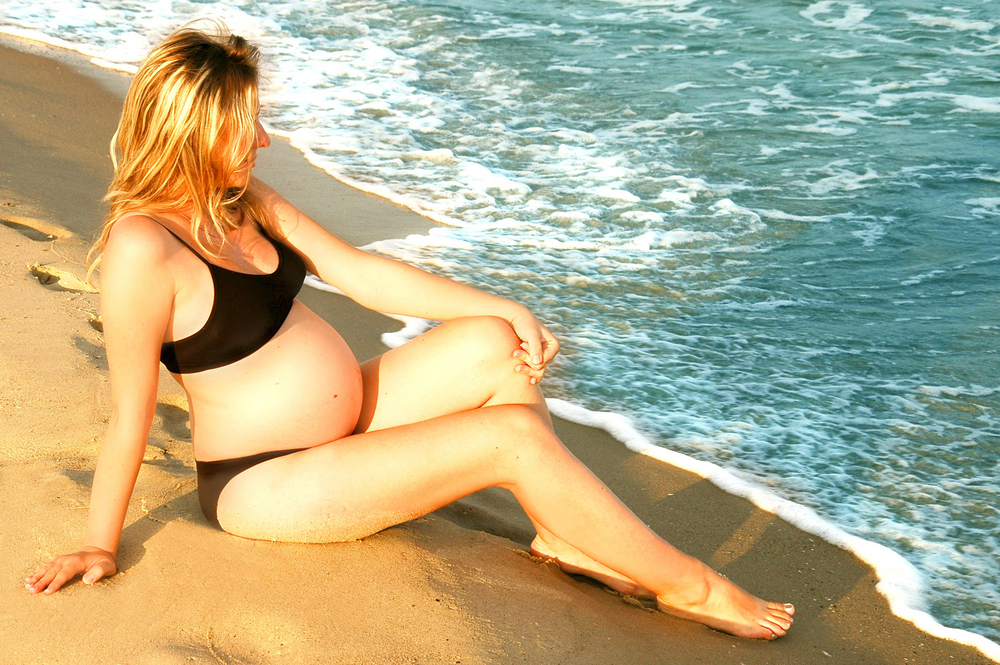 If you are going to the beach, take with you another towel (rolled up into a roller, you can put it under your lower back or legs) and a small pad (it will help you to sit comfortably on your side).
The bigger the belly, the harder it is for expectant mothers to go down. In order not to overload the lumbar spine, do this: put your hands to your hips, bend your knees and, with your leg back, stand on one of them and put your hands on the ground. Now transfer body weight to them.
If you want to sit on the buttocks, move the weight of the body on the side of the thigh and turn around with your hands. Having decided to lie down, just stretch out of the described position with your hands forward and lie down on your side.
And to sit on the heels of the buttocks, move your body weight back, slightly pushing off the ground with your hands.
Place a rolled-up towel under the waist to relax it, and under the neck and head – a pad, then the neck muscles will be comfortable. Now stretch your legs.
If you feel lower back pain, bend your knees. Unpleasant sensations will be due to the relaxation of the muscles of the front surface of the thigh and deep abdominal muscles.
In order not to numb large joints, try to roll over more often, sit down and rise.
If there is a tree on the beach, use it as a support. Sit on the buttocks and join the foot, bending your knees and turning them to the sides. Lean back against a tree and relax your shoulders.
You will feel how easy your body has become!
Put one leg cross on the other and bend the upper knee, then the stomach will also receive a fulcrum. Place a folded towel under your knee – it will not be very comfortable to rest on a hard surface.
A pillow will protect against overstretching the neck muscles.
Roll onto your side and rest your upper arm on the ground. Then lift up on it and put your other hand in front of you. Keep rolling over to be on all fours, leaning on your knees and your hands.
Then, pushing off the ground with your hands, first put one leg forward and rest on your knee. Then put a number next to the second and gently climb up.