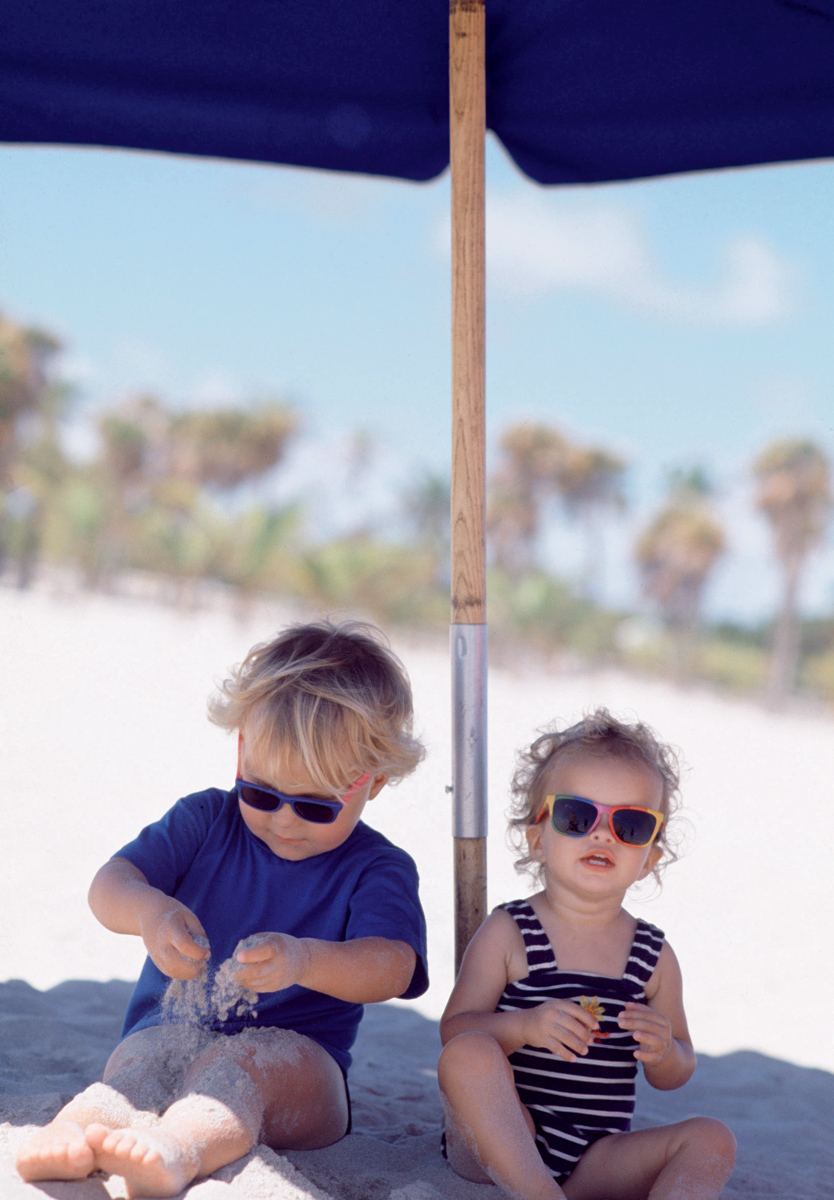 Kids usually do not like hats. And yet persevere, otherwise problems can not be avoided. The fact is that in children, unlike adults, the head is proportionally larger than the rest of the body and in the heat through the skin the body loses a lot of moisture.
Headgear protects your baby from heatstroke and dehydration, as well as from the action of solar radiation, including the eyes.
1 rule. A simple cap, even with a visor, is not enough on a hot summer day. Pick a kid with a wide-brimmed hat or cap, not only with a visor, but also with a "heel" that covers the neck, and certainly with holes for air ventilation.
Because, you see, he is unlikely to sit quietly all day under an umbrella or in the gazebo!
In the hottest time – from noon and up to 16 hours – kids better stay in the shade of trees, under a canopy or an umbrella. The fact is that their bodies are very sensitive to high temperatures, to which they often react with indisposition.
2 rule. From time to time sprinkle water on the baby's head and body.
3 rule. Put it on easier for him to sweat less and lose moisture not so fast.
4 rule. Water the little one often, not waiting for him to ask.
Children from 1 to 6 years should drink at least 1 liter of fluid per day.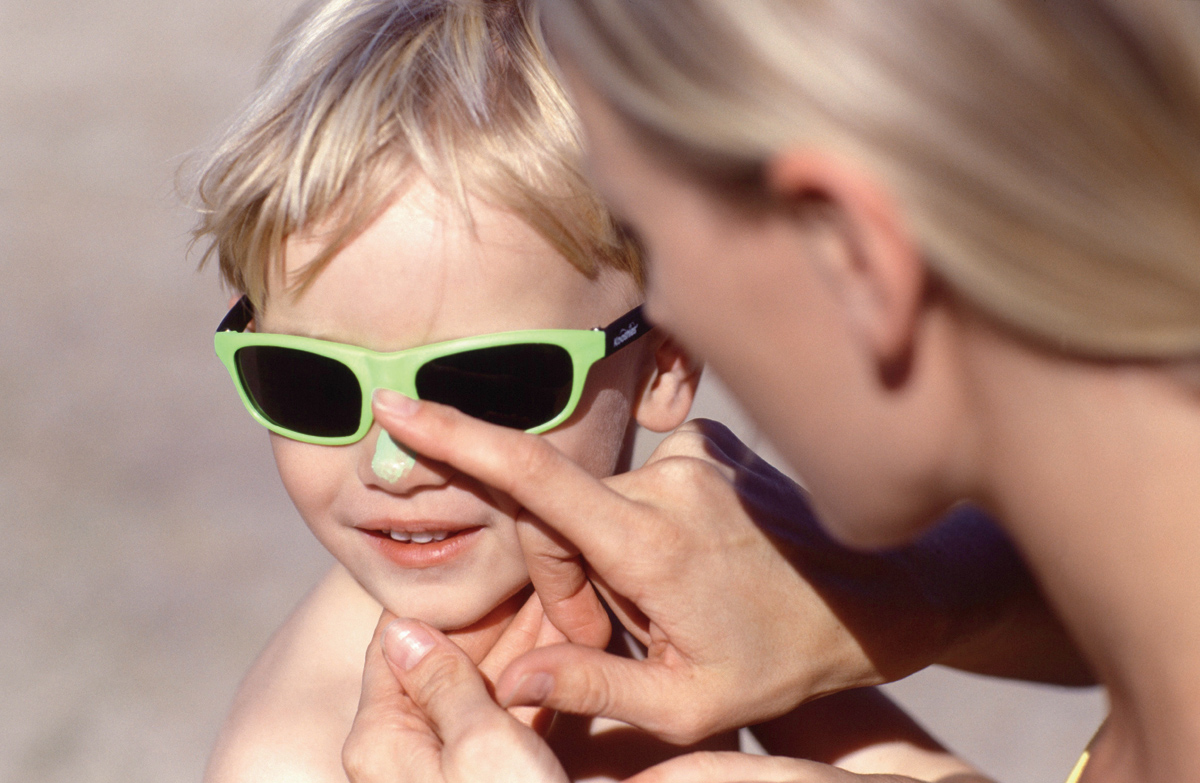 The eyes of children require special care: up to 12 years, their crystal misses about 75% of UV rays (for comparison, in adults it is only 10%). The pupil of the child is wider than the adult, and the eye tissue contains less protective pigment.
And, although under the influence of the sun's rays, the eyesight of the children does not deteriorate, it is known that the lesions accumulate and may appear in the future.
5 rule. To protect the eyes of the visor and hats, the kid will not be enough, he also needs dark sunglasses.
Cheap products with multi-colored glasses are not an option, because the color only protects against glare, but also creates a shadow in which the pupil expands, letting in more UV rays. Children need glasses with lenses made from a material that has the property of filtering the sun's rays.
According to the European rules, glasses are divided into 5 categories: "CE 0" should be worn indoors and in cloudy weather; "CE 1" are good in low sunlight; "CE 2" are suitable for lighting medium brightness; "CE 3" – dark glasses for strong illumination; "CE 4" – very dark glass to protect against very bright sun.
The skin of babies is thin, delicate and contains from 10 to 17% of water (for comparison, in adults it is 6–8%). It is very sensitive to the unfriendly effects of UV rays, especially since the skin pigment of melanin, which is responsible for tanning and absorbing UV rays, is still little developed in it. In addition, not only well-known vitamin D, but also immune bodies are formed in the skin of the kiddies.
It has been proven that long-term sun exposure suppresses the immunity of babies, which is especially noticeable if they are also in an unusual climate zone. The fact is that such a "relocation" requires the body of children to seriously restructure many systems, including the immune system.
And the sharper climatic differences, the more difficult is the adaptation, which, by the way, takes at least 3 weeks. That is why a short time trip to hot countries most often leads to an immune breakdown and, as a result, to an illness or exacerbation of chronic problems.
So for children under 3 years of age such trips are not useful.
6 rule. Even the most reliable sunscreens do not allow babies to stay long in the sun, especially since they do not give 100% protection against UV rays.
And still it is necessary to use them. Kids are advised to choose products with an SPF index of 30–59 and above 60.
"Solar dermatitis." The baby's skin becomes red, swollen, and small bubbles appear on it, and he himself feels unwell.
Dermatitis ends a few days later with a slight peeling on slightly tanned skin.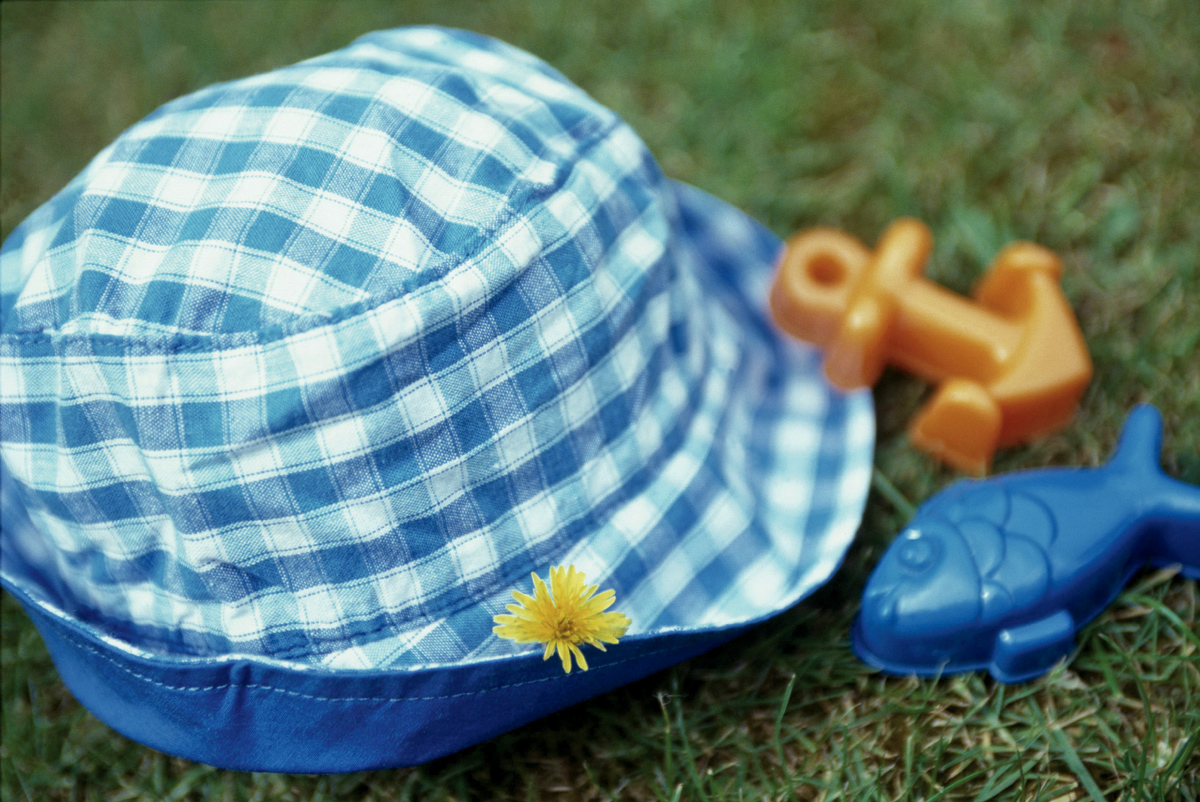 At the first signs of indisposition, cooling lotions help well: wipe the child's body with strong cold green Chinese tea, and then lubricate his skin with baby cream. It is necessary to bathe such babies without shampoos drying their skin, now they are more suitable with moisturizing products (Atoderm RO zinc, Bioderma), and even better – products from Atopic skin care programs (Atoderm PP, Bioderma).
"Prickly heat". In the heat, the baby's skin turns red, and small pimples appear on the chest, back, shoulders and legs.
This rash suggests that the sweat glands are overheated, because at first they are not very active and sweat can linger under a thin stratum corneum, irritating the glands themselves.
Such pimples will quickly pass if you open the child and rinse it from time to time with warm water. You can soothe the skin using a drying cream (from the product lines Mustela, Bioderma, A-derma, Ducray).
To prevent perspiration from occurring again, wear a child in loose cotton clothing.
"Diaper dermatitis." He declares himself the appearance of acne with white liquid on the baby's buttocks in the folds under the diaper.
From time to time, wash the baby's ass with soap and water, dry the skin thoroughly and lubricate with cream (for example, Triderm, Schering). You should not use cleansing milk or wet wipes, and in extreme cases – diapers.
If you notice that at the place where there was irritation, it begins to get wet, use a drying lotion and consult a doctor.
"Contact dermatitis". Having played enough in the water, the children go to lie on the grass, and after a day, red stripes appear on their skin, it swells and "burns", itches and sometimes gets wet.
Such a reaction arises from the "union" of water, sun and plants containing irritating substances.
Fortunately, this dermatitis is quite fast. And in order to avoid these troubles, do not let the child walk in wet clothes, do not lay the grass on the grass, protect its skin from the sun and do not use unknown cosmetic and perfumed products.
"Hives". Sooner or later, up to 20% of children face this trouble: a scattering of vesicles on the skin is very itchy. Fortunately, it usually passes in a few hours.
And there are various reasons for it: the "encounter" with plants and animals, pseudo-allergy, which arises from the fact that the summer diet of babies is usually rich in foods containing histamine (among them fish, crustaceans, tomatoes), and so on.
To soothe the skin, lubricate it with a cream and give your child allergy medication (Tavegil, Novartis; Erius, Shering; Claritin, Shering).