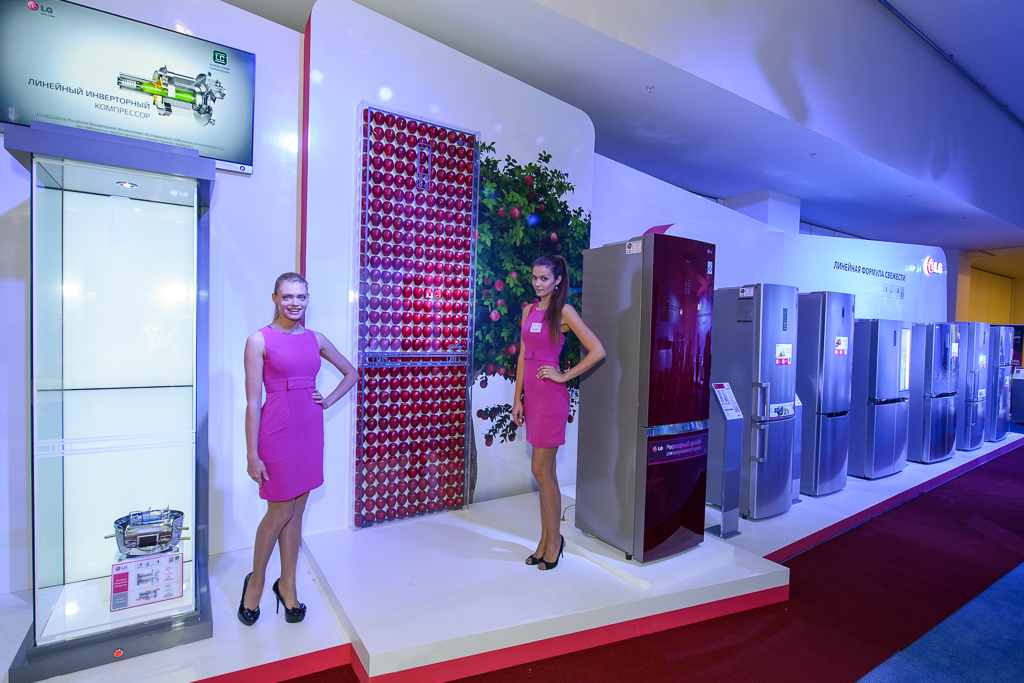 During the Forum, the company introduced designer refrigerator models with convenient Door-in-Door function and advanced linear inverter compressor, TurboWash washing machines with True Steam steam function, dishwashers with steam washing function and ultraviolet sanitary treatment of dishes, cordless vacuum cleaners, Lightwave ovens.
The line of refrigerators is endowed with reliable LG linear inverter compressor technology (10 years warranty from the manufacturer), which allows the refrigerator to perfectly preserve the freshness of products with low noise and significant energy savings (energy class A ++).
In addition, these models are convenient and pleasant to use thanks to the LG Total No Frost system – without the need to defrost. Multi-flow cooling function Multi Air Flow evenly distributes the cooled air throughout the entire interior of the refrigerator. Special zones are also taken into account that take into account these differences and prolong the freshness of products, maintaining their appetizing appearance and preserving the maximum of useful substances. Thus, the Opti Temp freshness zone allows you to set individual temperatures for different types of products.
The special Moist Balance Crisper technology maintains an optimum level of moisture in the vegetable section thanks to the cellular surface of the lid.
In the category of roomy Side-by-side refrigerators, LG introduces a new four-door model with the Door-in-Door feature. Innovative development – a mini-bar "Door to Door" provides easy access to frequently sought-after products through a small door, inconspicuously built into the main door of the refrigerator.
It not only simplifies access to food and beverages, but also reduces energy losses, allowing you to open the common door of a refrigerator less often. Another additional option of a mini-bar is a basket with a lifting mechanism.
It is convenient in that the owner can easily change its location, thus adjusting the height of the shelves and placing products of different heights. There is also a mini-table, which is a flat surface, allowing you to pour the drink into a cup or glass, which is in the refrigerator.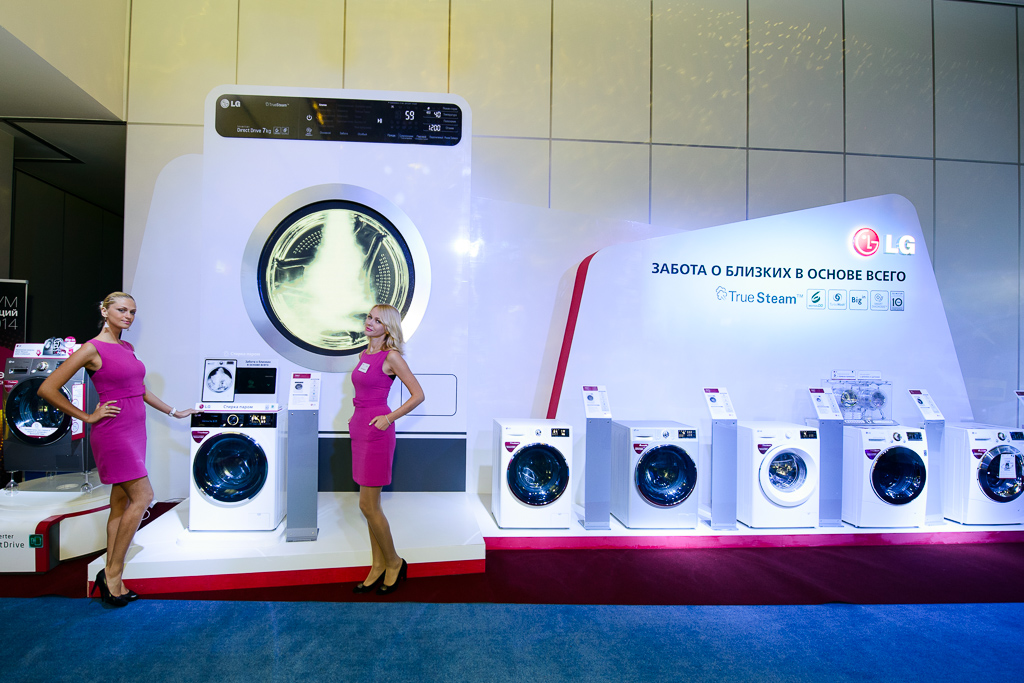 LG Electronics also introduces a new line of front-loading eco-friendly washing machines and TurboWash ™ technology. It uses the JetSpray feature that sprays water directly onto the fabric to reduce overall washing time, significantly save energy and ensure quality cleaning of items in just 59 minutes.
Thus, users get faster laundry and lower utility bills.
A number of models feature TrueSteam technology, which provides high-quality washing. Steam during washing mixes with water, dissolves washing powder as efficiently as possible and penetrates deeply into the fibers of the product, gently acting on the fabric and, at the same time, intensively removing dirt.
In addition, the special "Refresh" steam mode eliminates the unpleasant, absorbed odor and smoothes out light creases and jams.
As for the dishwashers, they are also equipped with the TrueSteam function, which operates in Steam Power mode, in which hot steam particles are erupted by carefully nozzles under pressure, removing food debris and making dishes perfectly clean. After the wash cycle is complete, the dishwasher uses a unique UV lamp that removes up to 99.9 percent of all remaining bacteria.
Even more organization options are created by the unique Smartrack ™ system, which allows you to select different shelf configurations. It makes the dishwasher more flexible and provides additional convenience to consumers.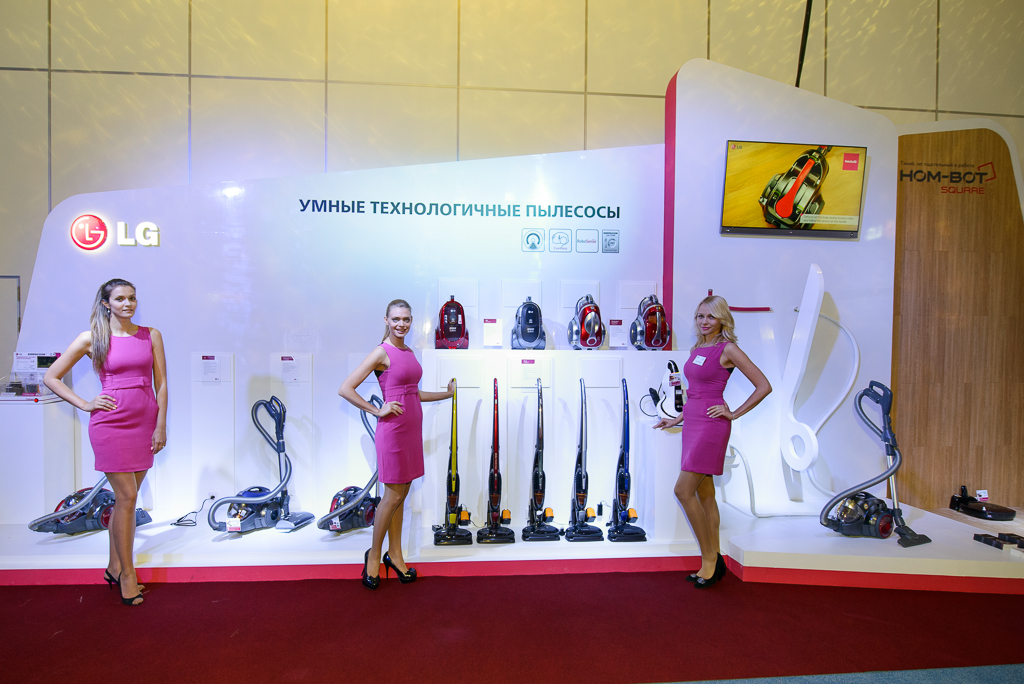 In the category of vacuum cleaners, LG represents such new items on the Russian market as a 2-in-1 vacuum cleaner, a manual vacuum cleaner for upholstered furniture, as well as intelligent flagships. The lightweight (2.7 kg) and easy-to-use LG 2 in 1 cordless vacuum cleaner, which can be used as a full-fledged upright type vacuum cleaner or as a portable handheld vacuum cleaner, is equipped with a station with a removable lithium-ion battery.
High suction power and work without recharging for up to 70 minutes, the built-in additional brush 2 in 1 and the main nozzle easily rotating by 180 degrees provide efficient and convenient cleaning. A special backlit brush allows high-quality surfaces to be also cleaned of hair and wool without winding it on it.
The most memorable new product that LG introduced was the cordless vacuum cleaner, combining two previously developed unique technologies: LG RoboSence and LG Kompressor. Thanks to the use of technology of automatic movement and active movement of the wheels, this lightweight and compact vacuum cleaner follows the user from room to room, making the cleaning process as easy as possible, requiring no additional effort.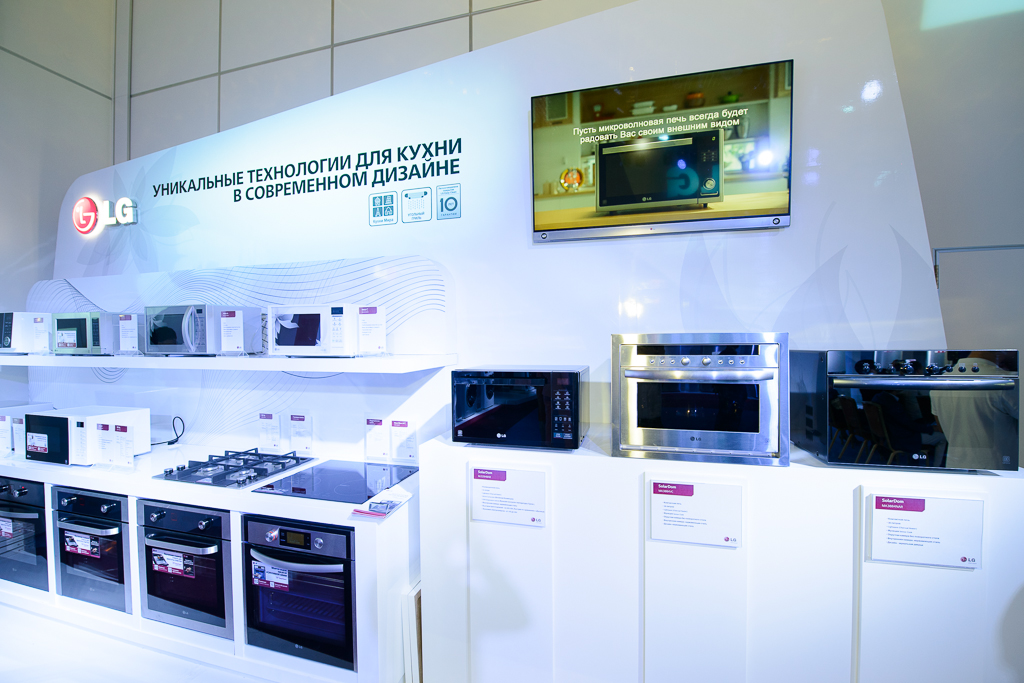 LG Electronics is also introducing new Lightwave convection ovens equipped with the advanced Charcoal Lighting Heater ™ heating element for making delicious and healthy dishes at home. At the heart of LG's advanced carbon fiber filament technology is to maintain a natural heating flow that penetrates deep into the dishes, creating a crisp outside, but leaving it juicy inside and retaining the beneficial properties of the products.
Energy consumption of furnaces in this series is reduced by up to 30% compared to conventional ones by reducing the cooking time.
In the microwave ovens of the Solar Convection series there is a menu called "Kitchens of the World" – convenient automatic cooking programs. With their help, it is very easy to cook traditional French, Italian, Oriental and Russian dishes at the touch of a button.
It is enough to lay the product in the chamber and select the appropriate menu, and the oven itself will set the optimum mode of cooking to give it a rich taste.