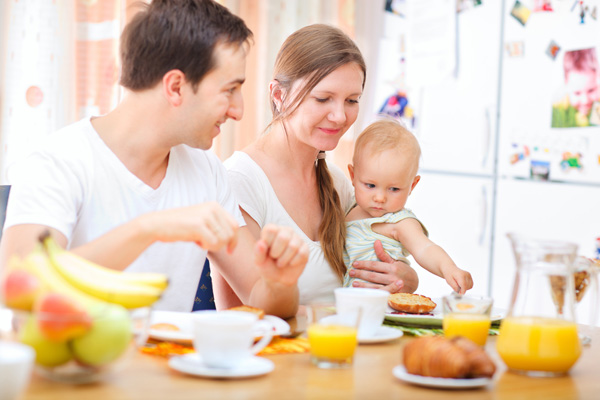 The theory of pedagogical supplements was formed relatively recently under the influence of the growing popularity of long-term breastfeeding. Parents who dream of raising a child in the most natural way, pick it up with great enthusiasm.
Adherents are convinced that before the year all the nutritional needs of the child are provided by breast milk. For this reason, the main goal of pedagogical complementary foods (as opposed to "pediatric") is not to feed the baby, but to arouse interest in it in food.
Pedagogical supplements are introduced only after the crumb has mastered the key to eating food – learning to sit without support, that is, not earlier than 6 months.
During family meals, the baby sits at the common table in the arms of the mother or in the highchair.
Food separately for the child is not crushed and may contain salt or a small amount of non-stinging spices.
When the baby is willing to voluntarily taste adult food, the mother gives him a taste of the dish from her plate, but only in microdoses — pieces the size of a rice grain, maximum with a pea. If we are talking about liquid food, crumbs offer one drop at the tip of a spoon. Over time, the volume increases to 3–5 such "micro doses".
If the child is naughty or crying, he is immediately carried away from the table.
The adult meal always drinks down with the mother's milk.
The volume of breast milk with the introduction of pedagogical complementary foods does not decrease, even if the baby is given solid food.
Nutritionists do not see anything terrible in pedagogical feeding, but only on condition that the child is breastfed and the mother plans to feed him for a long time. Although there are other reservations.
All family members must adhere to the principles of healthy eating. Fried, fatty and smoked foods should not be given to the child. From 6 months it is better to rely on scientific research, and not on your own convictions.
At this age, one breast milk and even micro doses of meat, cottage cheese, cereals, fruits and vegetables are not enough for children, and they really need additional nutrition. Closer to the year, these needs increase markedly, so ideally you need to adhere to the traditional scheme approved by nutritionists from the very beginning.
At the same time, it is not necessary to abandon the philosophy of pedagogical feeding: it can be practiced in parallel.