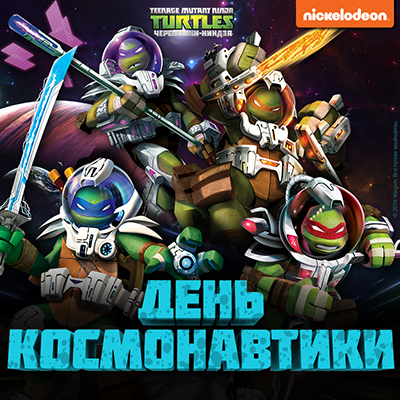 For the past four years in a row, Nickelodeon Russia has been preparing special broadcasts for the national holiday – Cosmonautics Day. This year, on April 12, young fans of the series "Turtles Ninjas" and everything related to the exploration of outer space will have a festive program: together with the Turtles, viewers will go to meet the most unusual secrets of the galaxy, and the special story of the NView program will open the world of stars and distant planets
On the eve of the 55th anniversary of the first manned space flight, the channel prepared a special edition of the popular NView program with an exciting tour of the Moscow Planetarium. A museum employee will conduct a unique tour of the Lunarium interactive exposition for Nickelodeon viewers, and will talk about the main installations that visually demonstrate the physical laws in a playful way.
Young fans of space will be able to learn more about the wonderful world of stars, as well as about scientific achievements and advanced technologies. The presenter will inform the children of many new and interesting things from the history of astronomy and space exploration, as well as demonstrate interesting scientific experiments.
In addition to the virtual walk around the planetarium, the audience will be awaited by the fourth season of the ninja Turtles show, which started on Nickelodeon at the end of February this year. The plot of the new season is just about the intergalactic travels of the legendary heroes – Leo, Rafa, Donnie and Mika. Brave Turtles travel through outer space, where many adventures await them: collisions with asteroids, black holes and encounters with alien creatures.
In one of the series, the characters will try to save Miki from alien beings who captured his mind! Despite all the difficulties, thanks to the strength of will, solidarity and courage, as well as the support of young viewers of the turtle, of course, they will cope with all the difficulties.
And as a festive conclusion of the marathon, Nickelodeon prepared a special gift for the audience: the premiere episode of the fourth season of the Ninja Turtles will be aired with exciting new adventures of heroes.