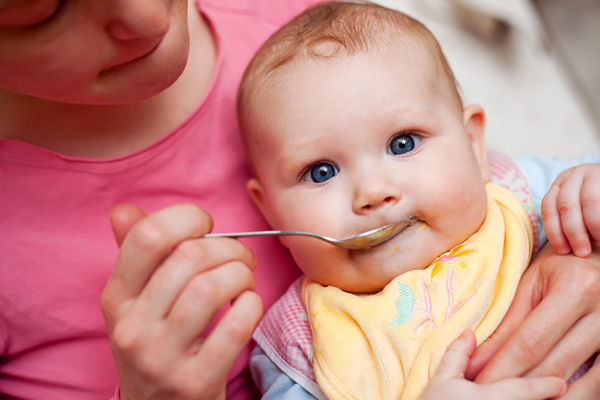 Pediatricians and nutritionists recommend introducing complementary foods from 4 to 6 months. Familiarity with new products do not need to force or delay. If you hurry, the baby may have serious problems with digestion, because the first months his body is able to cope only with my mother's milk or its artificial counterpart.
If you are late, the crumb can be capricious or flatly refuse new dishes, because the perfect moment for big changes was missed. It is easy to understand it: mashed potatoes or porridge cannot be compared with sweet mother's milk or a mixture having an attractive taste for infant receptors.
However, problems may arise with strict adherence to the schedule. Sometimes the kids refuse a particular dish, but it is not worth giving up right away.
To try out a new product, some children need time, sometimes 10-15 approaches. If the crumb continues to persist, take a break for the disgraced fruit, vegetable or cereal for 1-2 weeks, switching all his attention to a different kind of complementary foods.
If a half year old baby starts to spit out food, this is not always a personal protest. At this age, so do many children: they still do not know how to swallow food, and therefore push it with the language in order to protect themselves.
Wait a bit: in a couple of weeks the child will adapt to the new sensations. It is difficult for some children to master the dose prescribed by the norms in one sitting, but the mother has the impression that her crumb is dissatisfied with something.
In this case, the daily volume of the dish can be spread to 2 feedings: part of the portion given in the morning, part in the evening.
Sometimes babies start to demonstrate their taste preferences quite early. If a child enthusiastically eats porridge, and ignores vegetables, trick him by mixing the ingredients in one plate.
Finally, like any adult person, the baby may lose appetite on certain days or lose interest in their favorite dishes. If the child is healthy, do not worry: he will catch up the next time or the next day.
To the introduction of complementary foods passed without a hitch, it is important to follow a few simple rules.
Do not be annoyed at failures: your negative emotions will immediately be transmitted to the child, and his mood will only worsen. Never force a crumb to eat: a violent way will not lead to anything good. New product enter in small portions with a spoon.
Where to start feeding (with porridge or mashed potatoes), the pediatrician decides based on the health of the baby, but the first dish must be monocomponent: mashed potatoes – from one type of fruit or vegetables, porridge – from one type of cereal.