While the stomach is still small, it is possible to practice lying down, this position reduces the load on the body. But already from the 20th week of pregnancy it will be unsafe: at this stage, the grown uterus can squeeze blood vessels that carry blood from the mother to the baby and from the legs of the woman to her heart.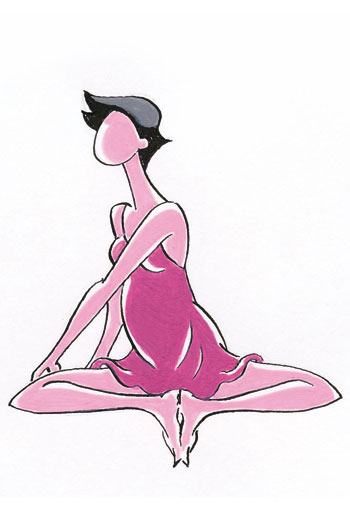 Sitting on the floor, bend your legs, join your feet together, keep your back level. If it is difficult to straighten it, put a rolled-up blanket under the buttocks.
Hands straighten and lower to the side. Turn the torso to the opposite knee and at the same time reach for it with your hand, leaning forward a bit – as much as your grown belly allows you.
Perform the exercise at least 20-25 times one way and the other way.
On your knees, put your feet shoulder-width apart. Keep your back straight, straighten your shoulders, keep your hands on your belt, tailbone pointing down.
Trying to keep the pelvis still, turn the torso and head in one direction. Repeat the exercise at least 20 times for each side.
Stand on all fours, bend one arm at the elbow and press the brush to the temple. Stretch your elbow down, and after him and torso, trying to touch the hand on the floor of the opposite hand. Go back and take your elbow behind your back, moving your body behind it.
Your support – the knees and the brush remaining below. Perform 10–15 movements.
Standing on all fours, lean on your arms and knees, legs set wide. Raise your knee and pull it to the opposite elbow, rounding your back, then move your leg back.
Make at least 20-25 repetitions.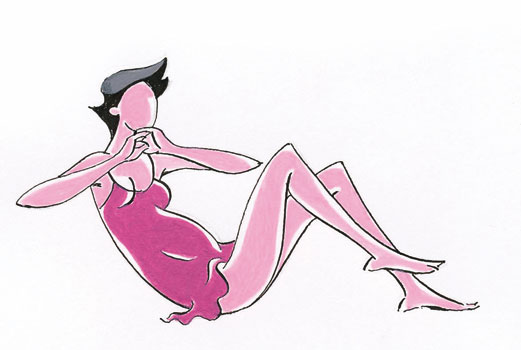 Lying on your back, bend your knees, spread your legs shoulder-width apart, put your feet on the floor. Bend your arms in elbows, connect your hands with a lock and hold under your chin.
Lift the body up, but so that the lower edges of the shoulder blades remain on the floor, turn slightly and stretch your elbow to the opposite knee. Perform at least 15–20 movements in each direction, get some rest, and take another approach.
The starting position is the same. Only now, raising the torso and pulling out the elbow, add movement with the opposite leg to meet it.
Repeat the exercise 12–15 times for each side.