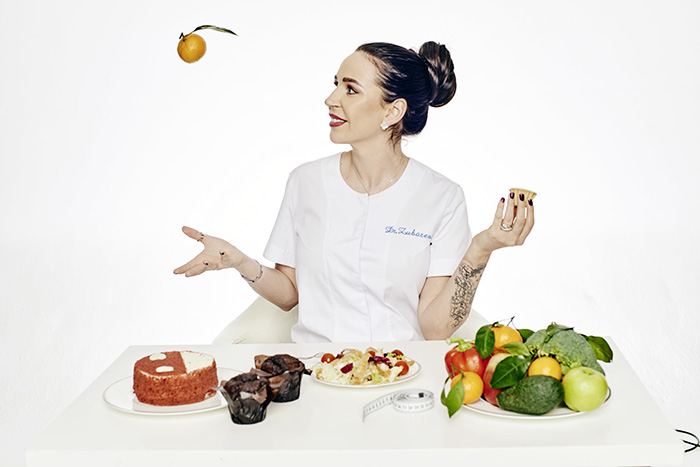 – Natalya, do you, as a dietician, have a professional approach to nutrition — your own and your children?
– Yes and no. In my parents' family, it was customary to eat healthy foods cooked properly. I grew up with this and do not consider such an approach something supernatural.
And the children see how I eat, and also draw the right conclusions. I don't talk boringly, for example, about the danger of sugar – I just don't eat harmful sweets myself, in principle we don't have them at home. And the daughter, even if she sees something, in her opinion interesting, still does not try: "Mom, you don't eat that ?!"
– I wonder what you eat for breakfast, lunch, dinner?
– My morning begins with a dish rich enough in proteins, fats and carbohydrates, so that the energy is enough for a long time. I never get around without breakfast and do not advise you.
Wafers with avocado and egg, lazy buckwheat with dried fruits and nuts – there may be a lot of options. Often do not eat dinner. This does not suit everyone, most often it does not, but my body feels good in this mode.
In general, I think it is more healthy to eat at large intervals than to have a bite. My dinner is also nourishing, tasty and correct.
It may be lasagna, but cooked in a special way! Or, for example, chicken skewers with vegetables on a grill pan. In general, there are a lot of fish and seafood, poultry, eggs, vegetables, cereals and berries in my diet.
I carefully monitor the origin of the products that fall on my table.
– As a nutritionist from what age do you recommend to transfer the child to the diet of the whole family?
– As a doctor of integral and preventive medicine, I am absolutely sure that properly organized nutrition of a child from the first days of his life is one of the bases for the development of a baby, strengthening his health, and stabilizing immunity. Here the stage of breastfeeding and the formation of the first food habits are very important.
Mistakes made by parents can then seriously haunt.
Another question, what do we mean by adult food? There are families where one-year-old kids are given sausage, lard, smoked meats, salting, chocolate – this is absolutely not normal!
Even if the child himself wanted! He will not want these unknown products until adults tell about them.
In general, I do not advise you to turn food into a encouragement or a way to persuade a child to do something. As an adult, he will not thank you for the habit of seizing the problems that form in this way.
Do not force to eat if you do not want: not a single child, after all, has died of hunger when there is food in the refrigerator! The main thing – to remove with a bowl of candy and cookies.
And, again, it is easier to do that than to deal with the consequences of food abuse.
– Your daughter Daniella in Instagram tells his peers about nutrition. She wanted it herself?
– Yes, I first recorded the lectures of my little professor for the family archive, then I posted it on Instagram, and my mother began to write thanks to the little children: it turns out Daniella tells us convincingly why you should wash your hands and choose the right sweets.
– What else is she doing? Tell about her, about her brother Demyan.
– My daughter is already quite big, this year she will go to the first class, but for now she goes to study at the Lomonosov school and is engaged in a theater studio. I am very proud of her achievements! Son in September two years old.
Very kind, smiling person with whom it is easy to negotiate. Happiness to observe how it grows and cognizes the world.
– How do you do everything? Are you a doctor, a blogger, a writer, and a mother?
– I am a man of action, I do not spend much time thinking, I can work in any situation. Even at the airport under the announcement of the departure-landing, when I fly to one of his many seminars held throughout the country. Most of the books, for example, were written on the road.
Or early in the morning – in that golden hour of silence, which I find for myself daily.
I often take my daughter with me to events, if her presence is appropriate there and if she is interested. And I am always for quality, not quantity: it is better to spend an hour looking into each other's eyes than to spend every day in my smartphone.
– There are days when the phone, all gadgets off?
– Yes, recently these days were in my Maldives. She made herself an information detox.
True, it did not last long for me: after three days, taking advantage of the fact that no one distracted me, I began to write the third "Waltz of Hormones". This book is a popular series will be devoted to the work of the intestines.
You know, frankly, I love my work so much and I charge from it that I cannot and do not want to leave the business for a long time.