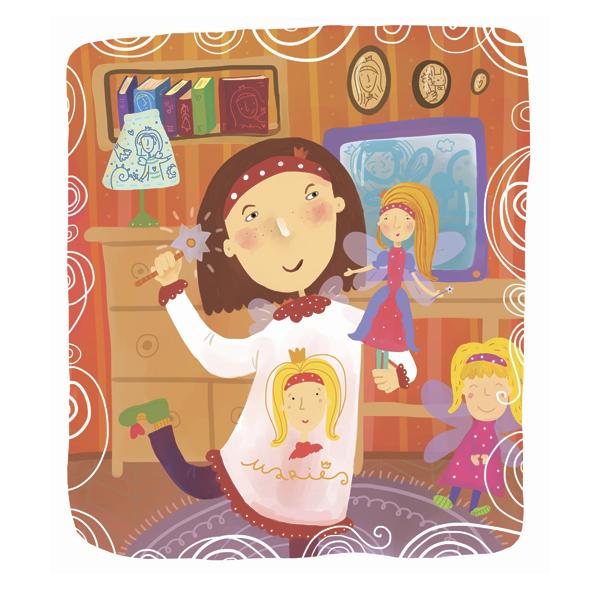 The child quotes entire dialogues from the animated series, out of place and out of place, all the furniture in the house is decorated with stickers depicting a favorite character, and in a difficult pedagogical situation it is easiest to bribe the kid by promising him to buy another superhero figure or a disc with his new adventures …
Many parents consider such a preschooler's hobby a normal age-related phenomenon and even find it convenient for themselves: no, for example, the problems of choosing a holiday gift — replicated children's pets are released in whole series, and moms and dads easily allow themselves to be convinced that the complete collection of "young sorceresses "or" funny little animals "- this is what the child dreams of.
In fact, seven almost identical dolls are needed by a five-year-old girl more to boast in kindergarten than to play. The kid is unlikely to play the whole plot of the cartoon using the "actors" the size of a ball, so there is no need to clutter up the nursery, buying up all the plush smeshariki.
And the role of McQueen's friends can perform any typewriter (maybe you just have to add some details – glue the eyes out of the masking tape and come up with sonorous names). Do not forget that the hobbies of children are rarely durable. After a few days, the child's attention may switch to a new object, and you will have to shell out again.
Therefore, consumer sentiment is better to take control.
In addition to buying in the store all the goods that adorn Mickey Mouse's head or the exquisite silhouette of a young lady with wings, there are plenty of other ways to show interest in the hobbies of the kid and respect for his choice. To begin with, try to suggest drawing a hero together, making it from a dough or plasticine. In the process of the image it is easy to find out exactly what qualities attract your child in this character.
Additional information can be obtained by analyzing the resulting portrait with the help of psychological methods of analysis of children's drawings. For example, long eyelashes mean coquetry, horns, fangs and thorns – aggression, shoulders and fists – the traditional attribute of strength … The ability to "read" symbols will help you start a conversation with a child, if he is not very ready to discuss his favorite character. Perhaps the baby does not want to be frank, because someone has already laughed at his choice.
A big mistake on the part of parents is to tease the child, saying that in reality, Batman does not exist, and Barbie would not be able to walk on such tiny legs. Is it worth it to offend a child, to incite him against himself, criticizing that which at the moment captures all his imagination?
Be tactful, because the discussion of the hero with whom he associates himself can tell you a lot not only about the tastes of your child, but also about his mood, worries and dreams.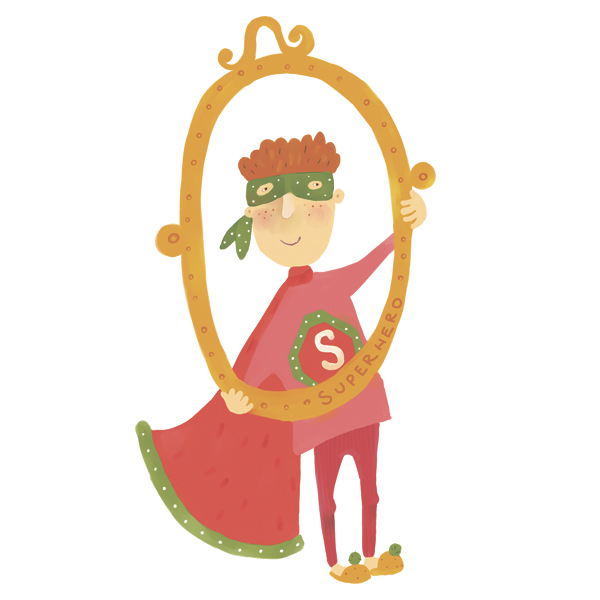 For example, a baby wants to be friends with Luntik and his buddies because this cartoon, in fact, tells about the ideal world in which characters, on the one hand, are considered small children and therefore are surrounded by care and unobtrusive attention of adults, and on the other – a certain freedom and autonomy: they walk without being accompanied by their parents, invent various games, experience adventures, solve conflicts on their own, and Luntik himself is also endowed with supernatural abilities every child dreams of. No less attractive in this regard, the company smeshariki, and Mickey Mouse has its own club.
At the age of 3-5 years old, children are already very interested in communicating with their own kind, and imitating the characters of cartoons, understanding the situations they have played out can help to adapt in kindergarten, learn to meet, overcome the inevitable difficulties in communicating with other people. Most children, of course, need the help of an interested adult, and not least the choice of cartoons.
We sometimes begin to make sense of what is happening when the choice of a particular hero has already been made. Meanwhile, let's analyze the child's environment.
Not all cartoons that are shown on TV are useful for the baby. Be sure to see for yourself what you offer your child, it is no less important than to try the food that you are going to give him and which was not prepared by you. Part of the products will have to sort, because it is "not by age."
Sometimes in the animated series there is almost obscene language. And, of course, you shouldn't allow a child to watch a movie just because it's popular.
You decide! If you believe that the authors promote values ​​alien to you, or that from an aesthetic point of view, this product is low-grade, do not hesitate to reject it.
Sometimes the situation is more complicated. For example, the film seems relatively harmless to you, but you are disappointed by the choice of the child, because you would like him to identify with another model. Some popular images are really too sketchy and carry a simplified view of masculinity and femininity.
Surely your son or daughter could not choose something more … And here it is worth stopping and asking yourself the question: what models are I ready (or ready) to offer my child, what qualities do I want to develop in it, and what features I don't want in it see even if society encourages them? After all, let's look at things realistically: cartoons from episodic entertainment long ago turned into an important part of the life of our children; According to statistics, preschool children spend from 20 to 40 percent of their time watching them!
Whether we like it or not, the tastes of children are shaped by the influence of countless full-length cartoons, cartoons, anime, film-based comics, commercials and other video products. How to reduce this effect to a minimum? The answer is obvious: turn on the TV less often, play more and study more, read time-tested books.
To choose from a huge number of cartoons that suits you and your child, you have to spend considerable strength to "be in the subject." In fact, in 3−6 years, the child is not required a wide variety.
If he is ready to listen to the same tale every night and remains faithful to two or three favorite dishes, then he will most likely not be too upset if you do not buy a new cartoon disk every week.
If the kid has decided on the choice of a favorite hero and this choice is prepared or approved by you, you can begin to "use" this hobby for educational and developmental purposes.
To teach a child to count, you can come up with unusual tasks, which in essence will be small stories about the adventures of your favorite characters. This technique is successfully used even in school textbooks (for example, in the "Mathematics" of Heydman).
Do not be afraid of unexpected, fantastic, even absurd situations: the element of the game, the magic will make your "lessons" not less fascinating than a computer game. Communicating with you for the child is more valuable than any other activity, use this time!
If it is sometimes difficult for you to come up with a plot or theme for drawing (sculpting, puppet show, finger gymnastics), feel free to refer to familiar images. Yes, in any domestic situation a superhero (well, or a heroine) can come to the rescue! "That same mess was in the house of seven dwarfs when Snow White entered.
What did she do? First, she put the books on the shelf.
So-ak … Then she collected candy wrappers from candies. And now?
What will she do now? "You will need some artistic skills, ingenuity and endurance, but you will be able to speak with your child in a language he understands — the language of the game.
Literary and movie heroes are indispensable when it is necessary to explain a complex ethical or philosophical concept to a child, to help him understand feelings or solve a conflict. To do this, again, you will have to "be aware of" and know the plot in sufficient detail.
Having learned to depict your favorite hero with two or three features, or together inventing his "emblem", you can make almost any object attractive for a child (food, clothes, foam bath, old cubes …)
The figure taken with itself will turn the "terrible" visit to the doctor into an adventure, a trip by public transport and will greatly facilitate the adaptation period in the kindergarten.
A child with pleasure will take part in the manufacture of a fancy dress (you can practice by making a costume for a doll). And at the carnival shy baby will feel more confident under the mask of his beloved hero.
Depending on the inclinations of your baby, you can beat the character, strengths and weaknesses of any selected character. Compose new friends and opponents, invent new adventures. Maybe the child will want to compose a poem or song about his pet, make him look out of the snow, send homemade New Year cards with his image to his loved ones or have a whole themed party.
Offer him new and new ideas, but more often remind about other plots and characters.